Are you also really into the denim on denim trend? If you are you probably like to variate the look slightly, true? Then keep reading for some ideas on how to update the denim on denim trend.

Denim On Denim As The Base
The basic rule for the denim on denim trend is to add at least two denim pieces. Either make sure they match or pair up more contrasting shades. Some ideas on what pieces to use are:
Denim shirt
Denim jacket
Denim dress
Denim skirt (long or short)
Jeans or denim shorts
You can pair up these things in many different ways (I'd love to try out wearing a short denim skirt over jeans..) so have fun with it!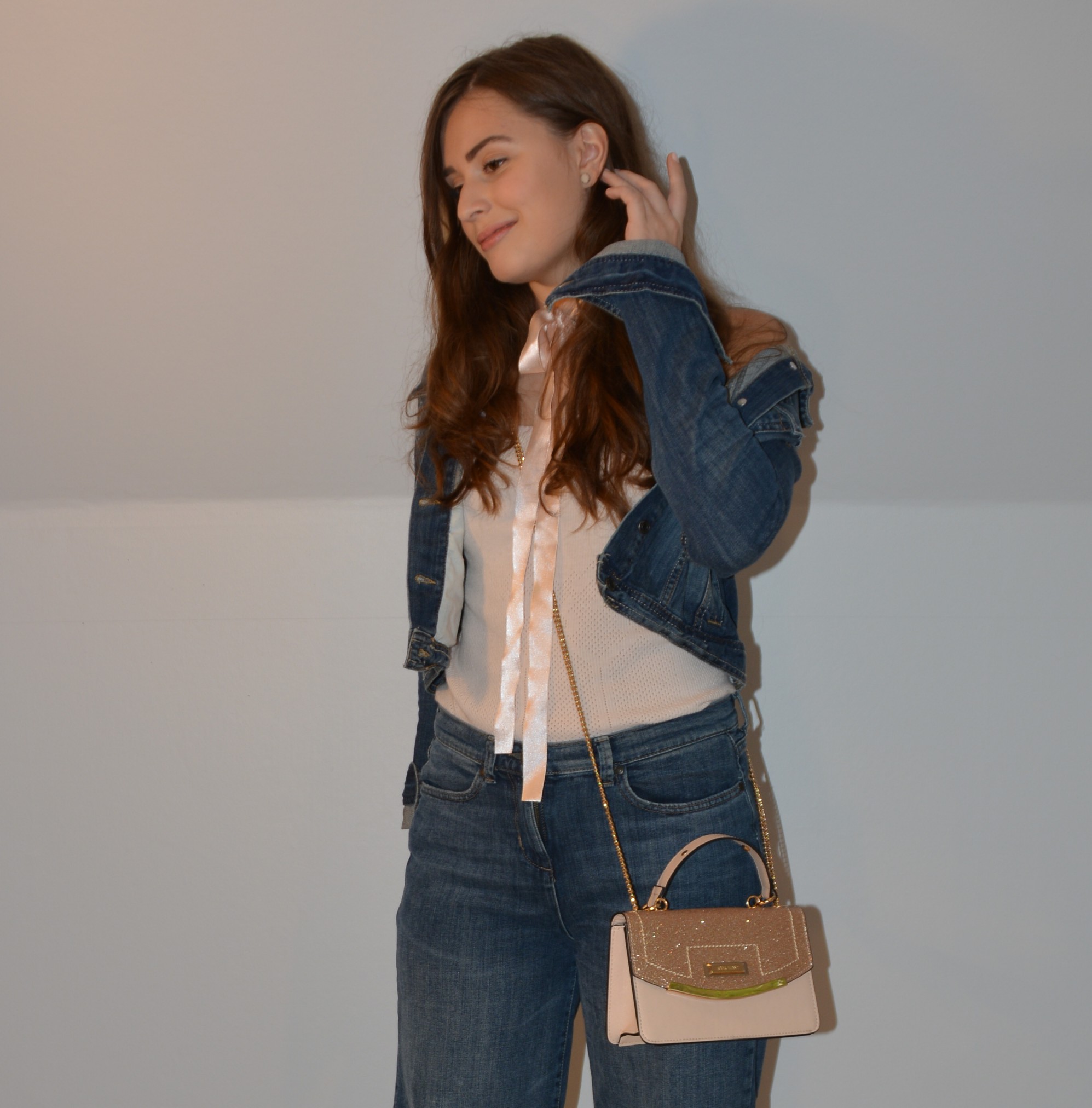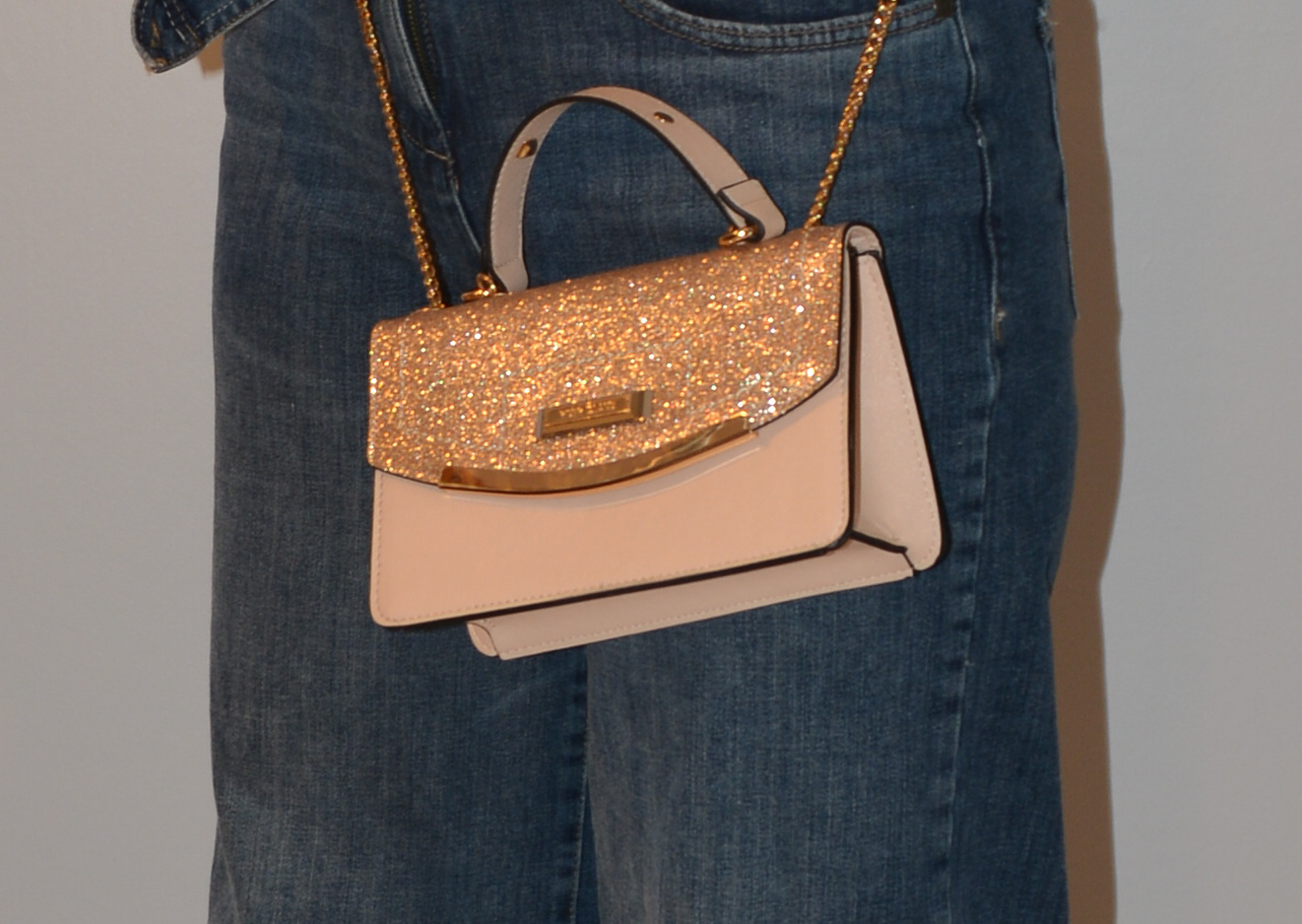 Light Pink Accessories
My take on the denim on denim trend for the day is to pair my denim jacket and culottes with light pink. I added a light pink cami underneath my jacket, a beautiful pink glitter bag from River Island, pink stud earrings and a pink satin ribbon tied as a choker. I also decided to wear a light pink lipstick as well as light pink nail polish. If you want to you can choose a different color to pair the denim with, whatever you feel comfortable in.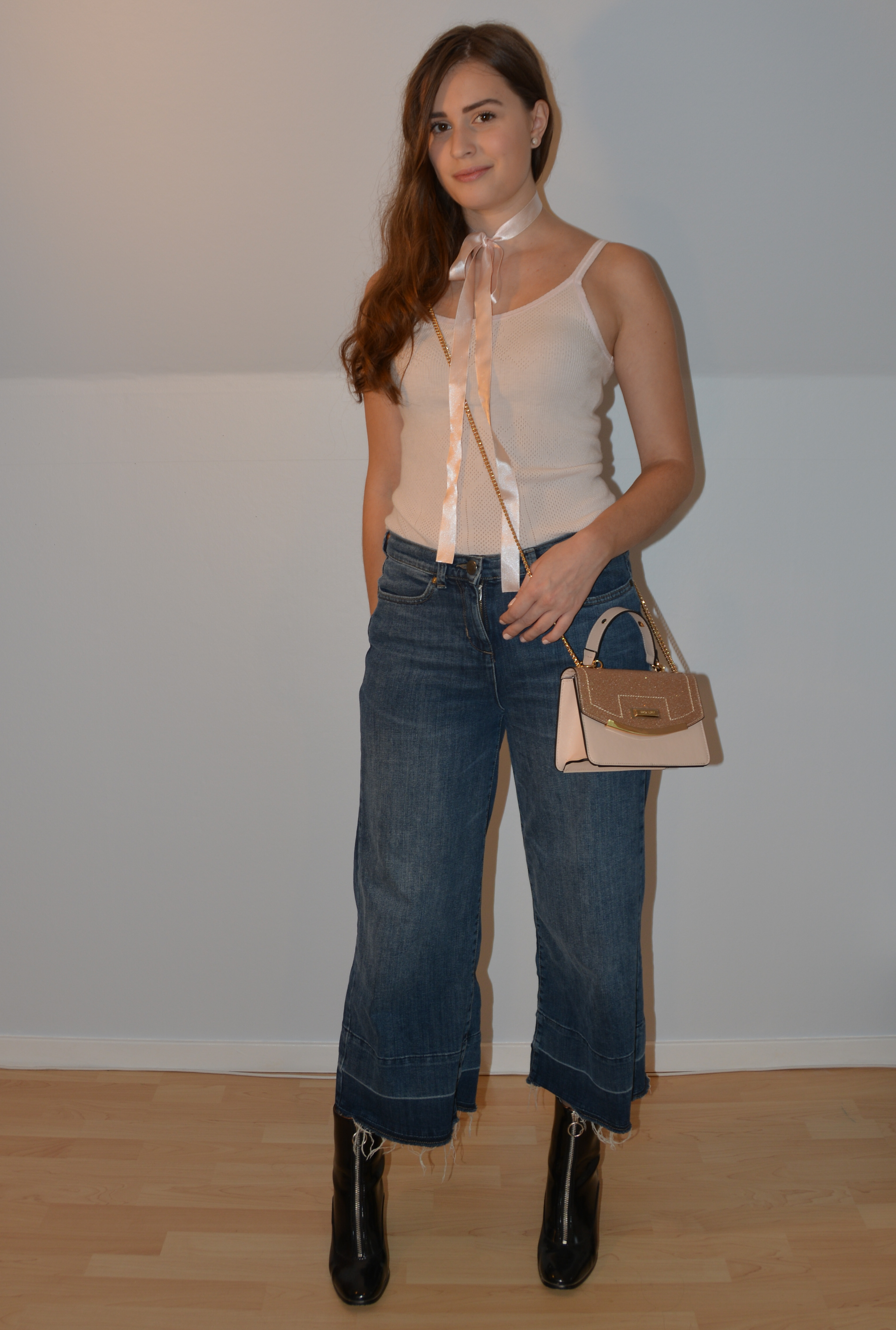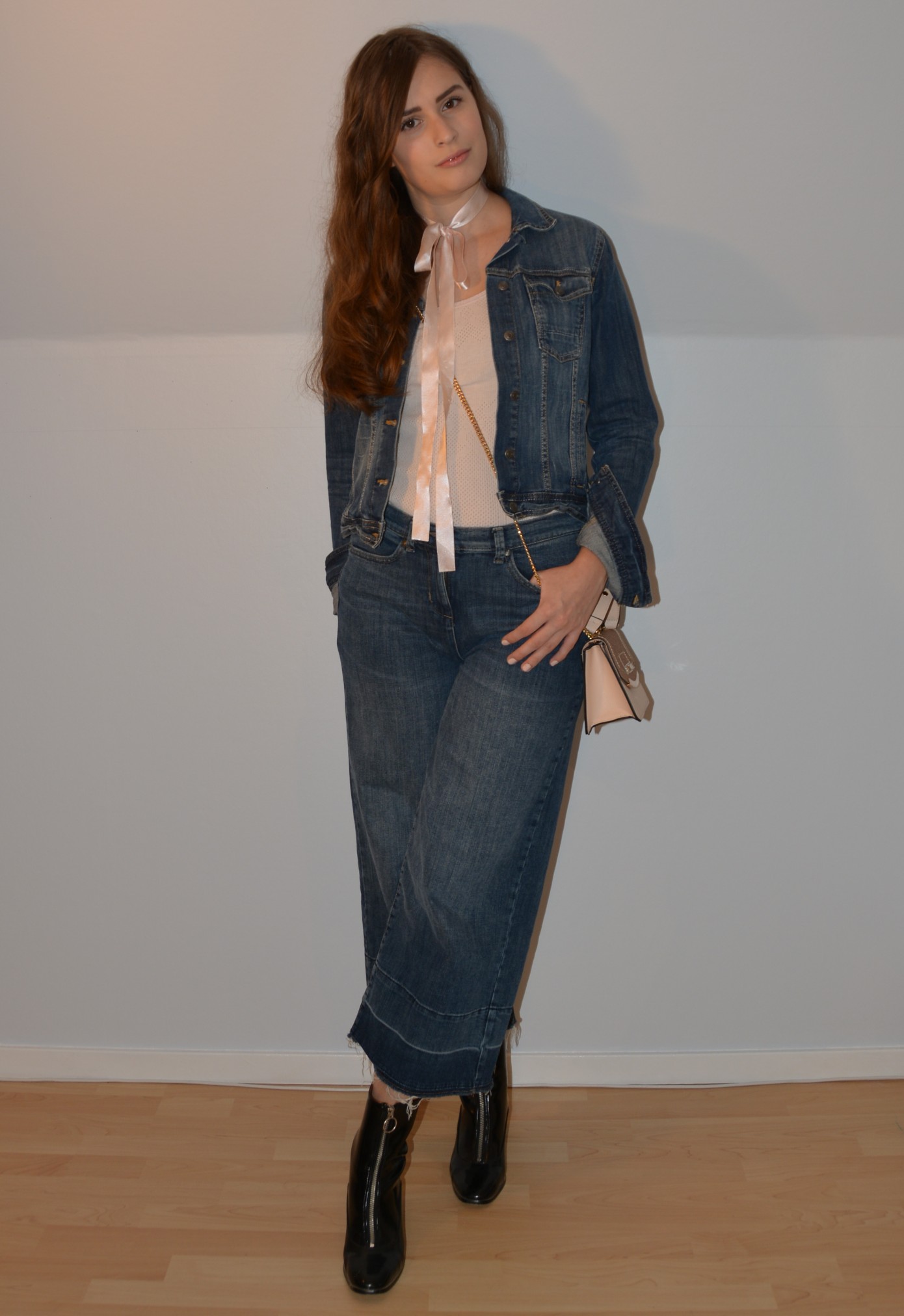 Edgy Black Boots
The final touch on my look was to add my black patent leather boots. Because they are a bit taller they go perfectly with my culottes. Another thing worth mentioning is my brows, I have started to use the darkest color in my eyebrow shadow palette. I like to draw my brows thick and sharp (not to much though, I still want a natural look.) My point is that thicker sharper brows also adds an edge to the look which is just what it needs.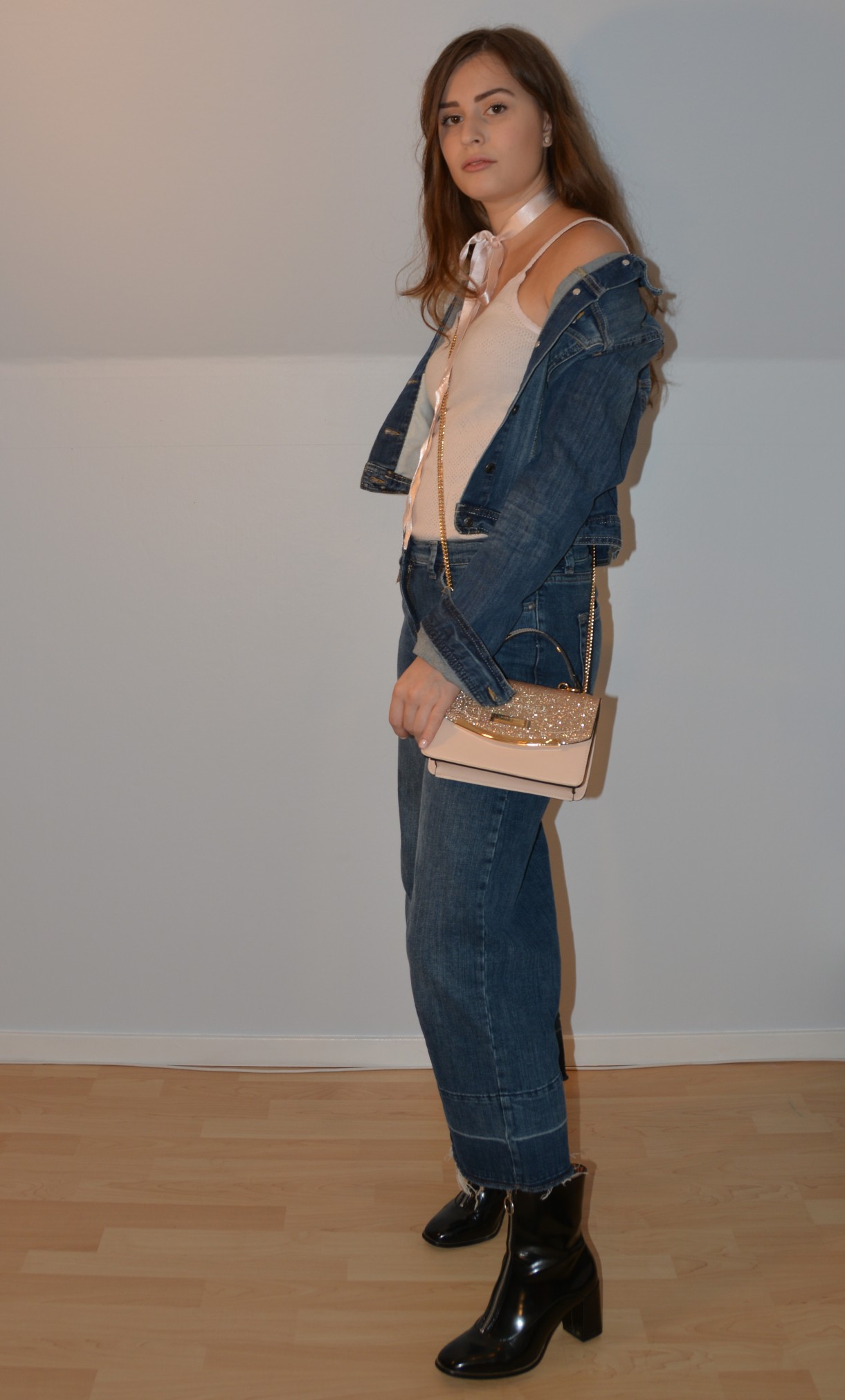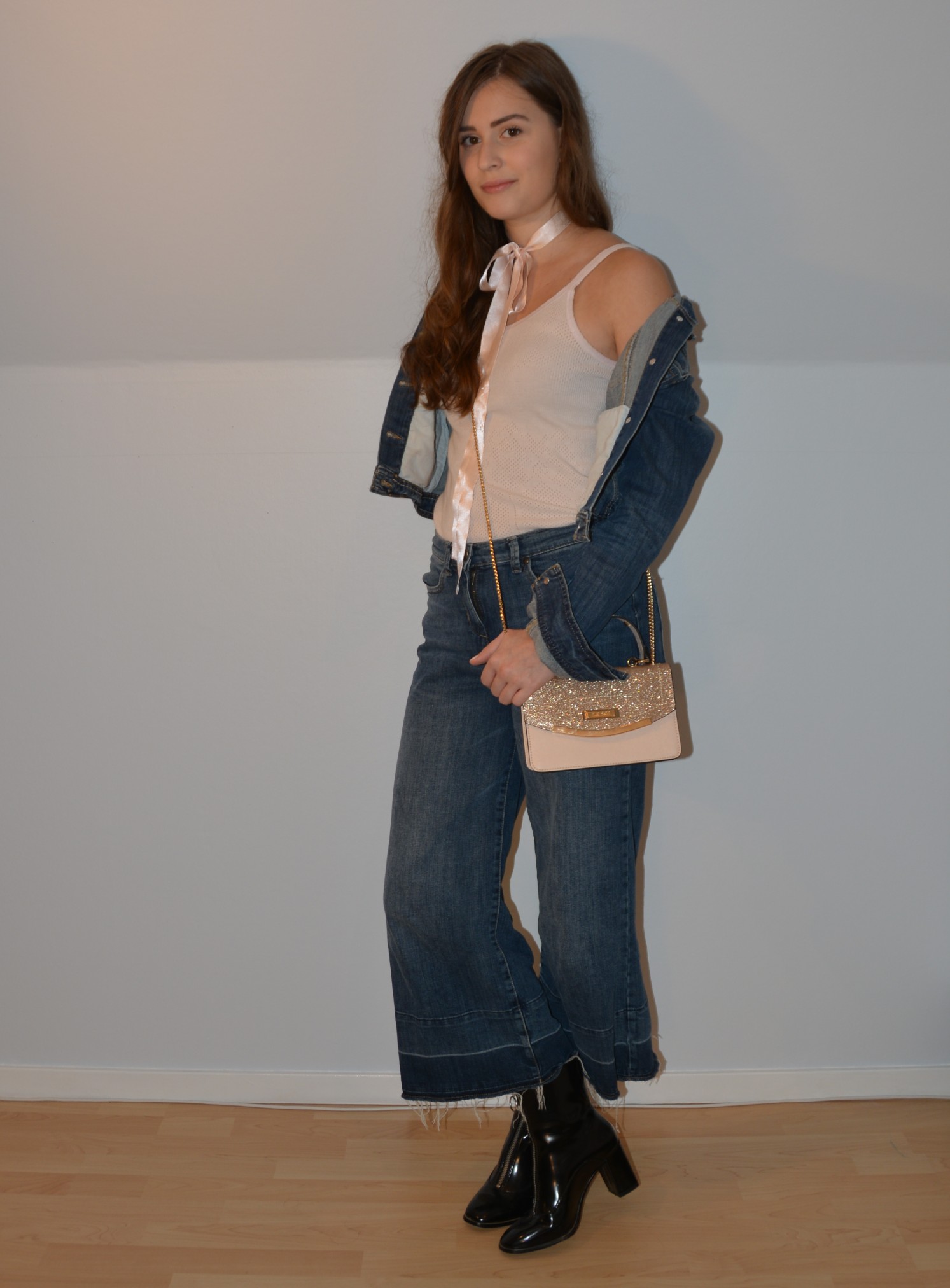 Thanks For Reading
For more ideas check out these posts:
http://fashionpsychic.com/index.php/2017/02/21/easy-styling-trick-29074910/
 http://fashionpsychic.com/index.php/2017/03/18/denim-and-fishnet-29446746/
http://fashionpsychic.com/index.php/2017/03/15/layered-denim-29397859/
http://fashionpsychic.com/index.php/2016/11/18/friday-denim-on-denim-27817105/
And these Polyvore sets:
https://www.polyvore.com/girl_gang/set?id=209047477
https://www.polyvore.com/lovely_spring/set?id=221549239
https://www.polyvore.com/everything_denim/set?id=220589852
Do you have any questions? Feel free to ask me in the comment section below. If you liked this post please don't forget to click the like button below. To receive an email when I publish something new; subscribe to my email list by clicking the green follow button below (or click subscribe in the menu underneath the header.) If you'd like you can also use the buttons below to share this post.
-Frida
Don't forget to follow, like and share: