The Mesh Turtleneck
Ever since I got my mesh turtleneck, I have been so inspired. It's perfect as a base for a layered outfit and it can be worn under pretty much anything. If you are out of ideas for your mesh turtleneck, here are my absolute favorite ways to wear it:
One way that I haven't tried out yet, is wearing it underneath a one shoulder top. This would also look good underneath any other turtleneck.
Keep it simple and wear it over or under a bustier.
Let the mesh collar peek from underneath a classic button down.
Add your favorite slip dress on top.
Go for a relaxed look by adding a kimono on top.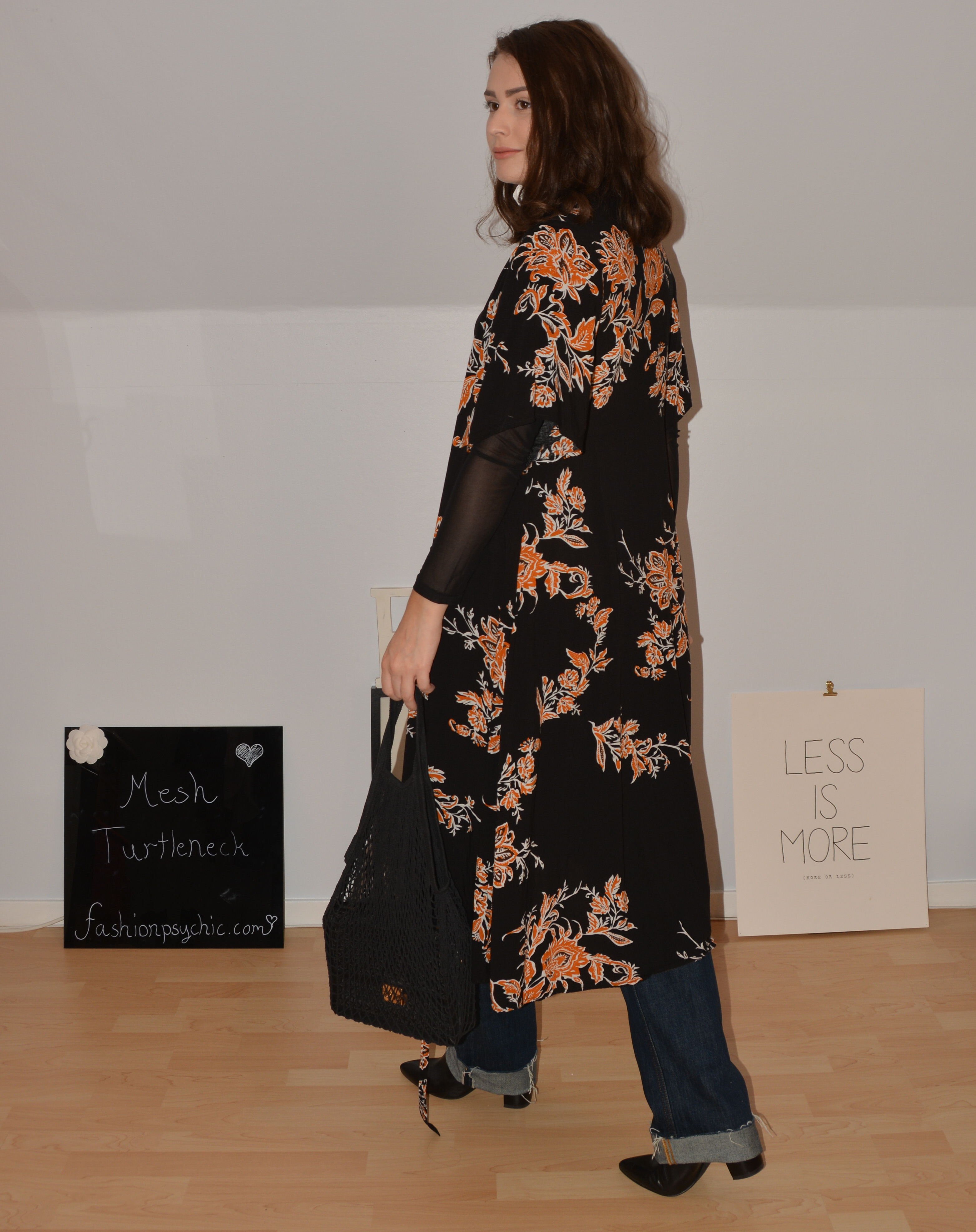 The Mesh Turtleneck And The Wrap Dress
The first look was inspired by this look on Zara and I first saved this look because of the jeans. If you have read earlier posts, you know how much I love those jeans (check it out here and here.) I chose my mesh turtleneck instead of a t-shirt. Because I don't own a floral kimono, I chose to layer my wrap dress on top. I paired the look with a pair of pumps, my monochromatic painted statement earrings and my new mesh/net bag with another bag in it. If you follow my Instagram, you've probably seen this already 😉 .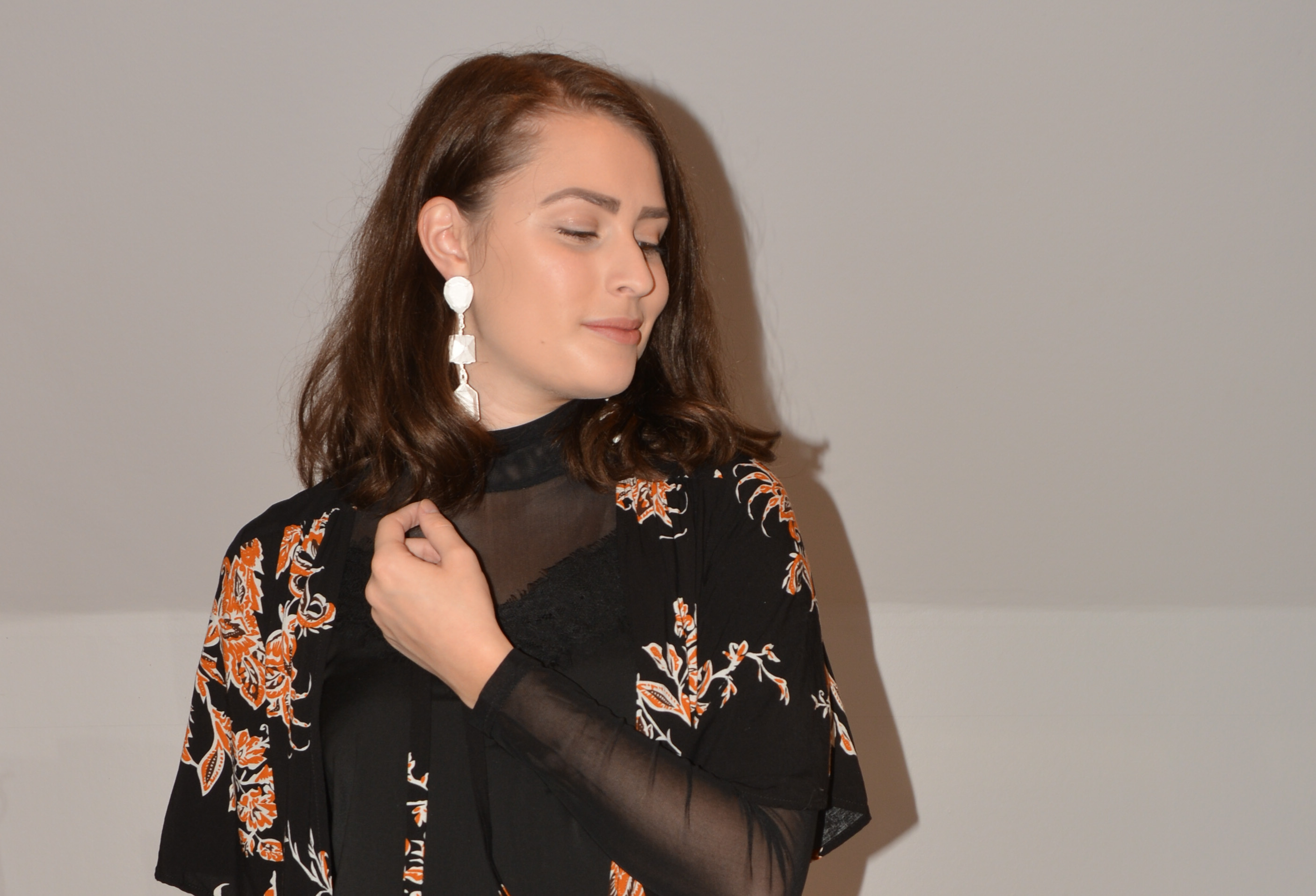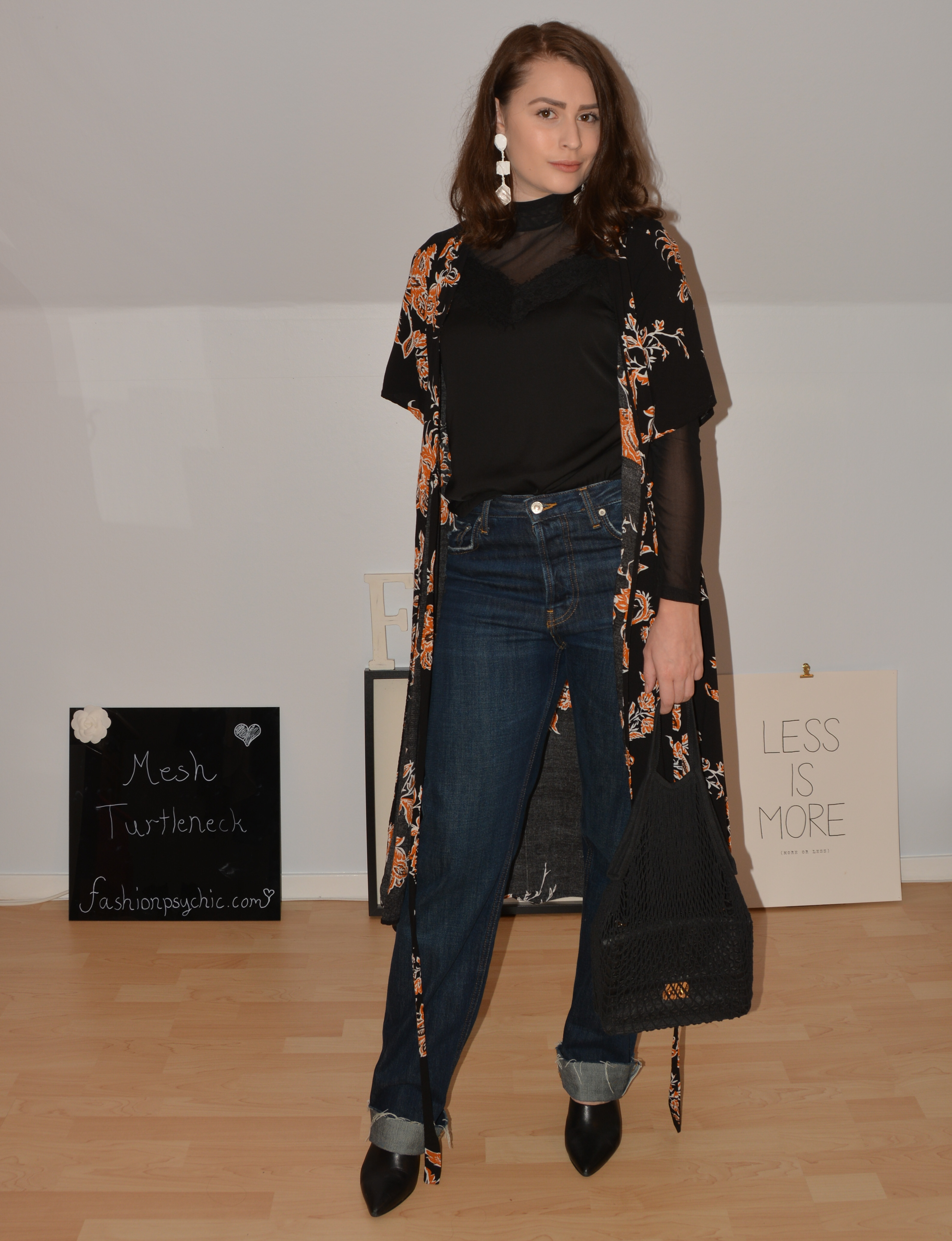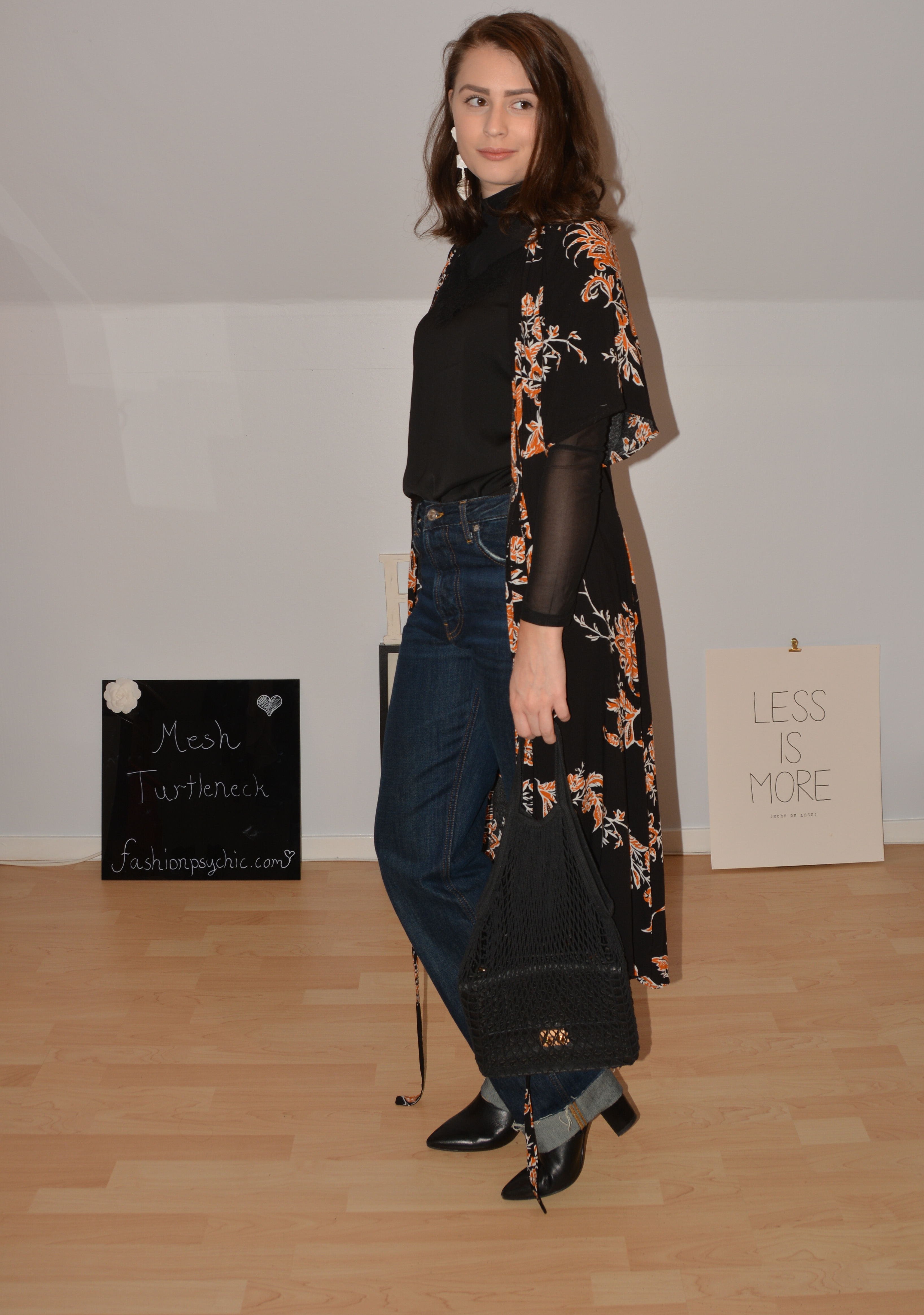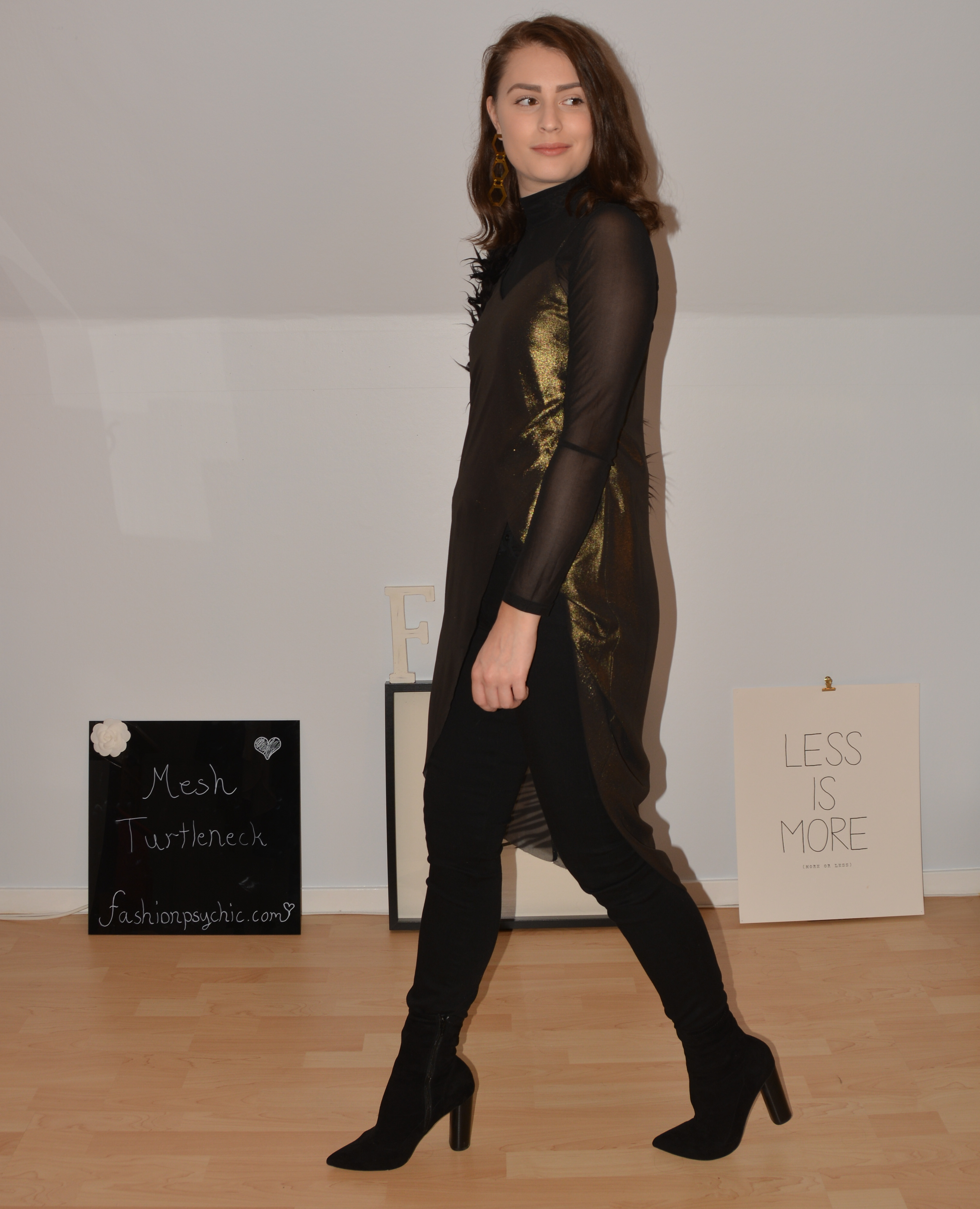 The Mesh Turtleneck And The Metallic Slip
Moving on to the second look. This is a great example of a layered look, with my metallic dress worn over my mesh turtleneck. I also wore black skinny jeans underneath the dress (and I half tucked the dress) which completes the layering. I wore my sock boots, a pair of gold earrings (read more about them here.) and finally, I added my black faux fur bag. Click here to see how I made the bag and here to see how I made the bag strap.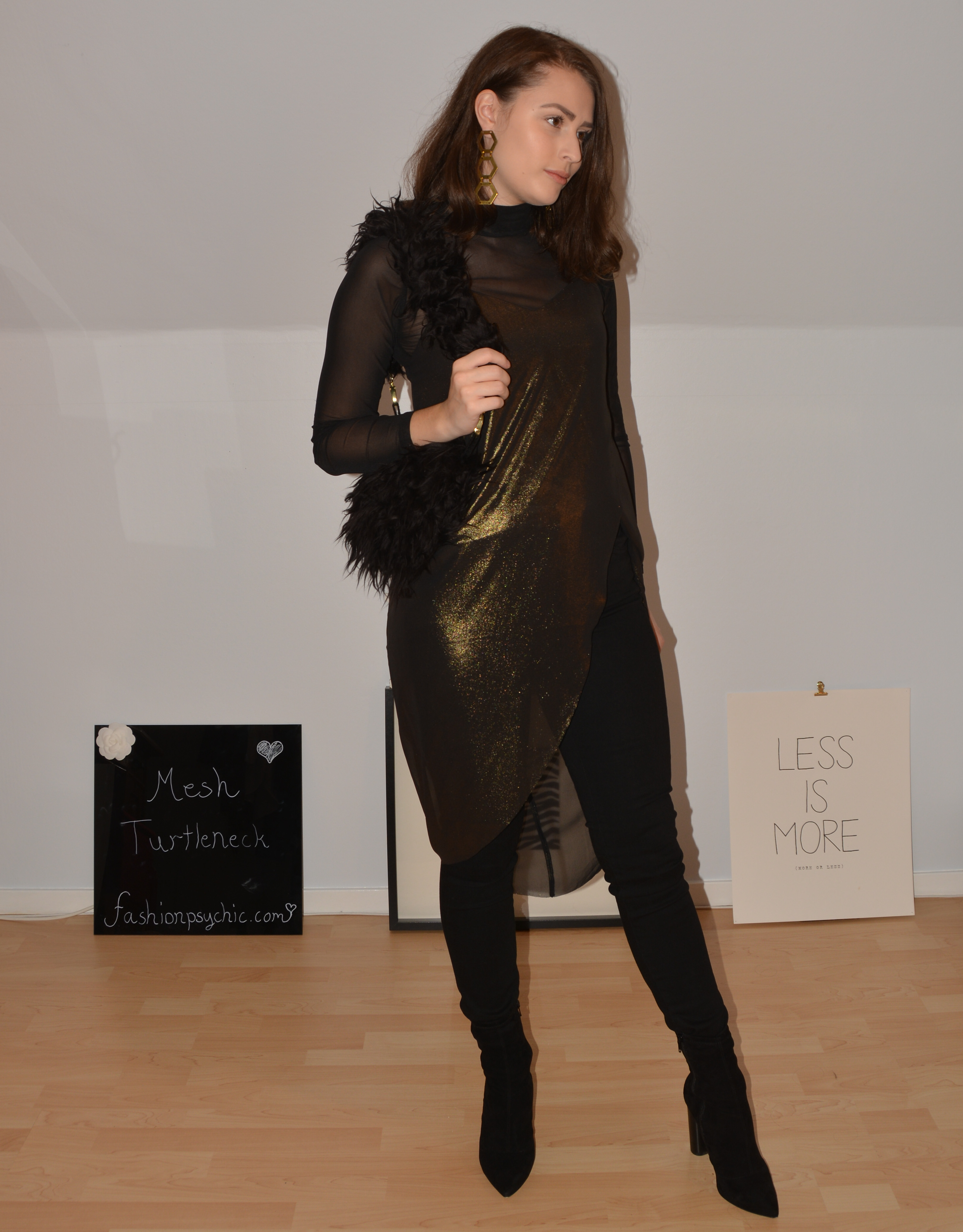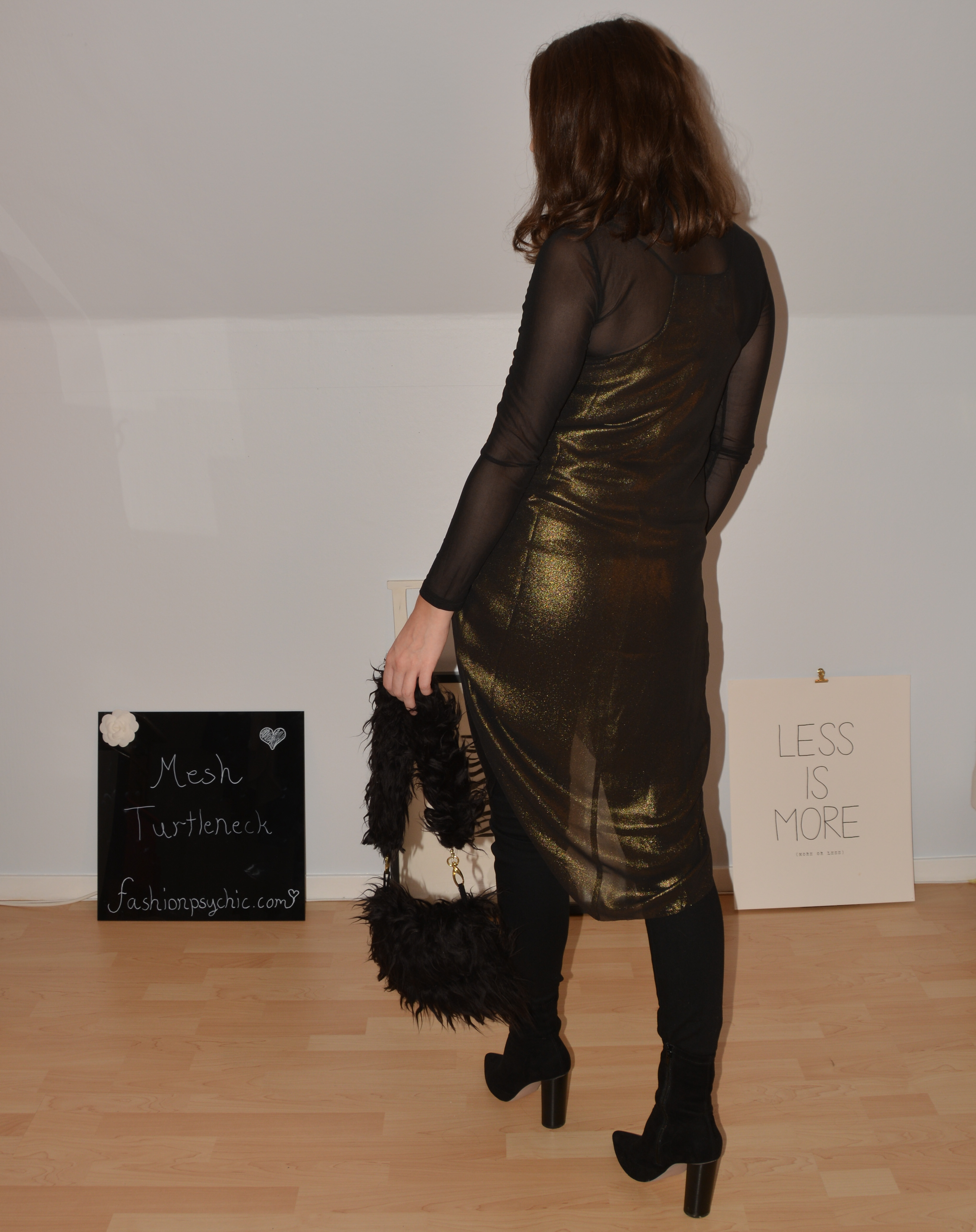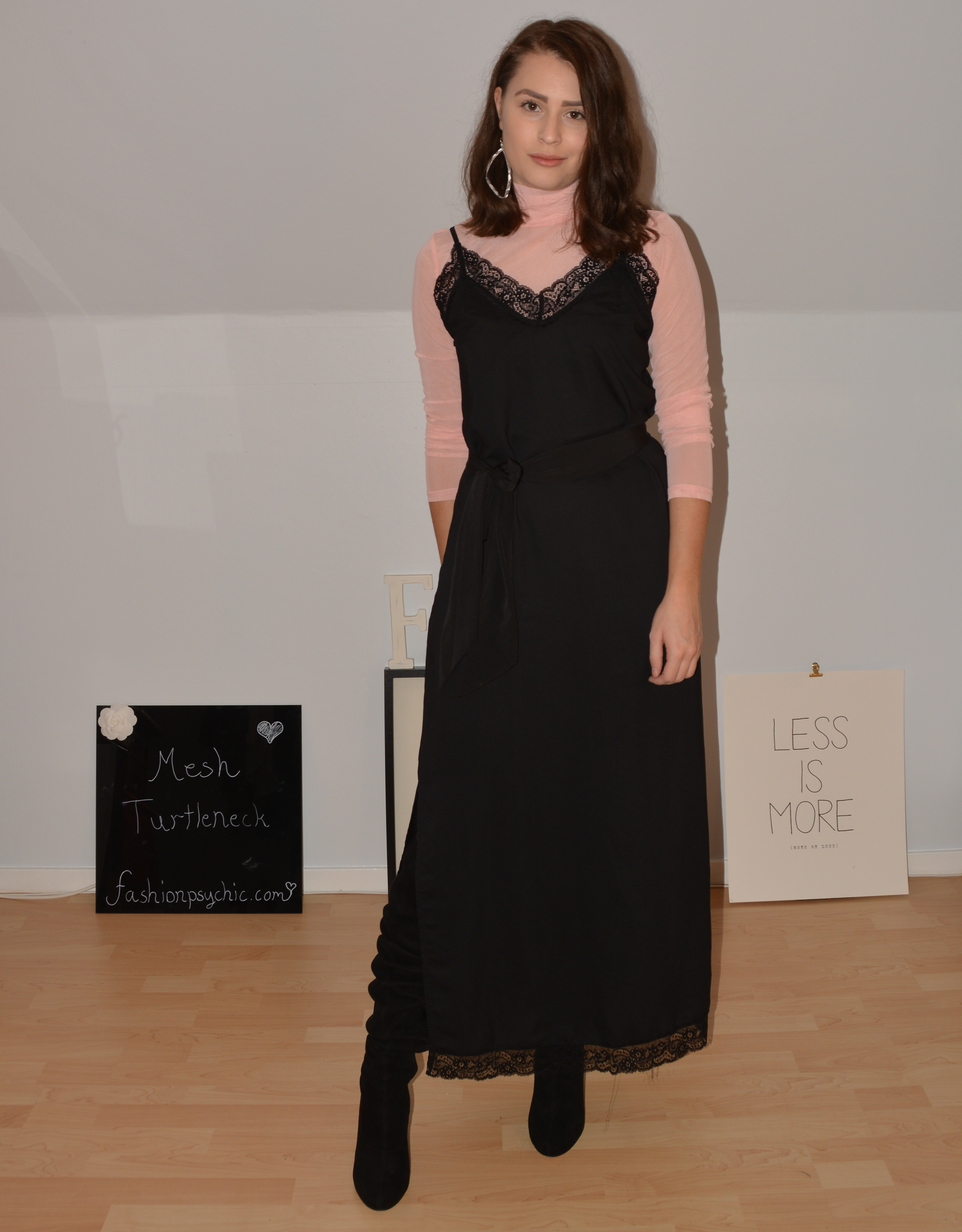 Bonus*: The Pink Mesh Turtleneck
Here is a bonus outfit that I thought of while taking pictures. I actually ordered both of these turtlenecks from Aliexpress and so you can't always be certain that the item will look like in the picture. Because they were extremely cheap, I decided to order both black and "flesh pink." Of course, this "flesh pink" or nude as I like to call it, didn't look at all like in the picture. In reality it was more of a salmon pink… (how weird is it that I'm eating salmon right now? looking at my salmon, it's definitely the most accurate description of my turtleneck..) and I don't usually look good in and warm shade of pink. Because of the price (and because I'm lazy) I decided to keep it.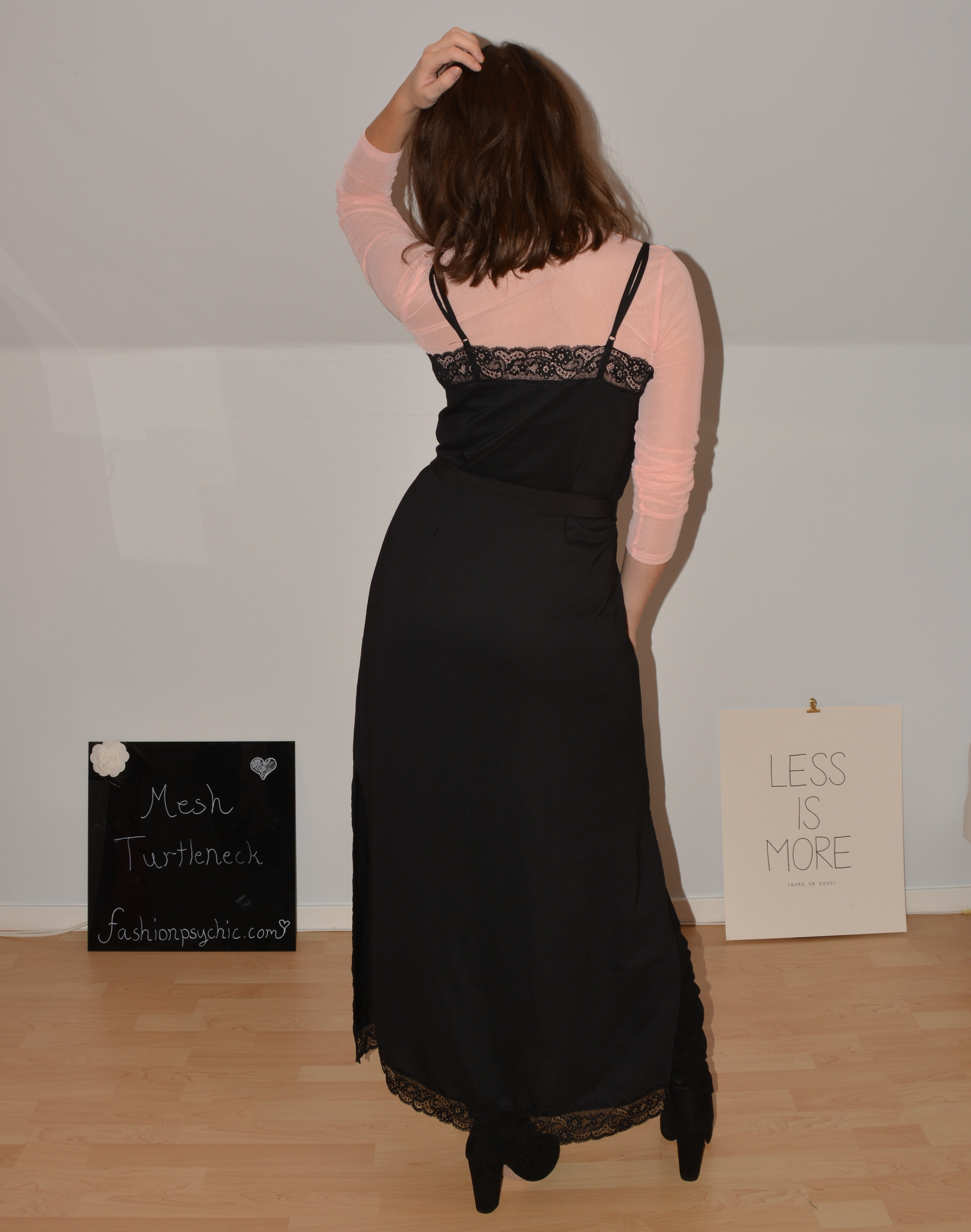 So I decided to challenge myself and I was able to think of this gorgeous outfit that I just love. I wore my pink mesh turtleneck underneath a black lace trim nightgown, yes nightgown. I wanted a nightgown for years and know that I have one, I realize it's too pretty to only be worn at home. It looks a lot like a slip dress anyway, so it's perfect. I tied a black skinny scarf at the waist, and I paired it with thigh high boots worn like slouch boots and a silver earring (see how I made it here.)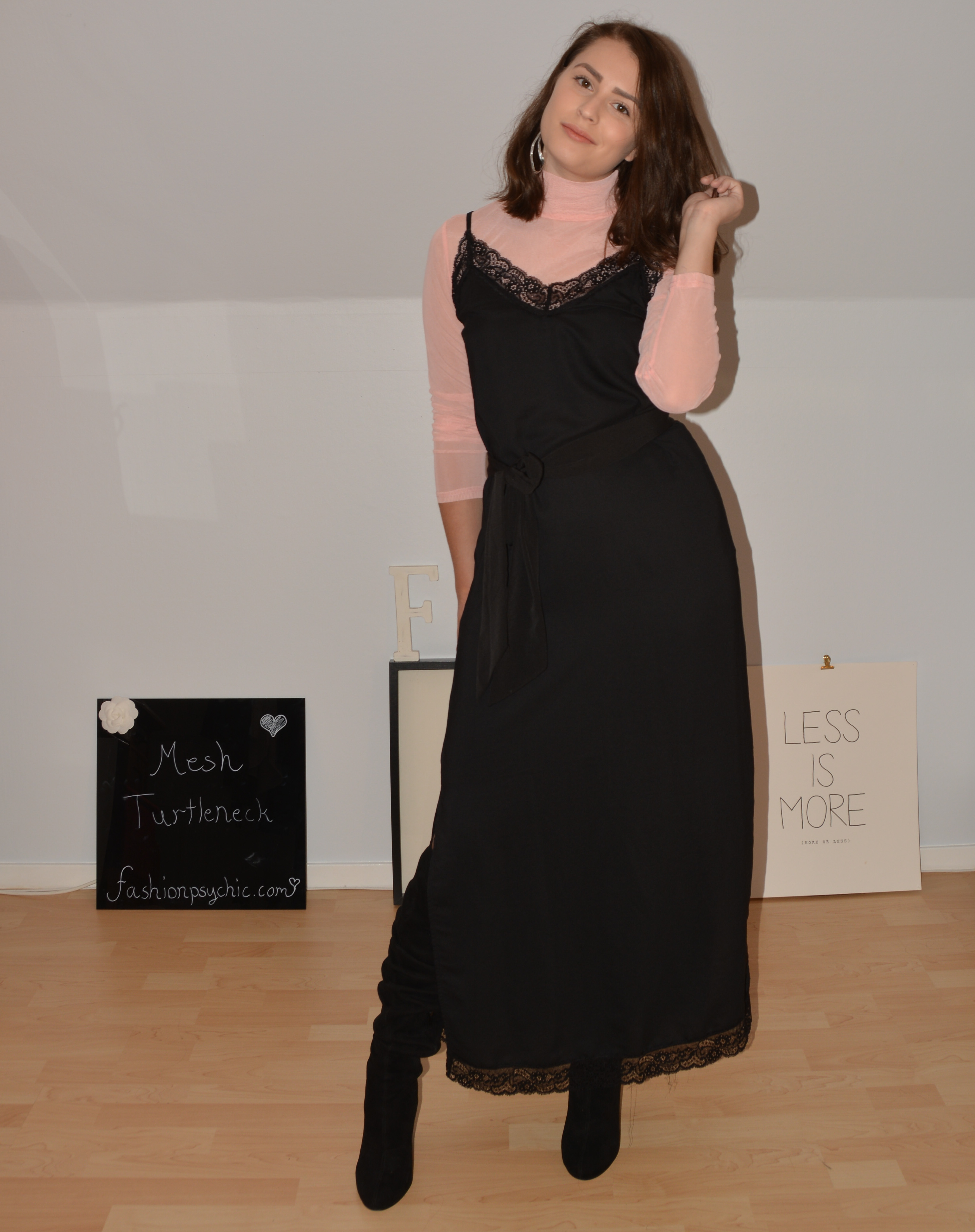 Thanks For Reading
Do you have any questions or ideas? Feel free to write in the comment section below. If you liked this post, please don't forget to click the like button below. To receive an email when I publish something new; subscribe to my email list by clicking the follow button below (or click here.) If you'd like you can also use the buttons below to share this post.
-Frida
Don't forget to follow, like and share: