Love To Layer
I have mentioned before that I love to layer, it is perfect during winter. It's also the best way to create new outfits without buying new things. Instead, you use what you have in ways you hadn't thought of before. A blouse can be worn over a turtleneck and a pair of jeans can be worn underneath a dress.
Today I wanted to share some ways I'm updating my layering techniques and hopefully inspire you to do the same. It's all about trying different things and having fun. If you have something specific in mind, but it looks different in reality, consider if you can do something about it. Use safety pins to make it look the way you want. You'd be surprised by the difference it can make.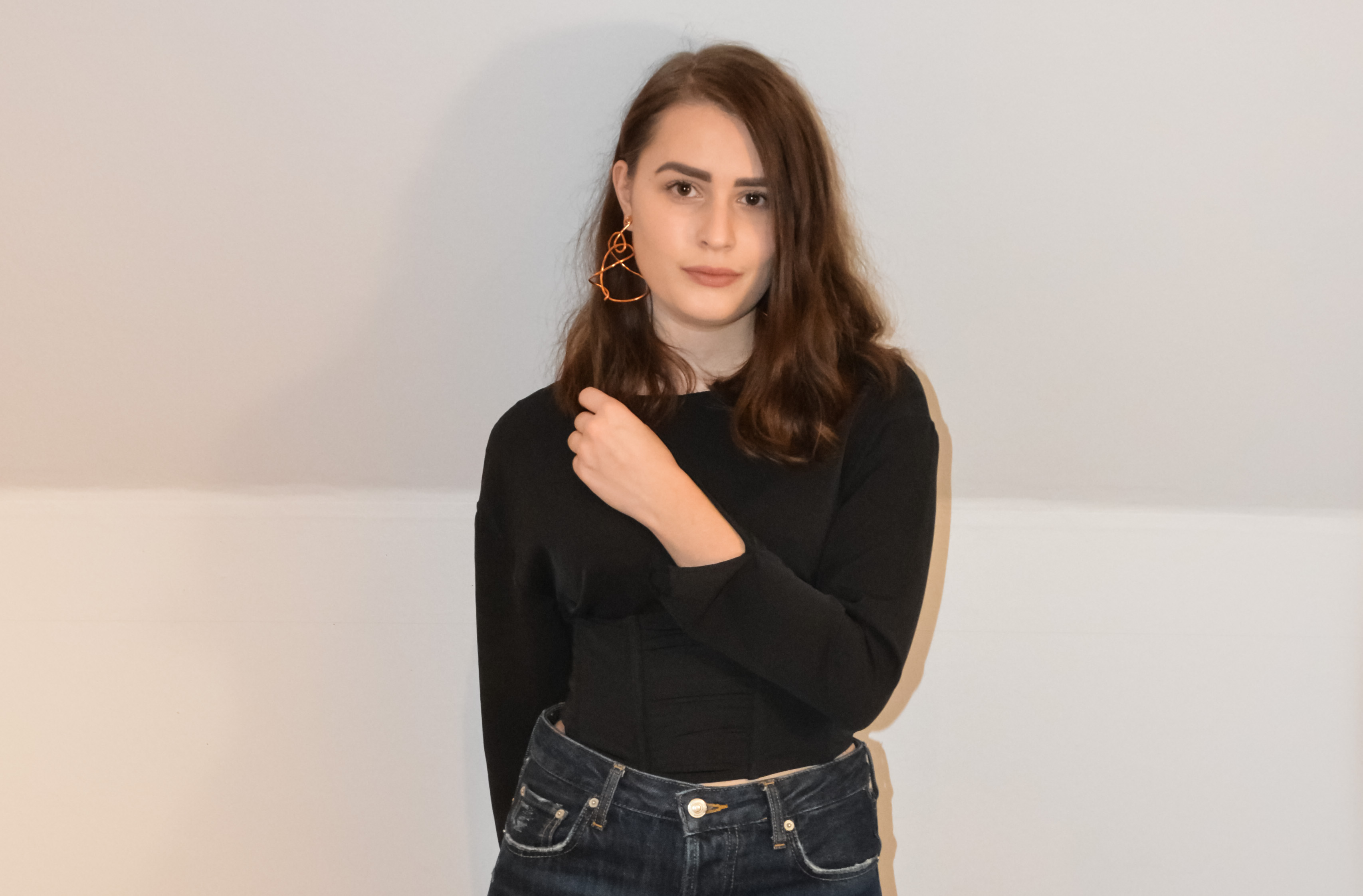 Layer With A Waspie/Corset
I know that this first look doesn't look like a layered one, but it depends on how you see it. To me a layered look looks better with three layers. But I'm pretty sure it still counts as layering when there are at least two. A waspie (or corset, or you can chose a bustier/bralet) counts as one layer (if you ask me at least), and so this outfit has two layers, making it a layered outfit.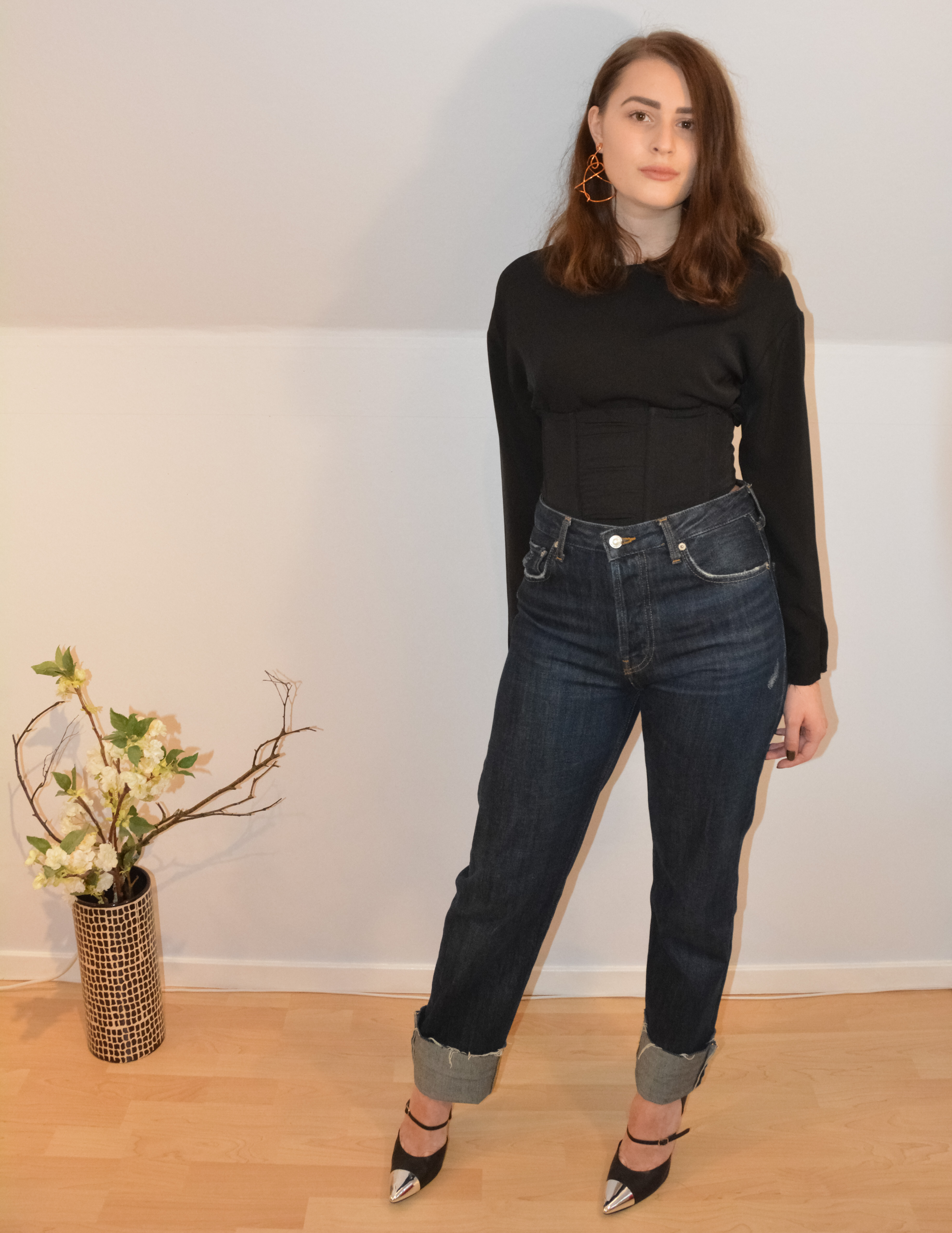 Like many things within fashion, everyone has a different idea of things. For example; is a poncho a piece of clothing or a type of scarf (should it be called cape, poncho or wrap?) Where is the line between budget and luxury? And what counts as minimalism?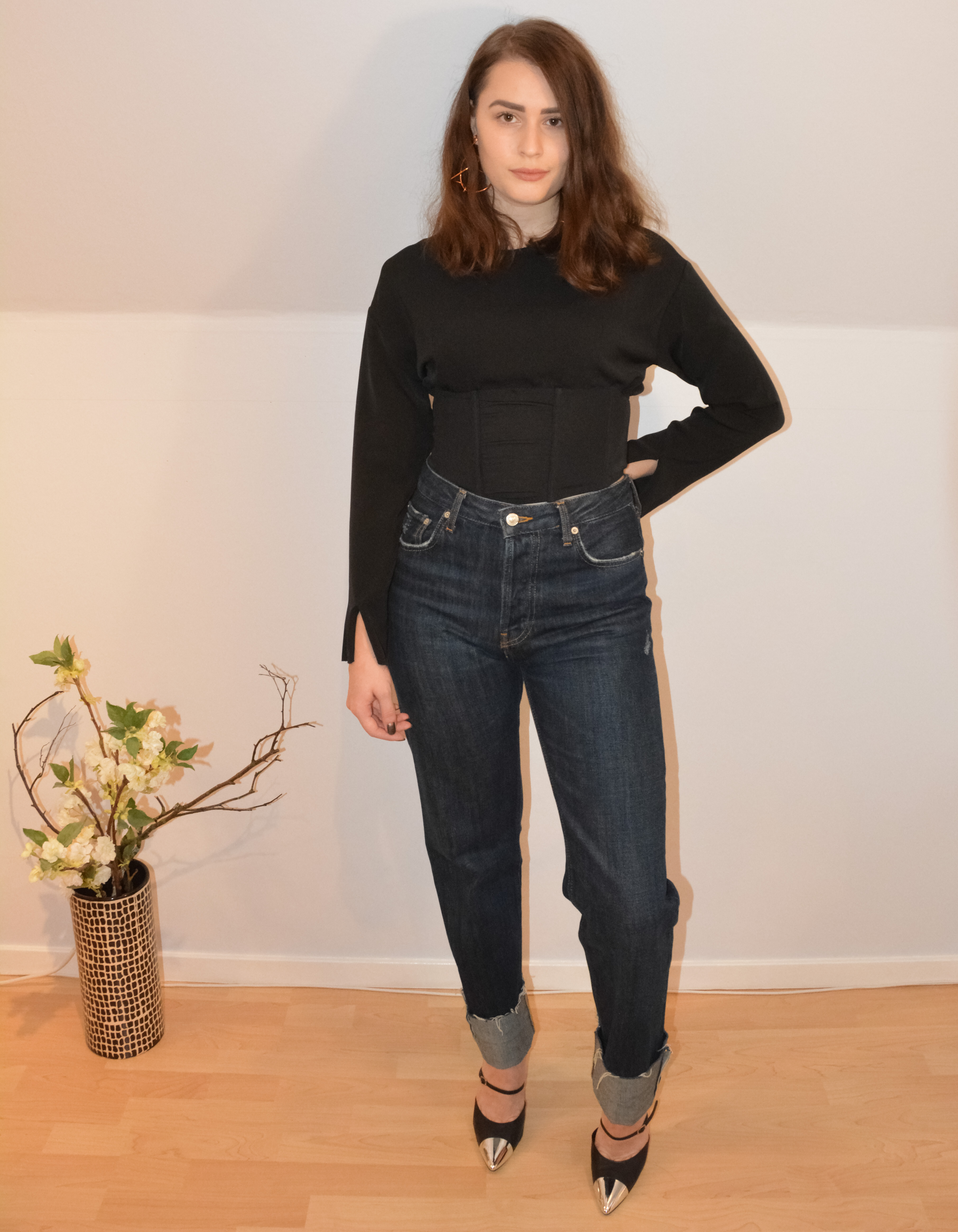 All questions aside, a waspie can be added to an outfit with more layers if you'd like. If I were to add more layers to this particular outfit, I would wear a turtleneck underneath the black blouse (and I would layer a coat over that.) I paired my waspie and blouse with my Zara jeans, a pair of pumps and my wire earrings (Check out the DIY.)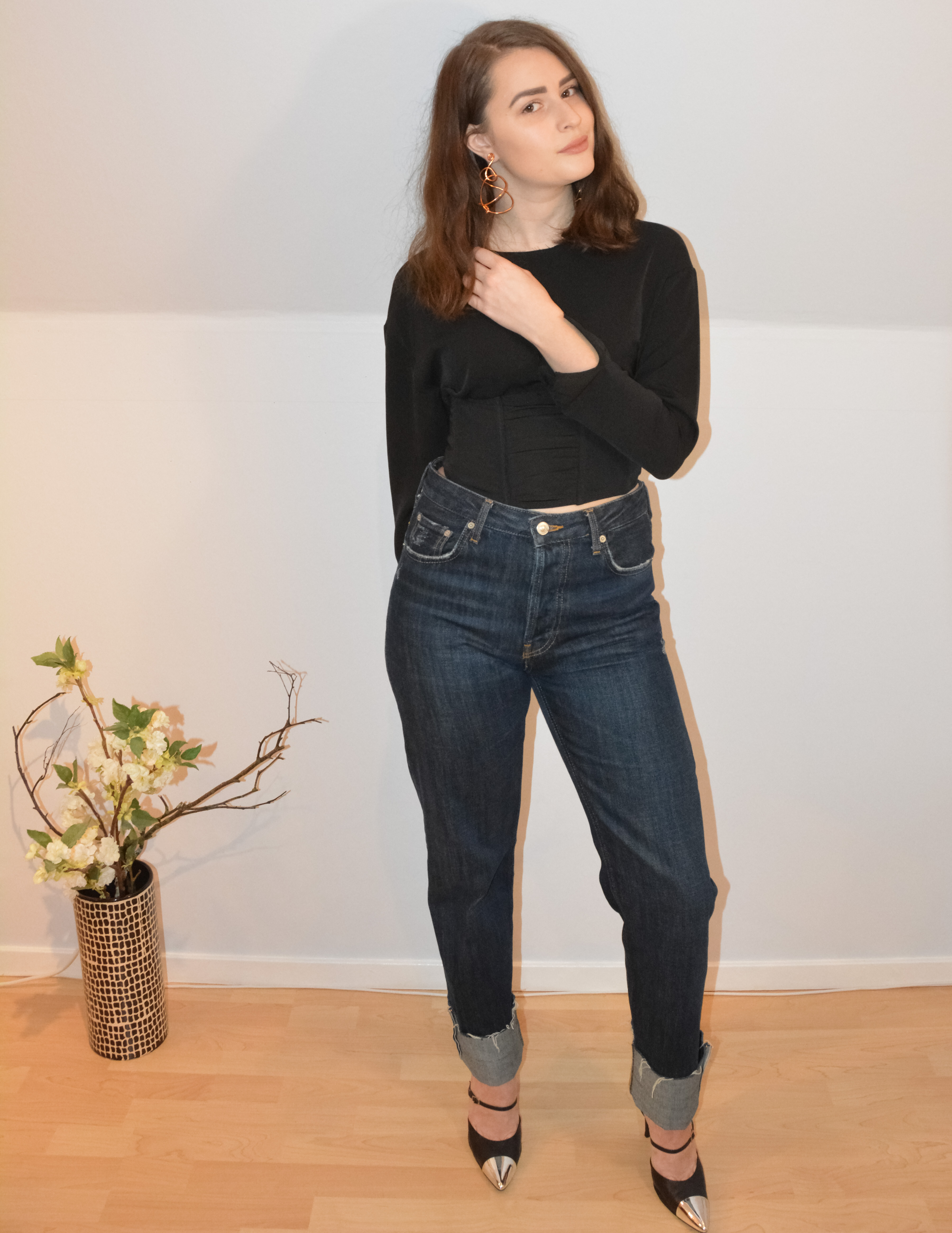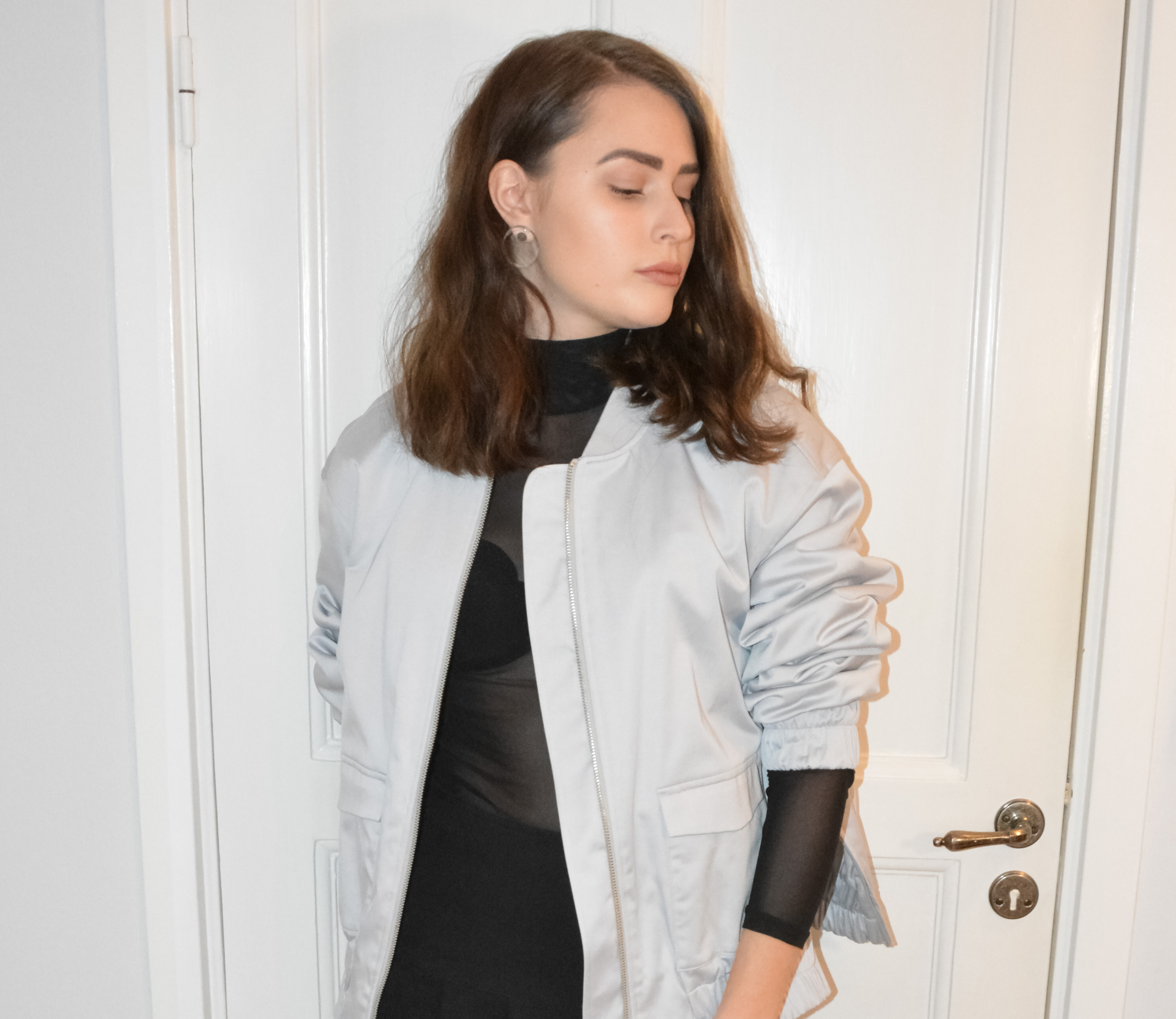 Layer A Skirt Over Pants
This one can be tricky to pull off, but if you know what you're doing, it can look amazing. My suggestion is to layer a skirt (I prefer mini skirts, but longer works as well) over a pair of pants in the same color. I chose a mini ruffle skirt and a pair of black pants.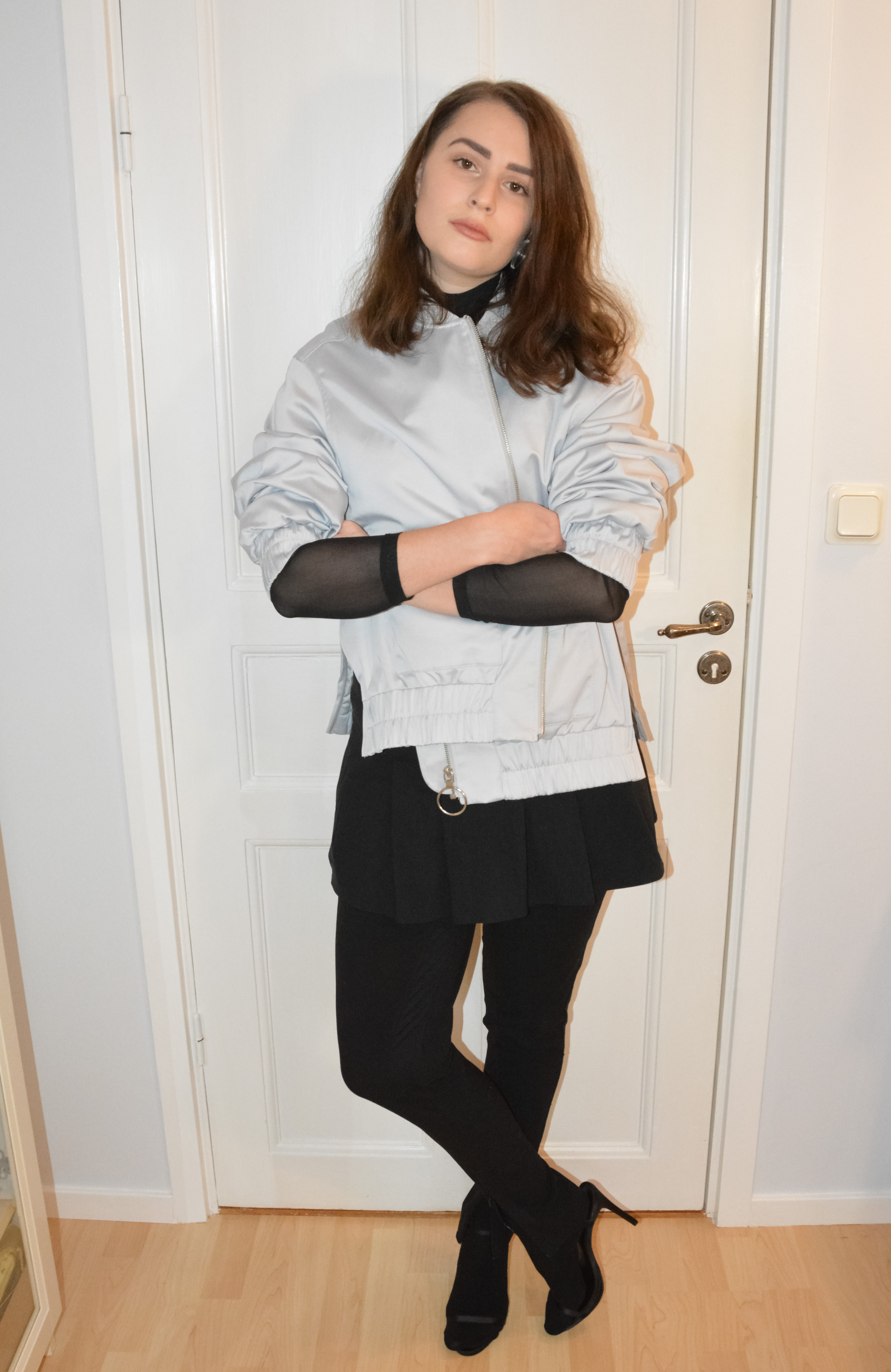 I would also suggest picking a skirt with a high waist to avoid looking shorter than you are. A high waist is always more flattering and I never buy anything that doesn't have it. I do own some things with mid and low waists, but the fact that I rarely wear them shows that I don't like the way it looks on me. After learning from my mistakes, I won't be making them again (I hope…)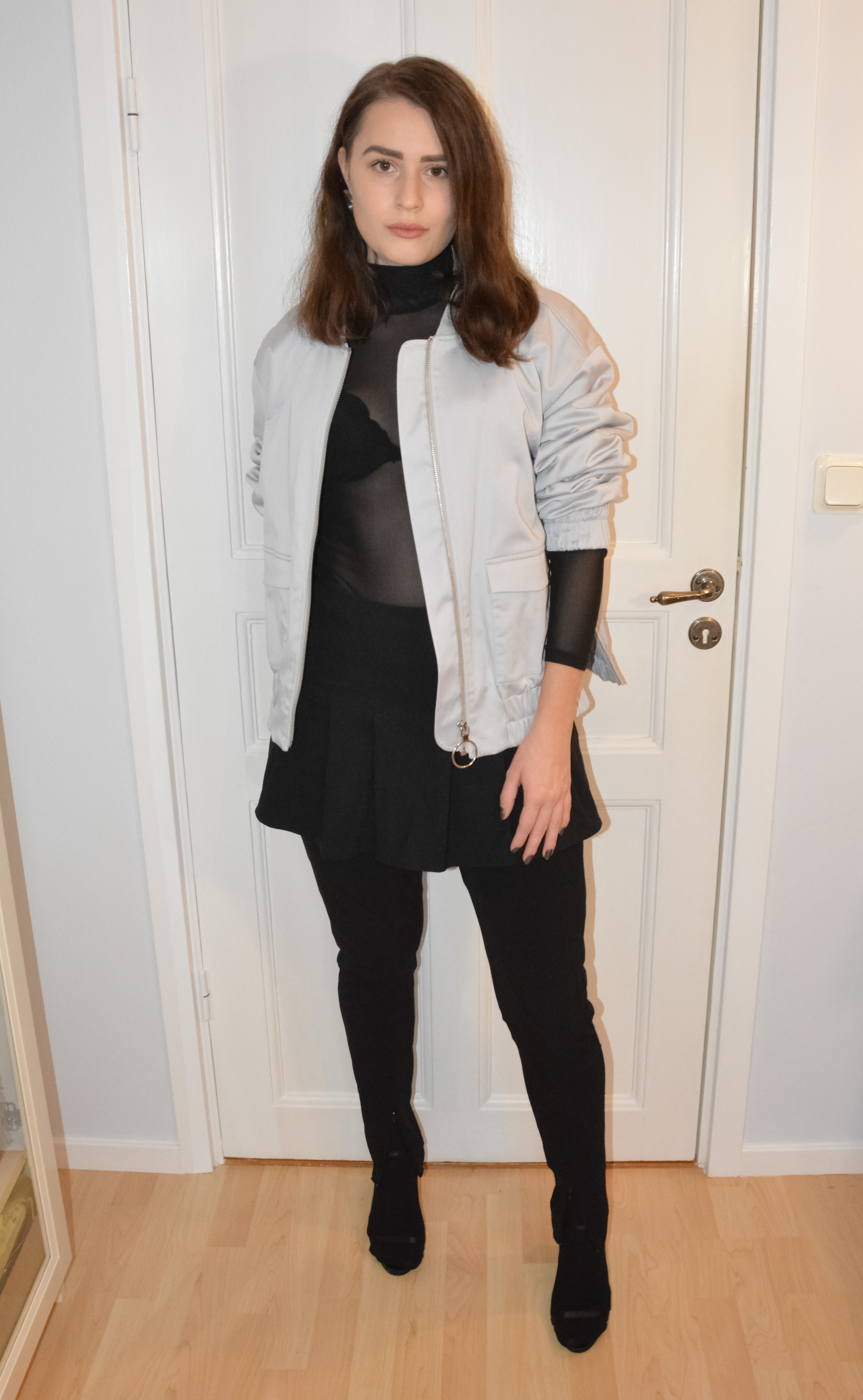 I paired my skirt and pants with my mesh turtleneck and I added my new blue bomber jacket. As a final touch I chose to wear a pair of black ribbed socks in my new stiletto sandals from New Look.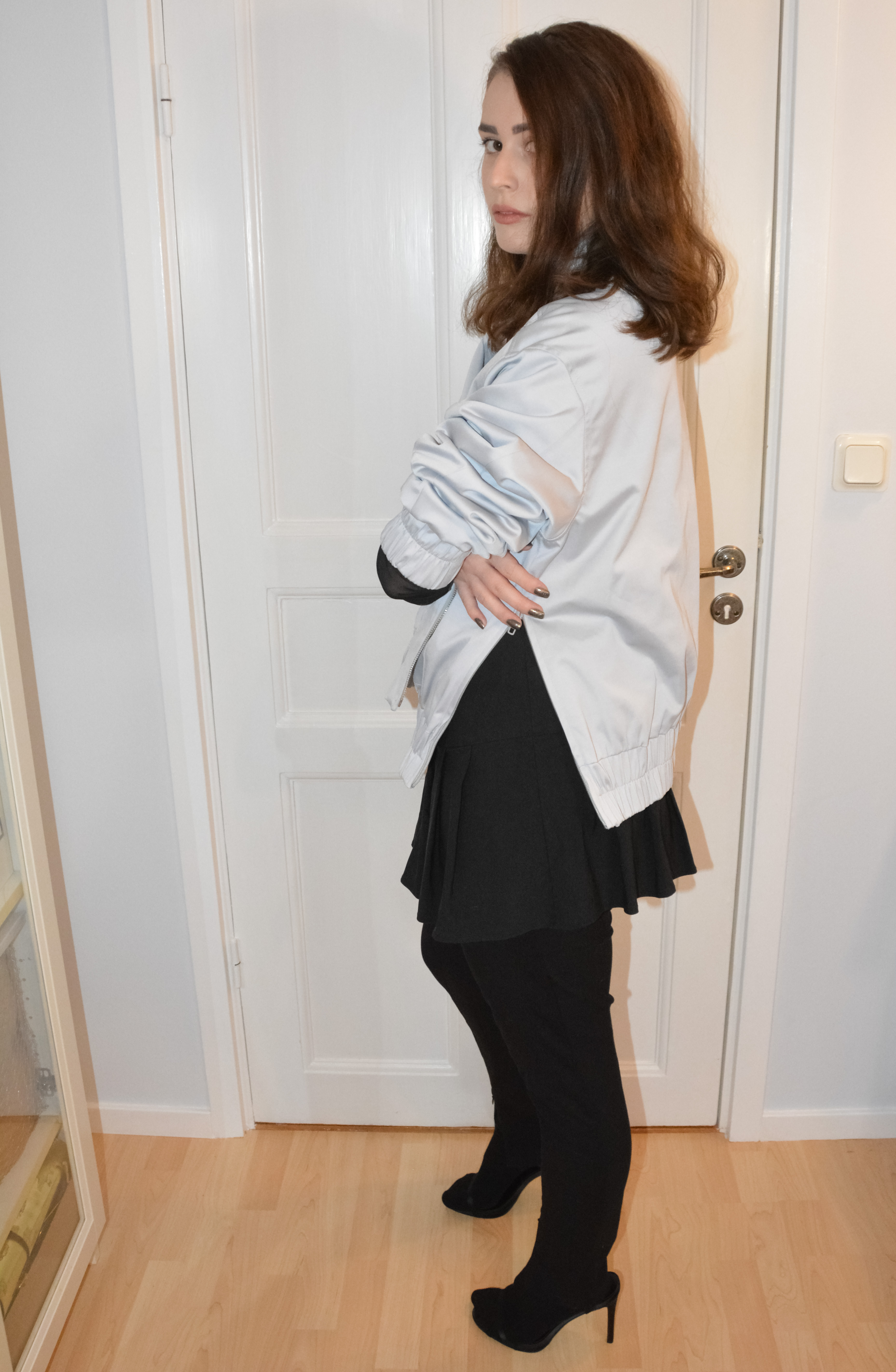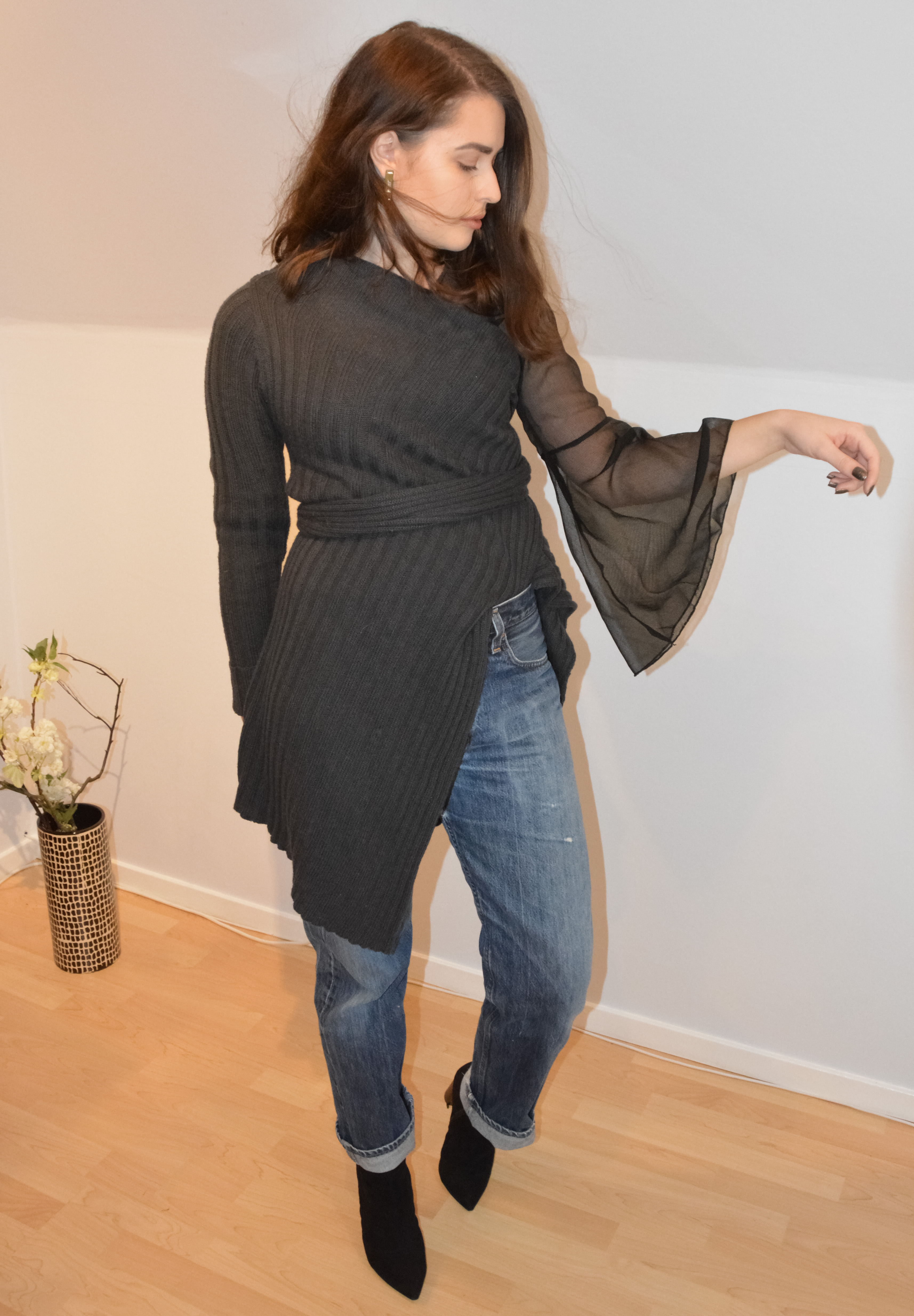 Layer The One Shoulder Top
Ever since I saw this in a magazine I have wanted to try it out, but for some reason I haven't. I decided it was time. To do this I turned an old draped cardigan (temporarily) into a one shoulder sweater. I layered it over a sheer bell sleeve blouse for some interesting material contrasts.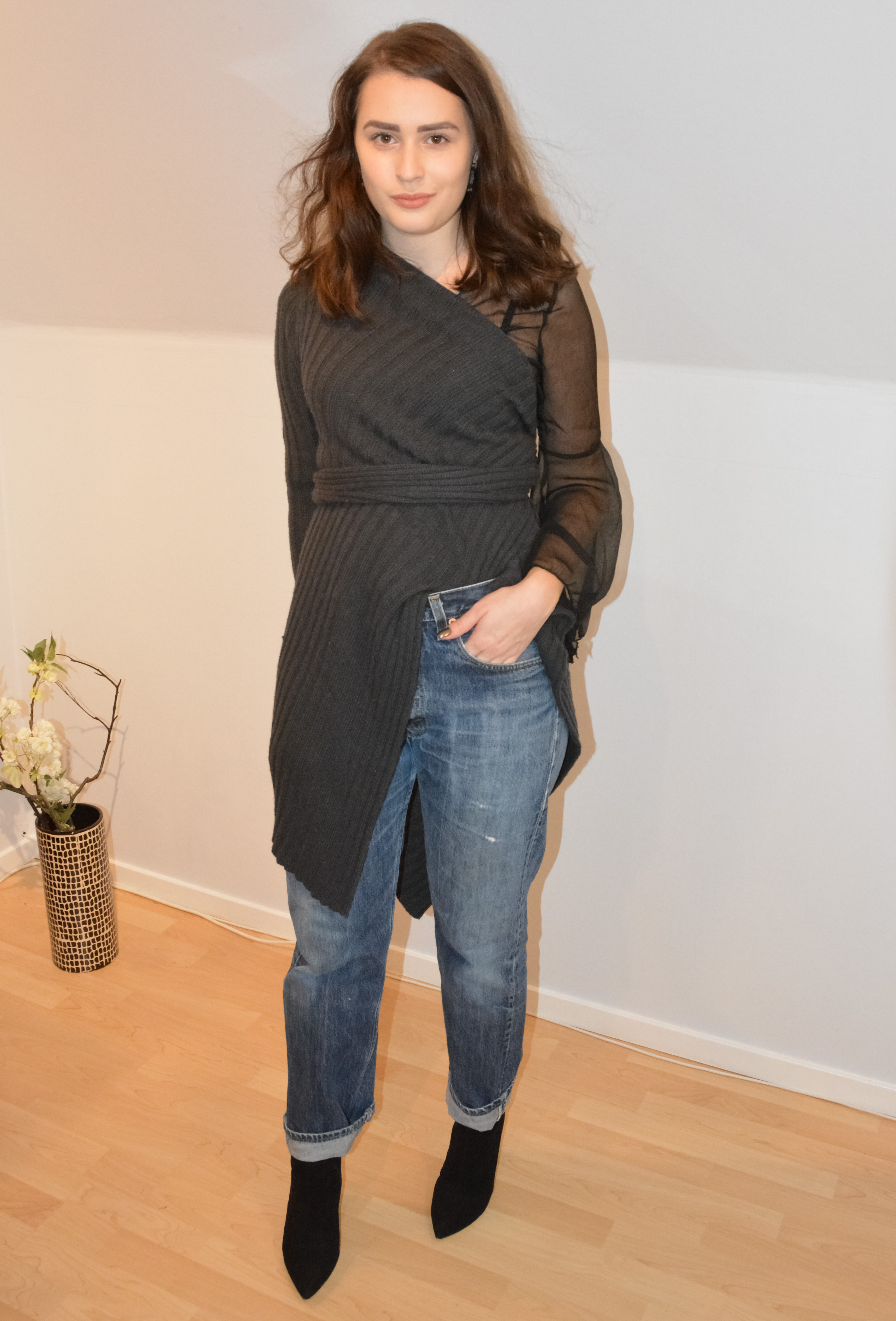 For this technique, there are no rules, just have fun with it. Although I'd like to point out that, if you are layering to keep warm, a long sleeve would be the best choice. You lose the point a bit if you wear a short sleeve or sleeveless top underneath. My sheer blouse wouldn't be the best choice either, but you get my point.
I paired the asymmetric top and the blouse with a pair of classic Levi's. For shoes, I decided on my favorite pair of sock boots, and I also added a pair of earrings. I first showed them to you in my gift guide.
Thanks For Reading
Do you have any questions or ideas? Feel free to write in the comment section below. If you liked this post, please don't forget to click the like button below. To receive an email when I publish something new; subscribe to my email list by clicking the follow button below (or click here.) If you'd like you can also use the buttons below to share this post.
For previews of coming posts and more fashion, check out my Instagram!
-Frida
Don't forget to follow, like and share: