Valentines Day
Whether you're spending Valentines day at home alone, out with your girlfriends or with your significant other, you'll need the perfect outfit. I do realize this is last minute if you like planning ahead, but if you need some ideas, I've got you covered.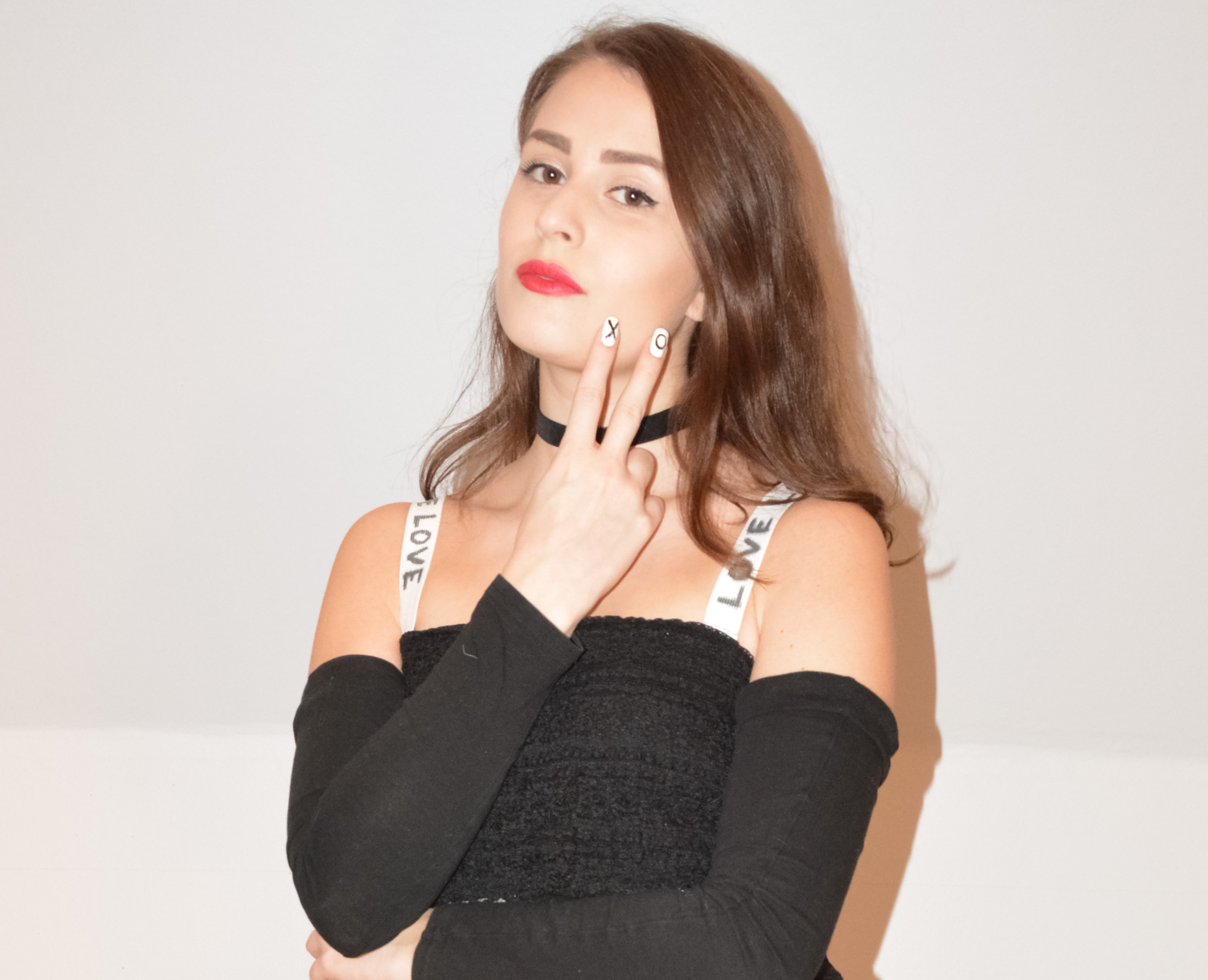 To match every outfit, I choose to paint my nails white with some black on top. On my left hand, I wrote love, on the right I wrote xoxo and on my thumbnails I drew hearts.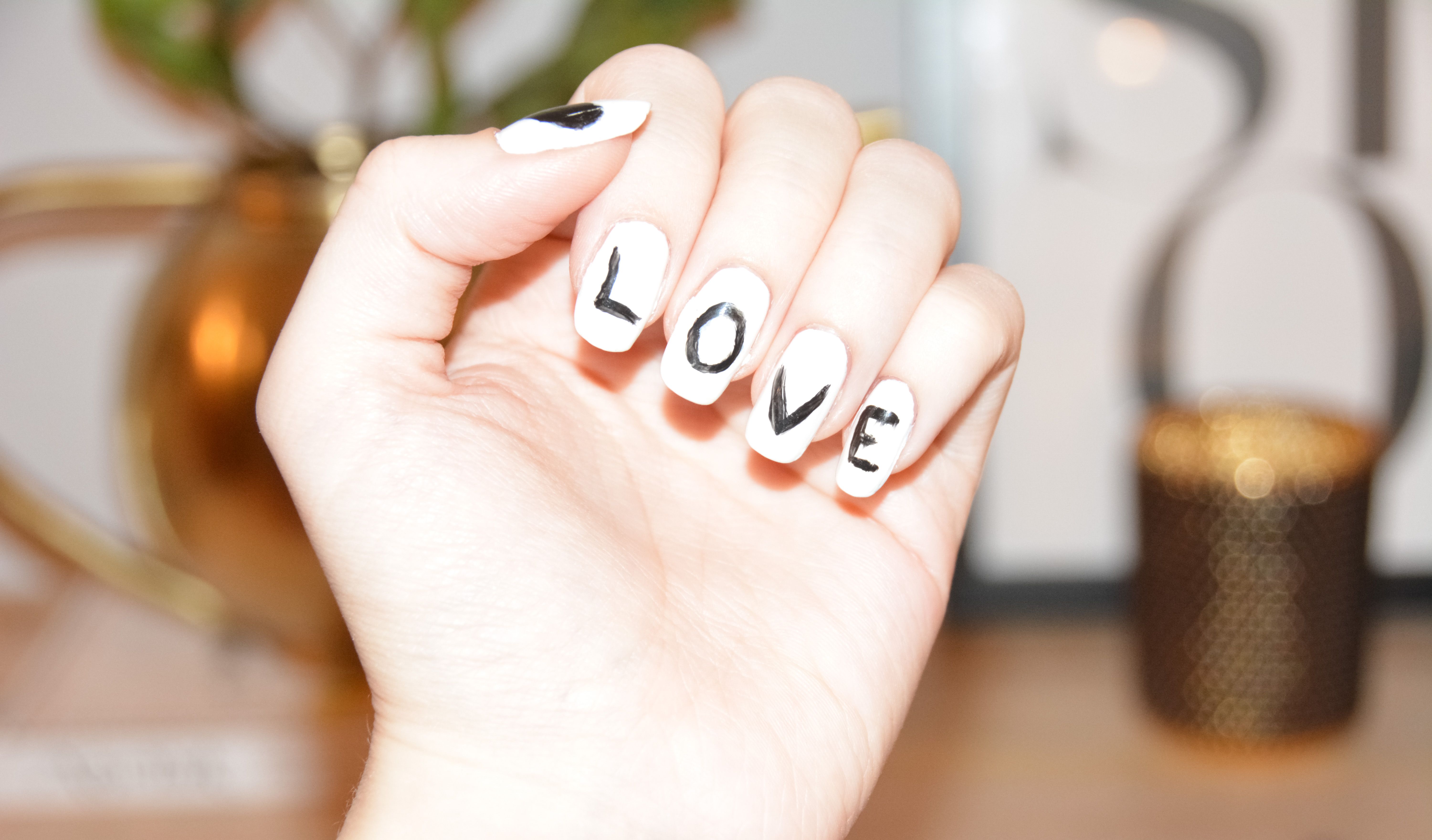 Romantic Date
So you have a date on Valentines day? If you do, chances are that you love going all out for the day. Nothing says Valentines date like light pink does and it can easily be paired with other colors. So, if you don't like the head to toe look, choose your favorite pink blouse and pair it with your most flattering jeans.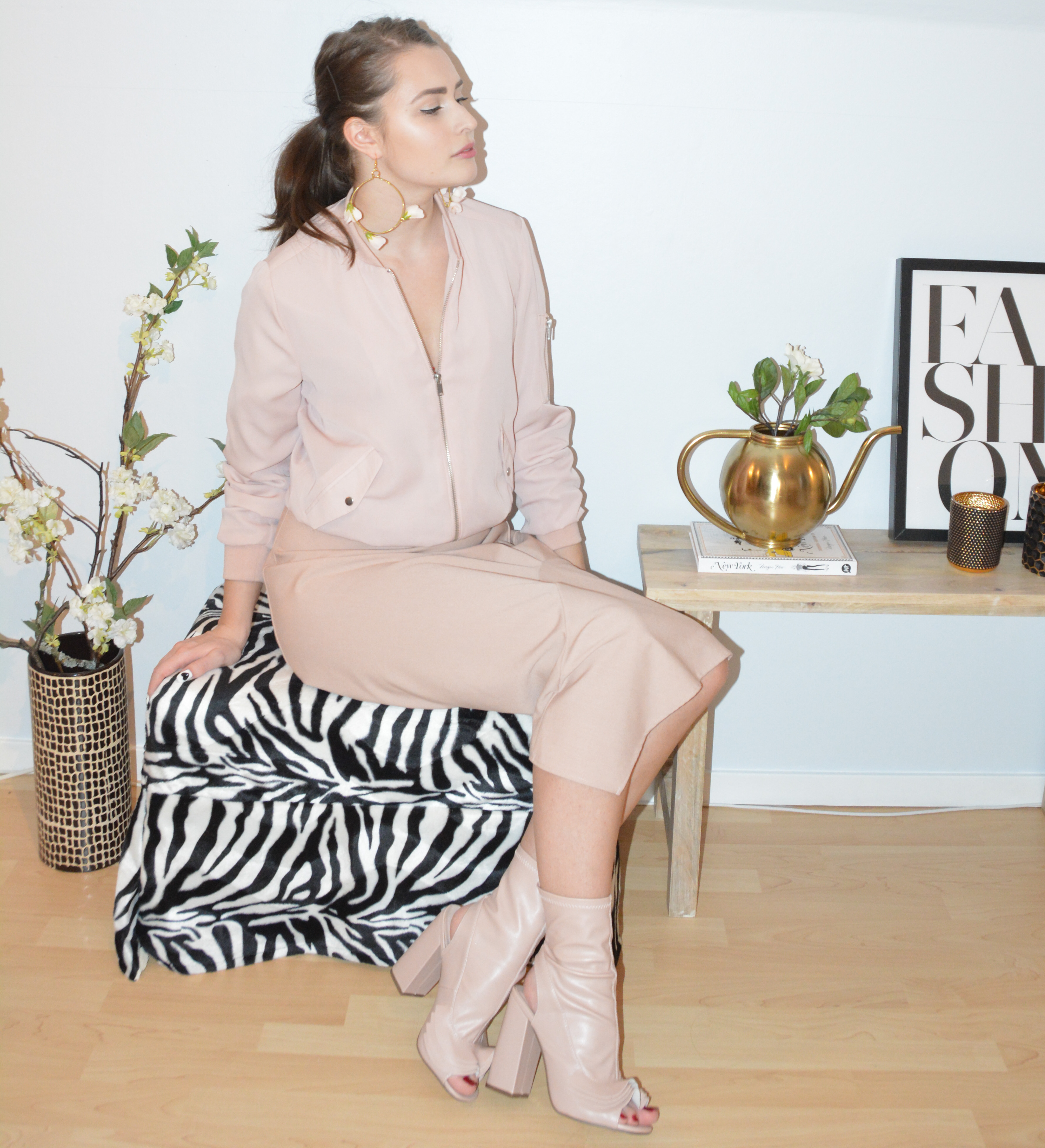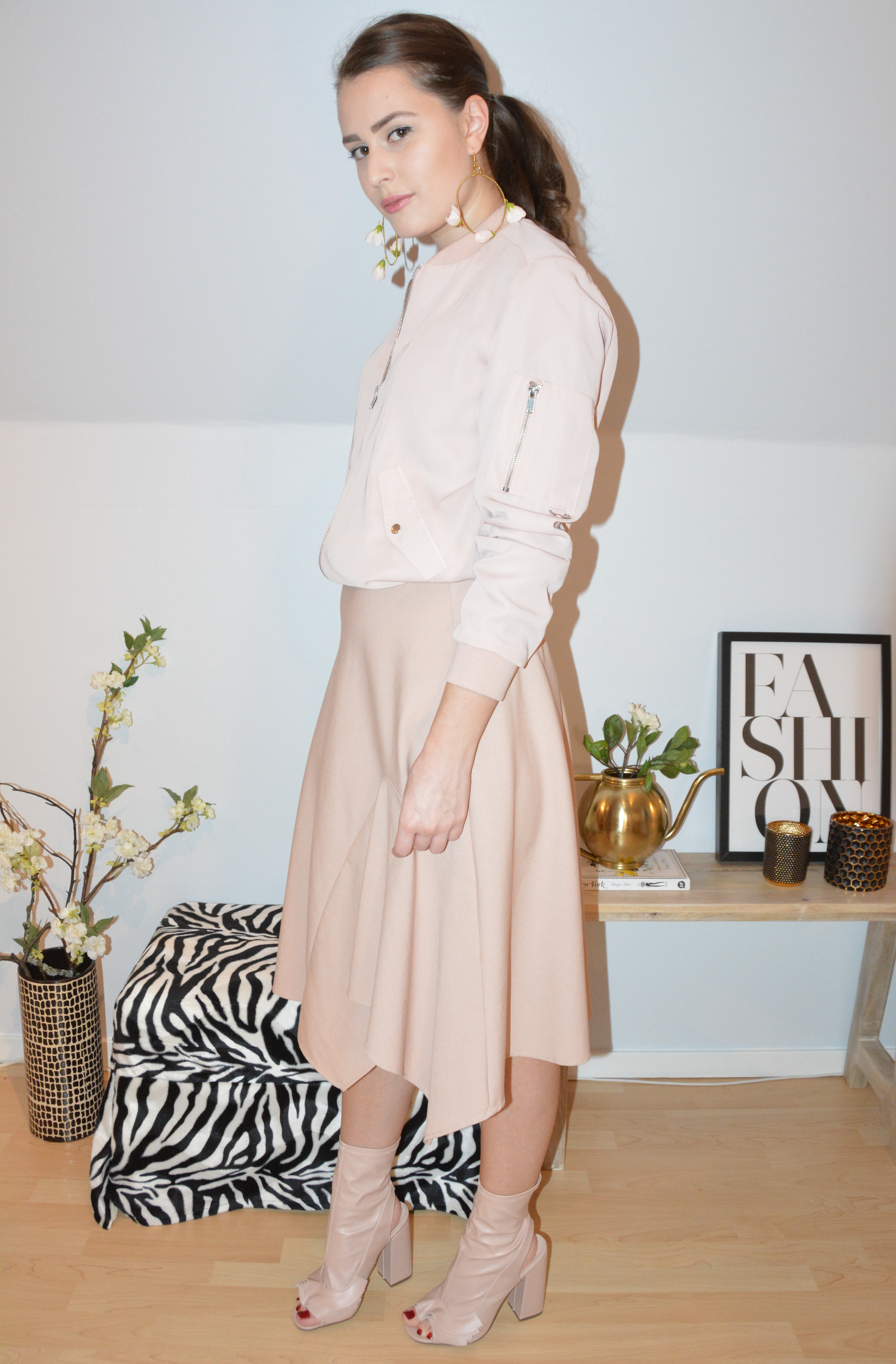 I paired my pink bomber jacket with a pink asymmetric skirt from Zara, a pair of open toe ruffle boots from Missguided and a pair of floral hoop earrings. I love how these earrings add that final touch.
Spreading Love
Because Valentines day is in the middle of the week this year, you're probably working, right? Give your work wear something extra by adding a pop of red, or why not go monochrome red? Another thing that goes great with any outfit is a smile. Why not smile at every person you see in order to make them feel better?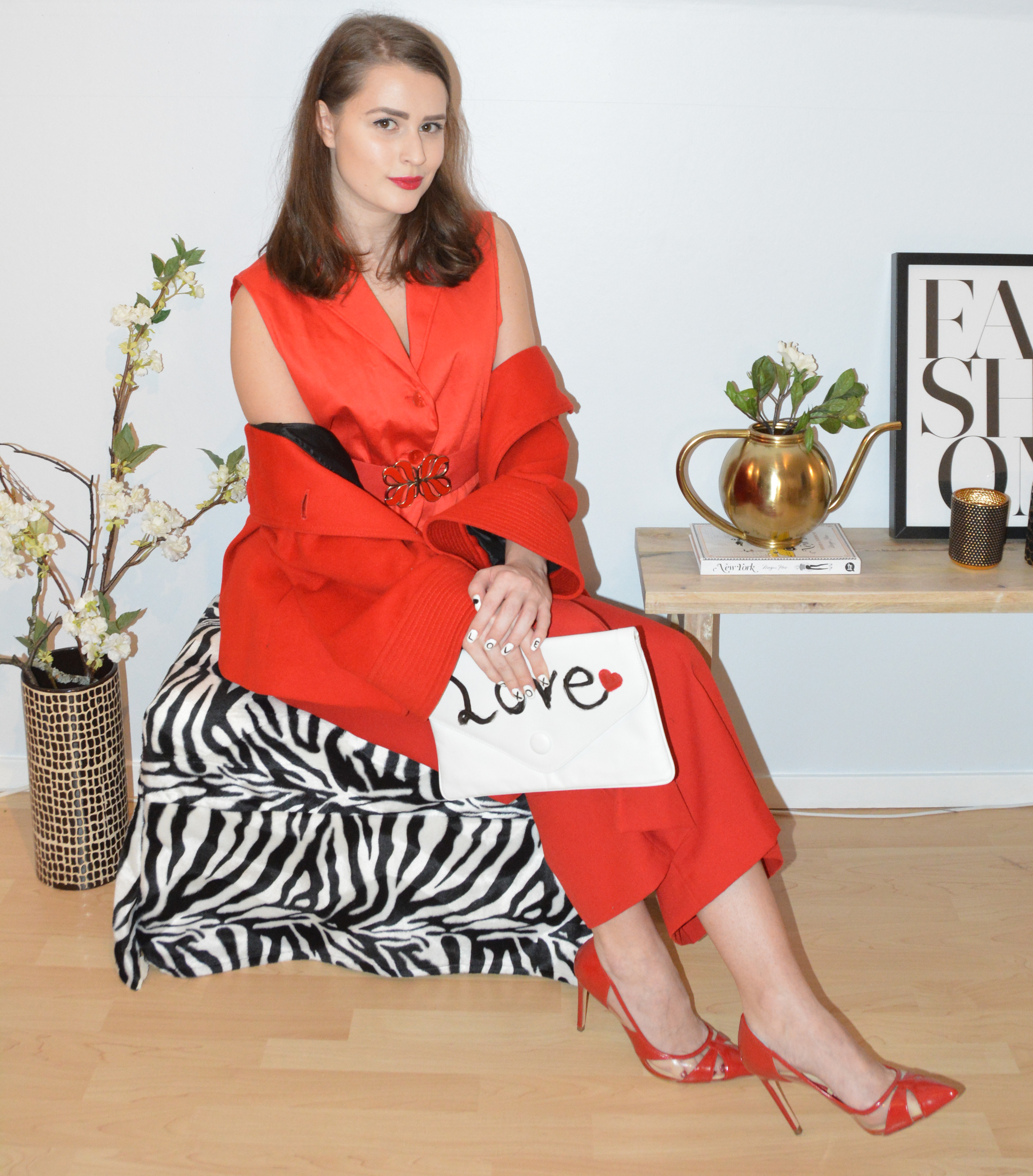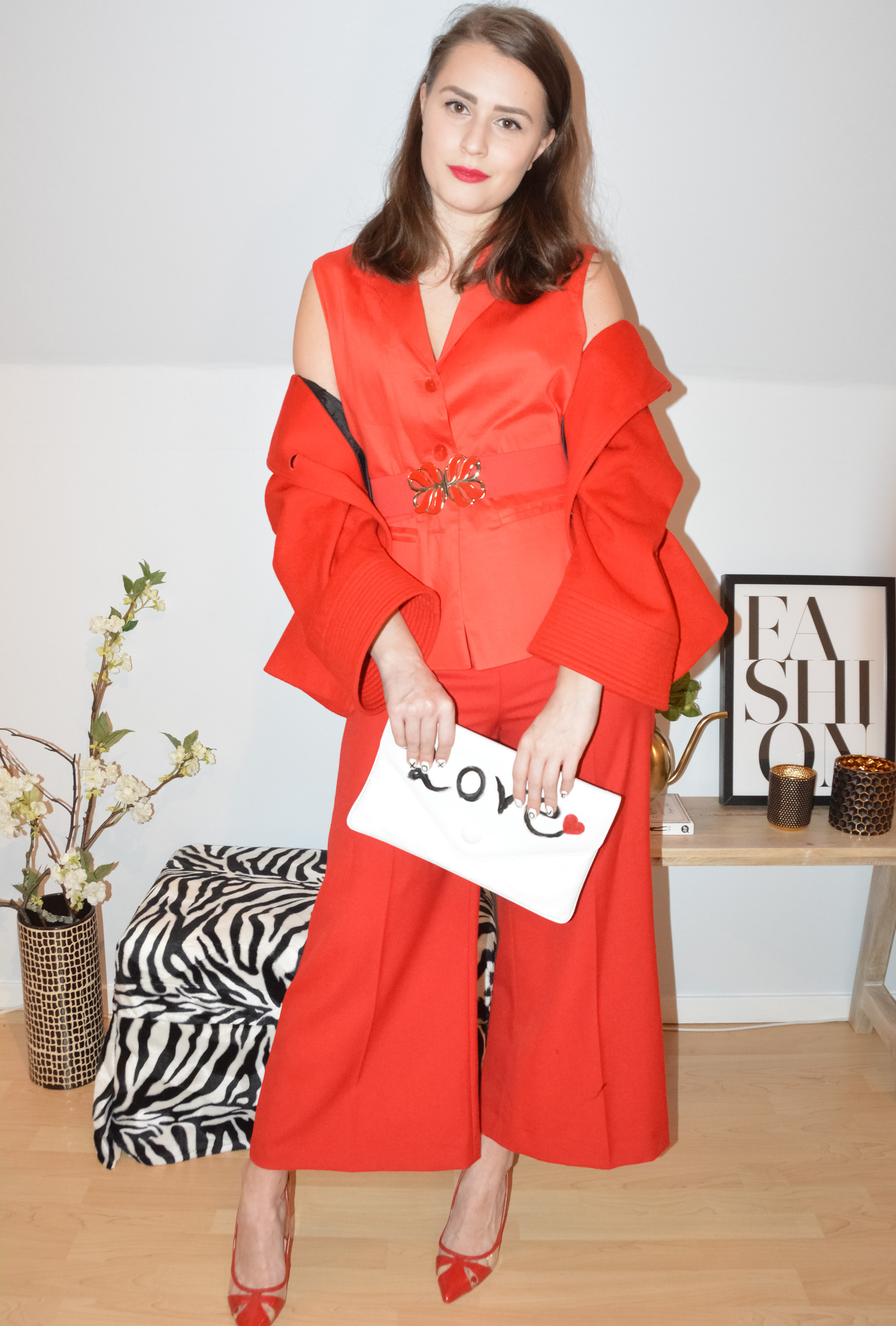 I paired my red vest with a red belt, red culottes, red pumps, a red jacket, red lips and my love clutch that I made last year (see the diy here)
Treat Yourself
Are you spending Valentines day in the city? Maybe you're alone? Either way, this is the perfect time to do some shopping, go to your favorite café and order in a big cake or pastry for yourself. Don't forget to bring a good book, a notebook or even a sketch book for some luxurious alone time. Another idea is to go to your favorite place, order a glass of wine and read some fashion magazines.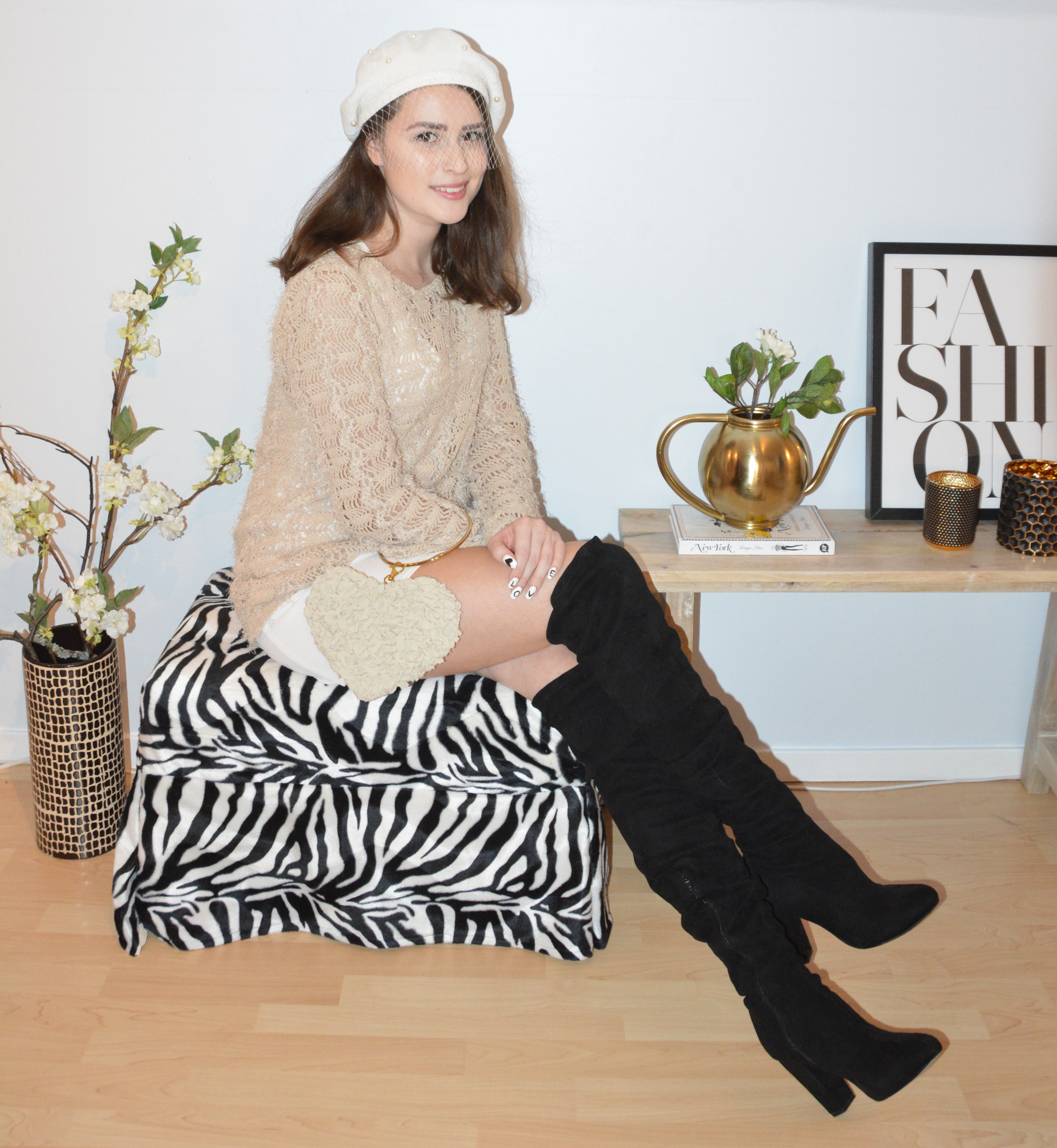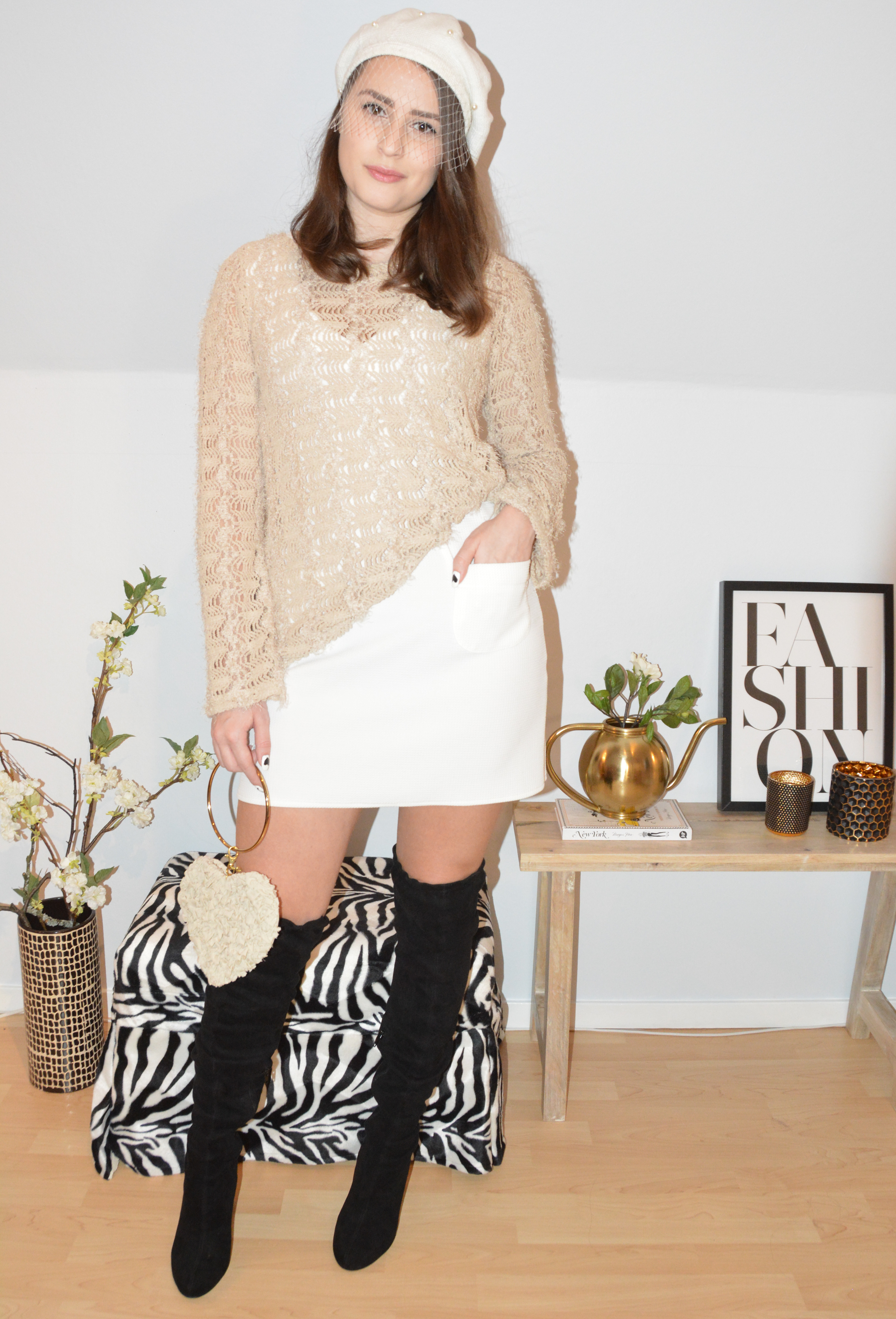 I wore a white mini dress underneath a crochet sweater and I paired it with thigh high boots, a veiled beret (see the diy here) and a heart shaped bag. I love this look, which makes it appropriate for Valentines day.
Self Love 
Are planning to spend the day at home and allow yourself to do whatever you want? You'll need a cozy and comfortable outfit, but also one that you love the look of. Whether this means lounge wear or a pajamas doesn't matter. So get cozy and spend the day playing video games, taking a bath, eat chocolate and maybe even send some flowers to yourself.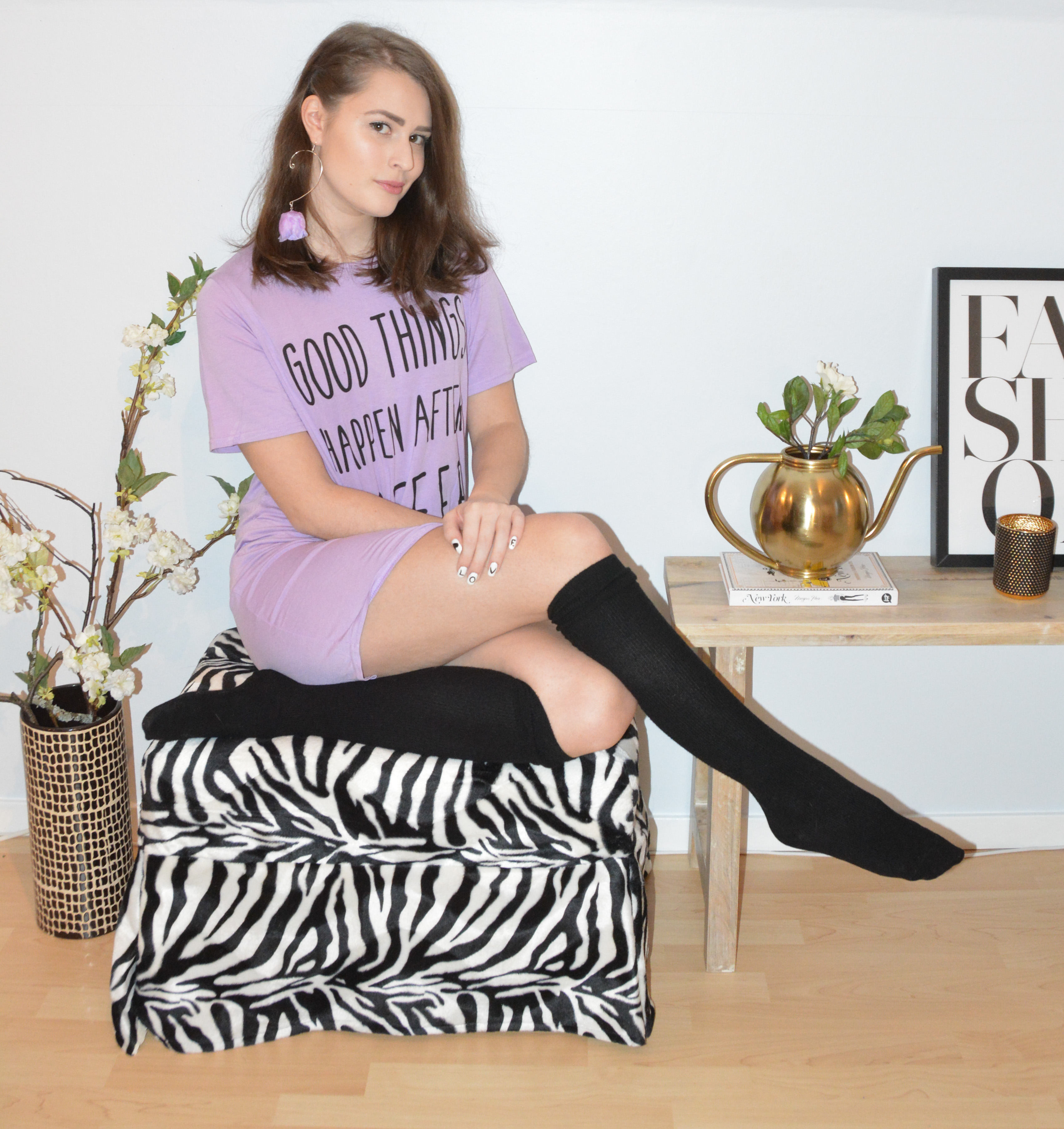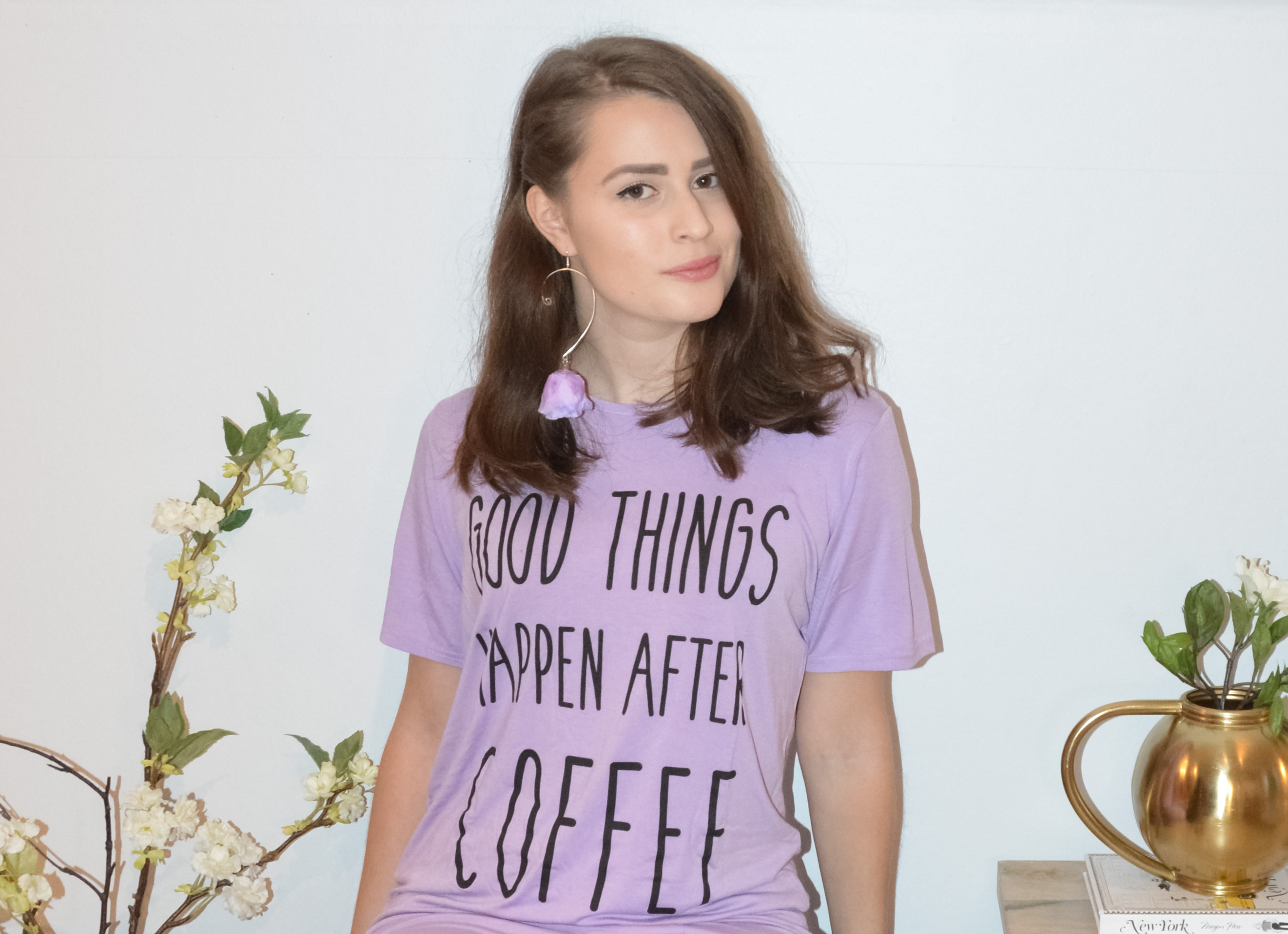 For this look, I chose my new nightie from Boohoo which was a gift to myself. I simply paired it with some knee high black socks and a pretty purple floral earring. If you need to go outside, throw on a long black coat, a beanie and some boots and no one will be able to tell that it's a nightie.
Out With The Girls
Are you going out with your girlfriends? Maybe you're hating on Valentines day? Black is my automatic response and a pop of red with that makes the perfect outfit. Go out, dance and have your favorite drinks. Then head home together, watch a movie, play games and chat about whatever comes to mind.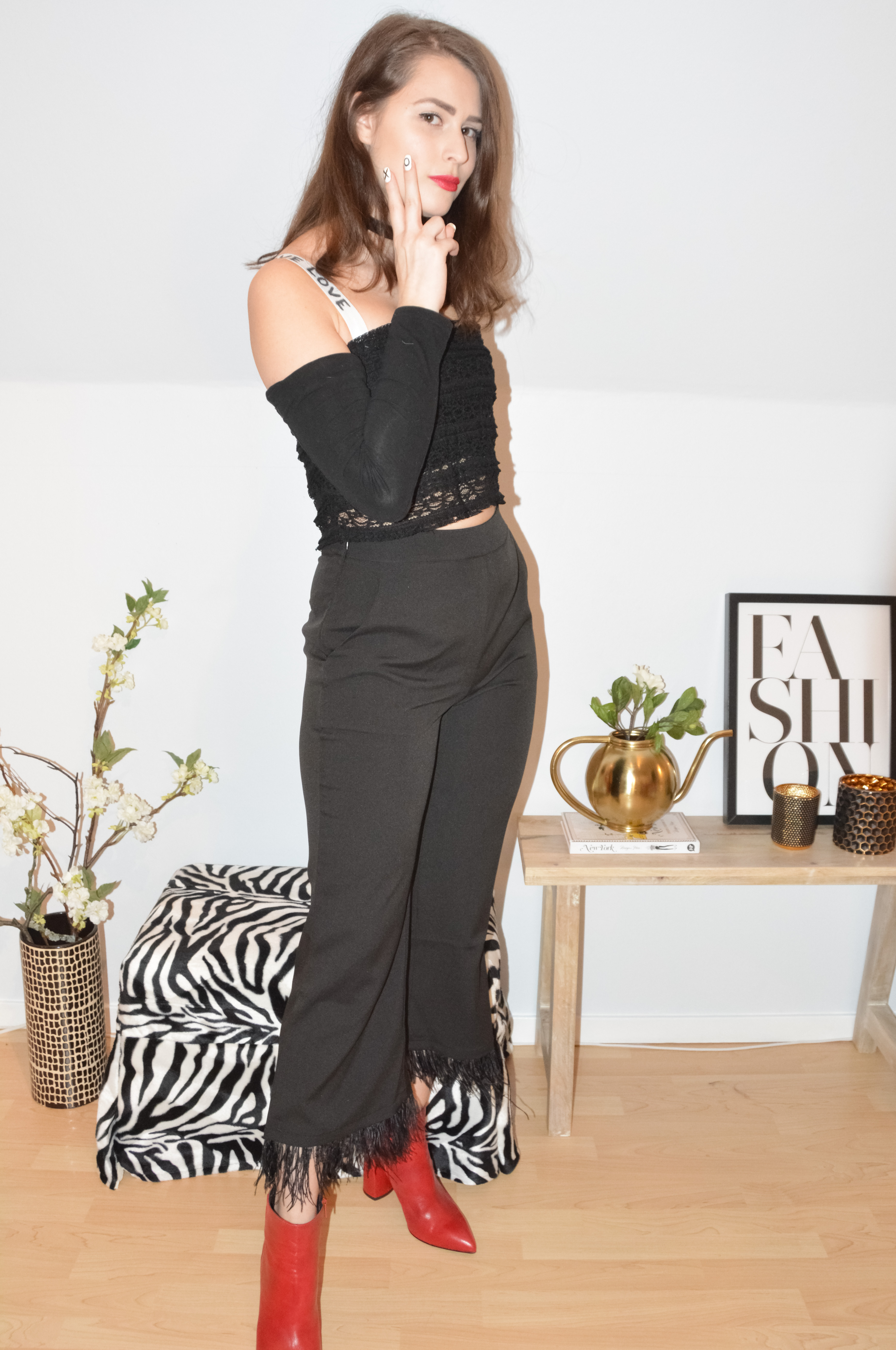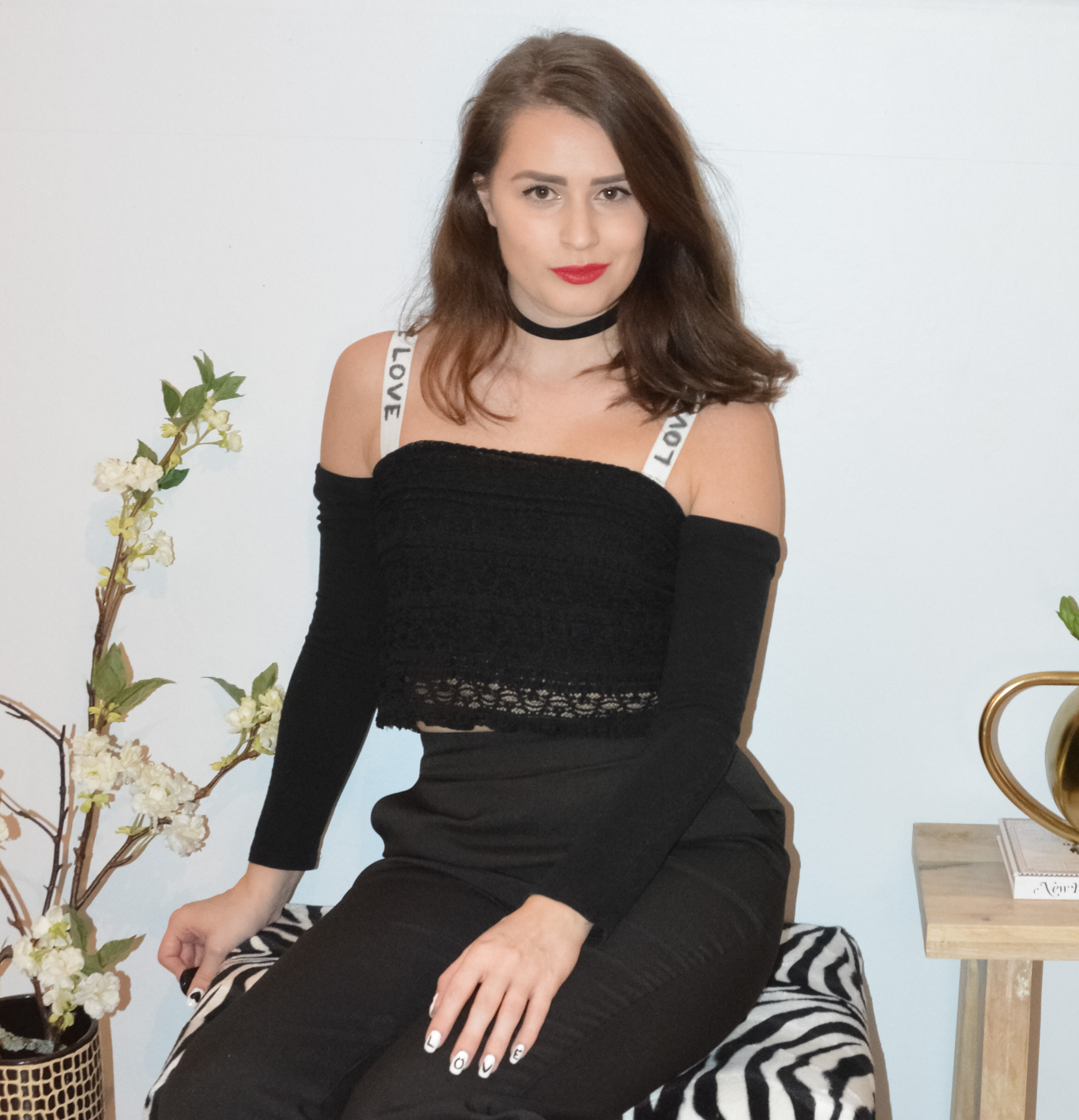 For this outfit, I chose to wear my love bra (see the diy here) underneath a bandeau top. I paired it with my feather trim pants, some black sleeves, red pointed boots, a choker and red lips.
Thanks For Reading
Do you have any questions or ideas? Feel free to write in the comment section below. If you liked this post, please don't forget to click the like button below. To receive an email when I publish something new; subscribe to my email list by clicking the follow button below (or click here.) If you'd like you can also use the buttons below to share this post.
For previews of coming posts and more fashion, check out my Instagram!
-Frida
Don't forget to follow, like and share: