Velvet
While making the outfits for today's post I realized just how many velvet pieces I own. I think it it's pretty obvious that I really like this cozy and elegant fabric. Velvet can be dressed up or down with the right pieces and it's one of those fabrics that are meant for the holiday season (if you ask me.) Velvet looks good in almost any color, but I prefer jewel tones such as red, green and blue. I am currently a little bit extra fond of emerald green, which is why I'm wearing my green velvet dress on Christmas eve.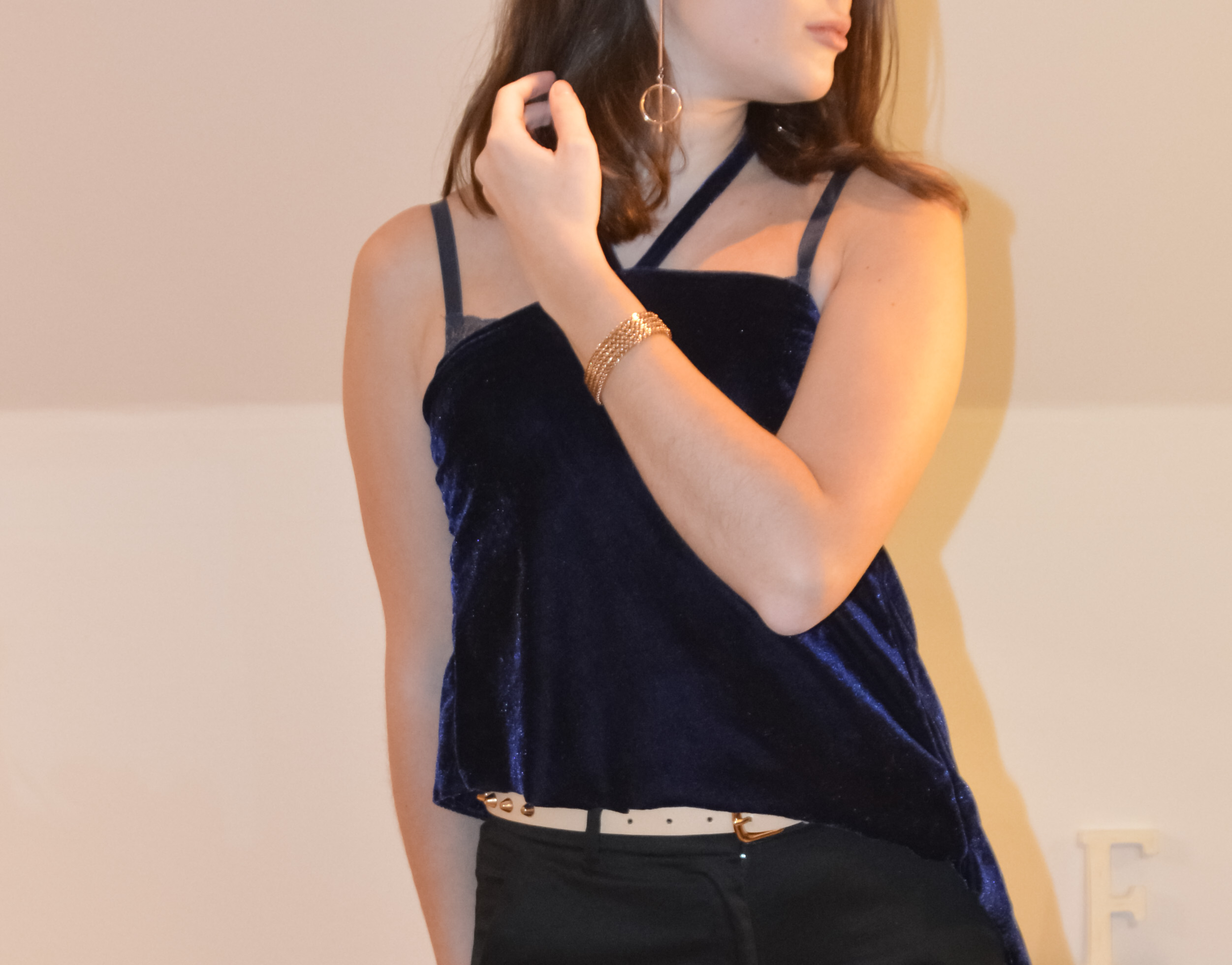 4 Velvet Outfits
I had originally planned to make two outfits for this post, but I added two more because I was inspired. If you love velvet as much as me you can go for a dress or a two piece set, but if you like to keep it simple you can choose a top or bottom in velvet, or simply add a velvet accessory.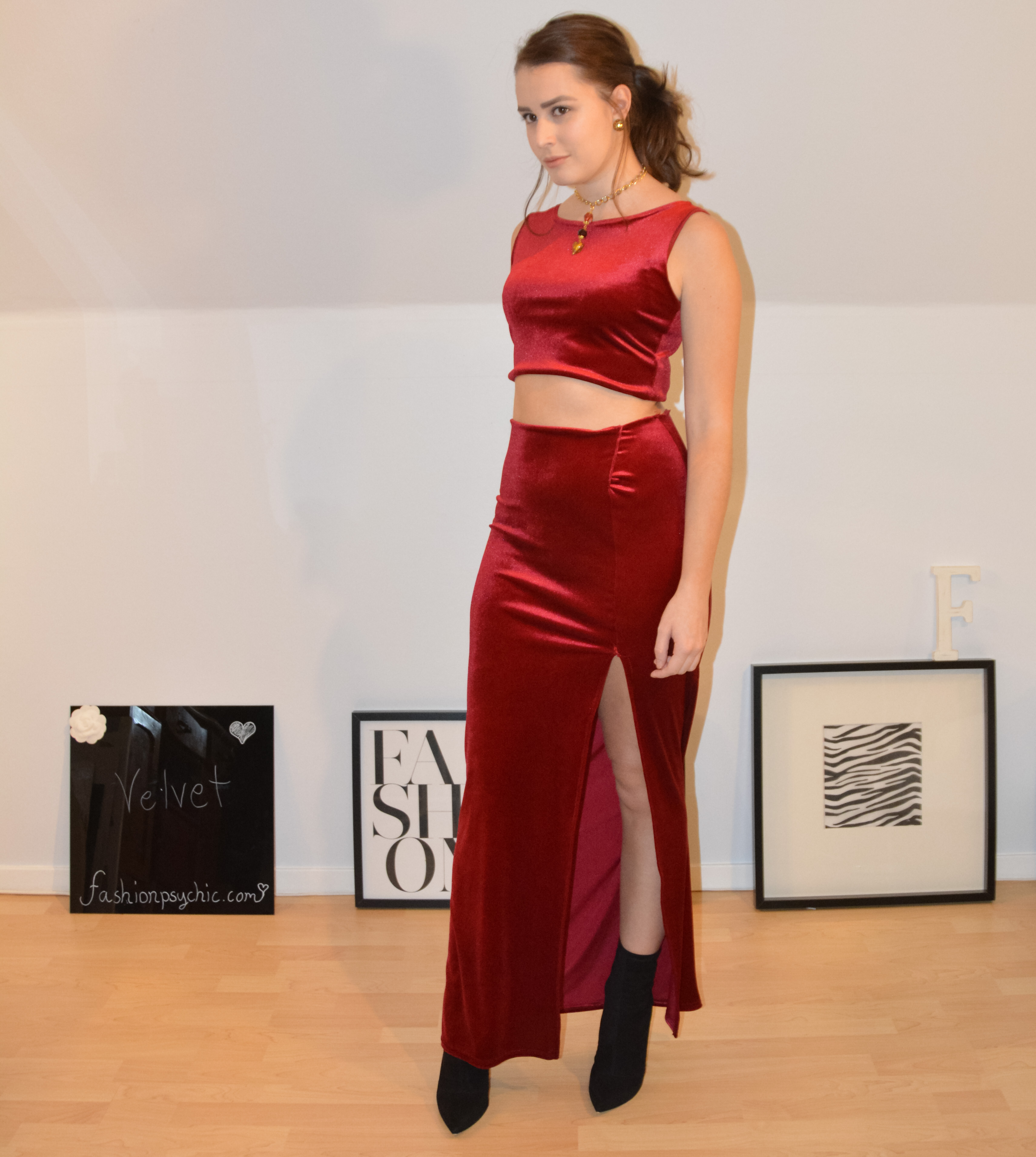 Two Piece Velvet
This first outfit includes a two piece set in red velvet, but it was originally a maxi dress. I bought the dress from Boohoo last year and I wore it on Christmas eve (Check it out here if you'd like.) It was quite recently that I decided to cut off the sleeves, as well as cut the dress into two pieces. I really like the way it turned out, what do you think?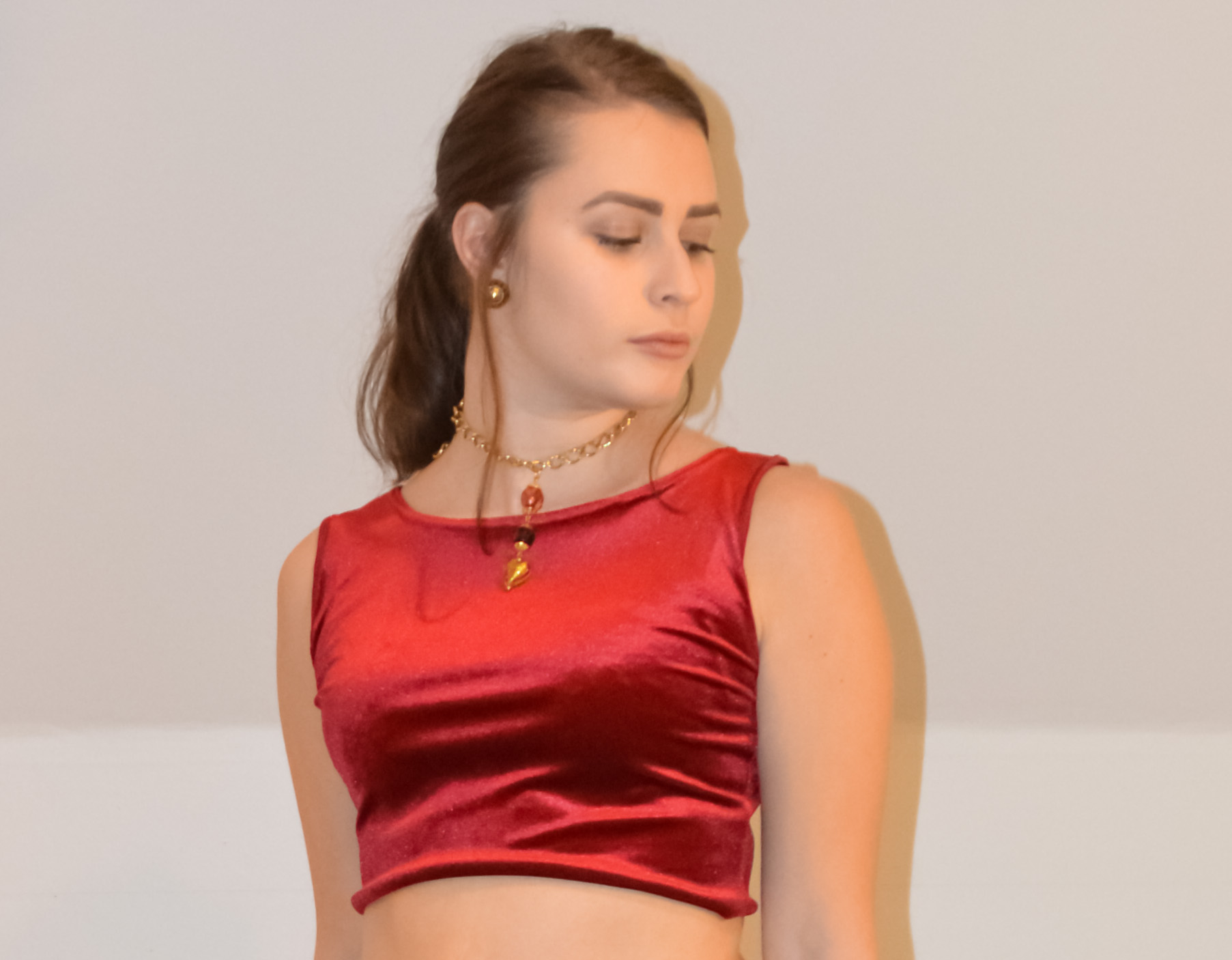 I paired my new set with a gold choker that I made, a pair of gold earrings (which I showed you how I made here) and a pair of black sock boots to add some edge.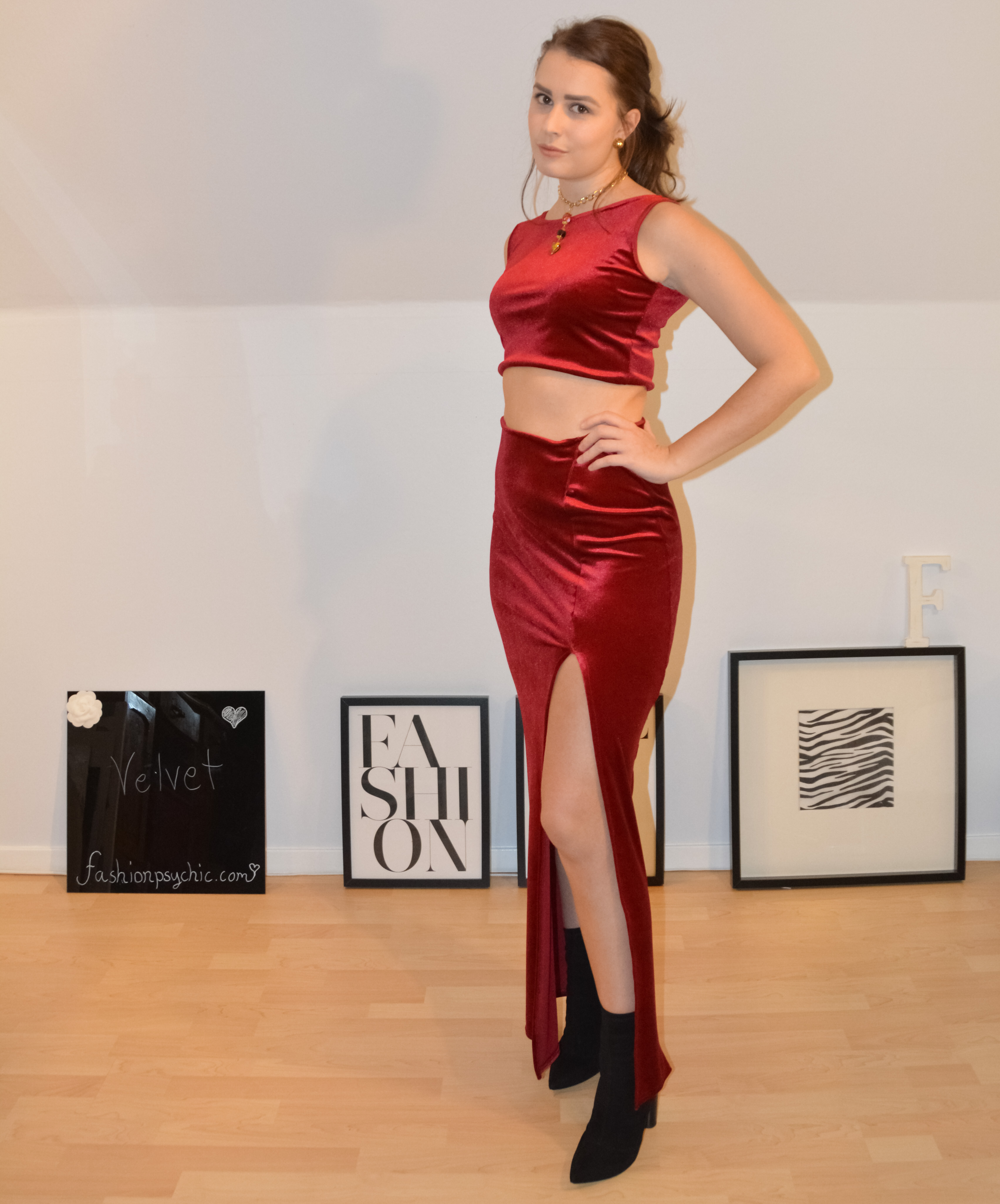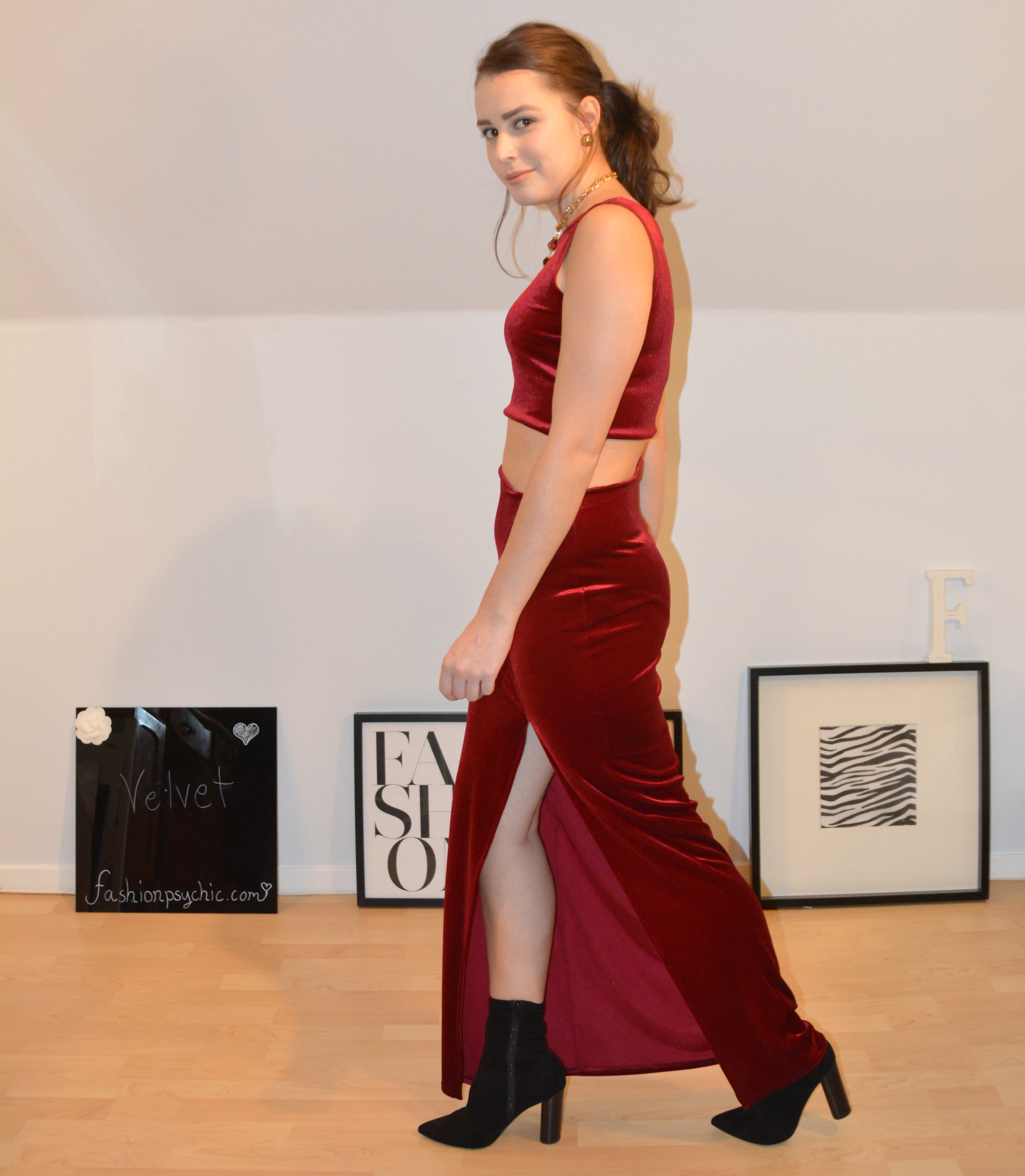 Velvet Dress
I am so in love with this outfit, it has a 20's flapper girl vibe to it, which I love. I have more things I'd like to add to it, but it might be a bit too much.. Anyway, this gorgeous gem (the dress) I ordered from Zara because I knew I would love it. I love all the details, from the floral embroidery and the lace, to the length and silhouette. Midi slips is also something I love right now, so it's perfect.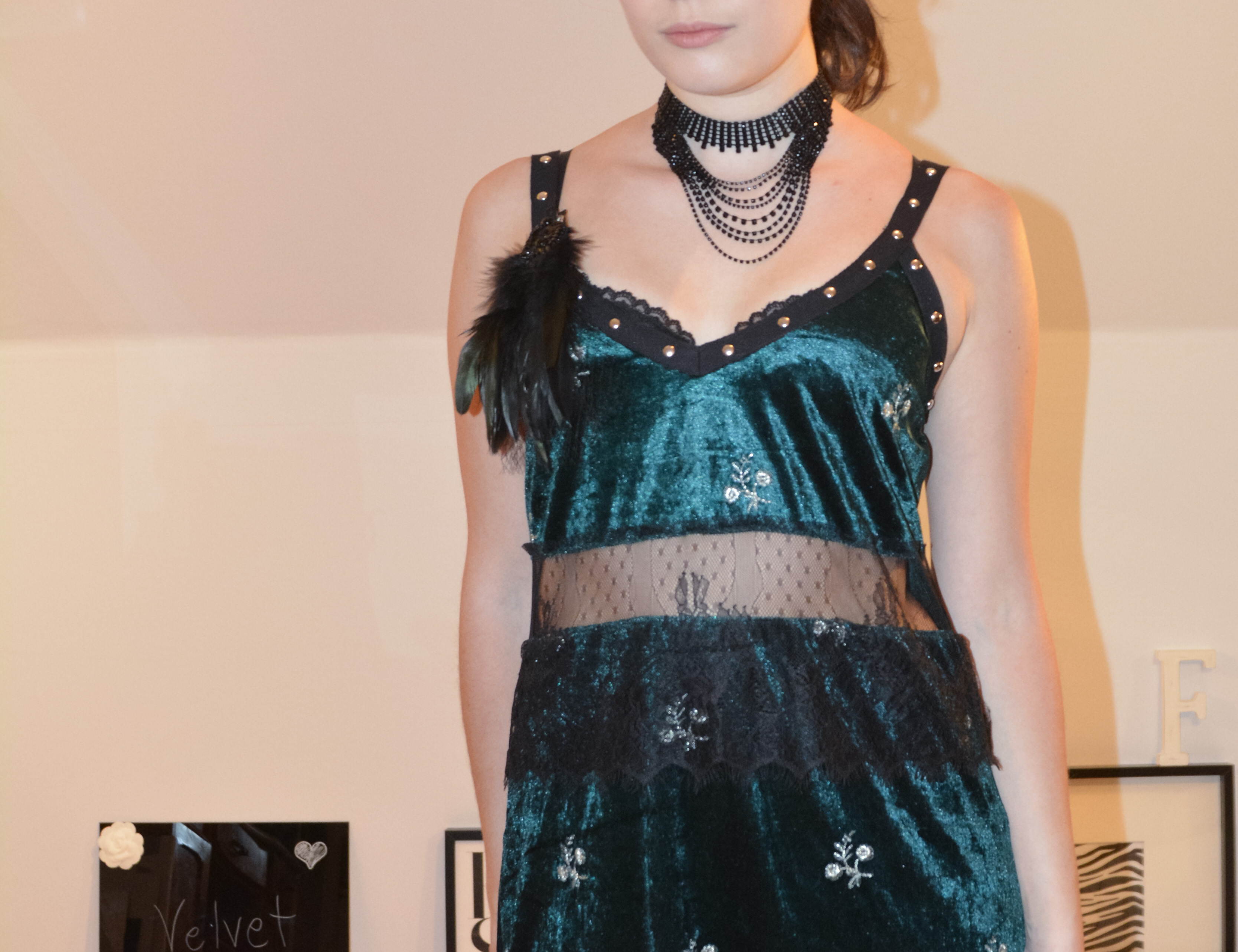 Because the straps were quite long on the dress I had to adjust them, but since they were still a bit too long I wore a lace bra underneath. I added a black rhinestone choker that I bought last year for Christmas day (see the post), my sock boots once again and a hair piece which I attached to the dress.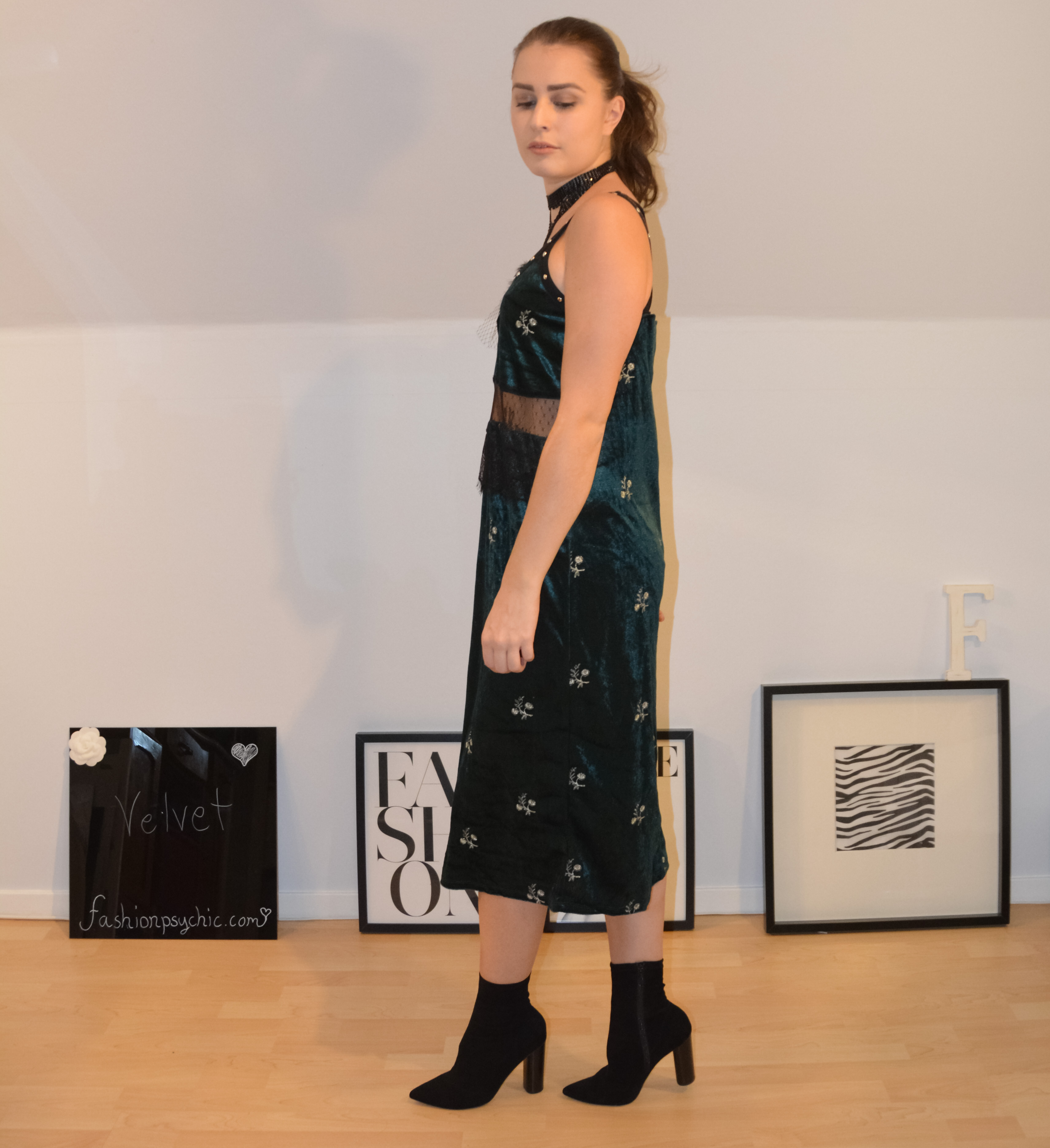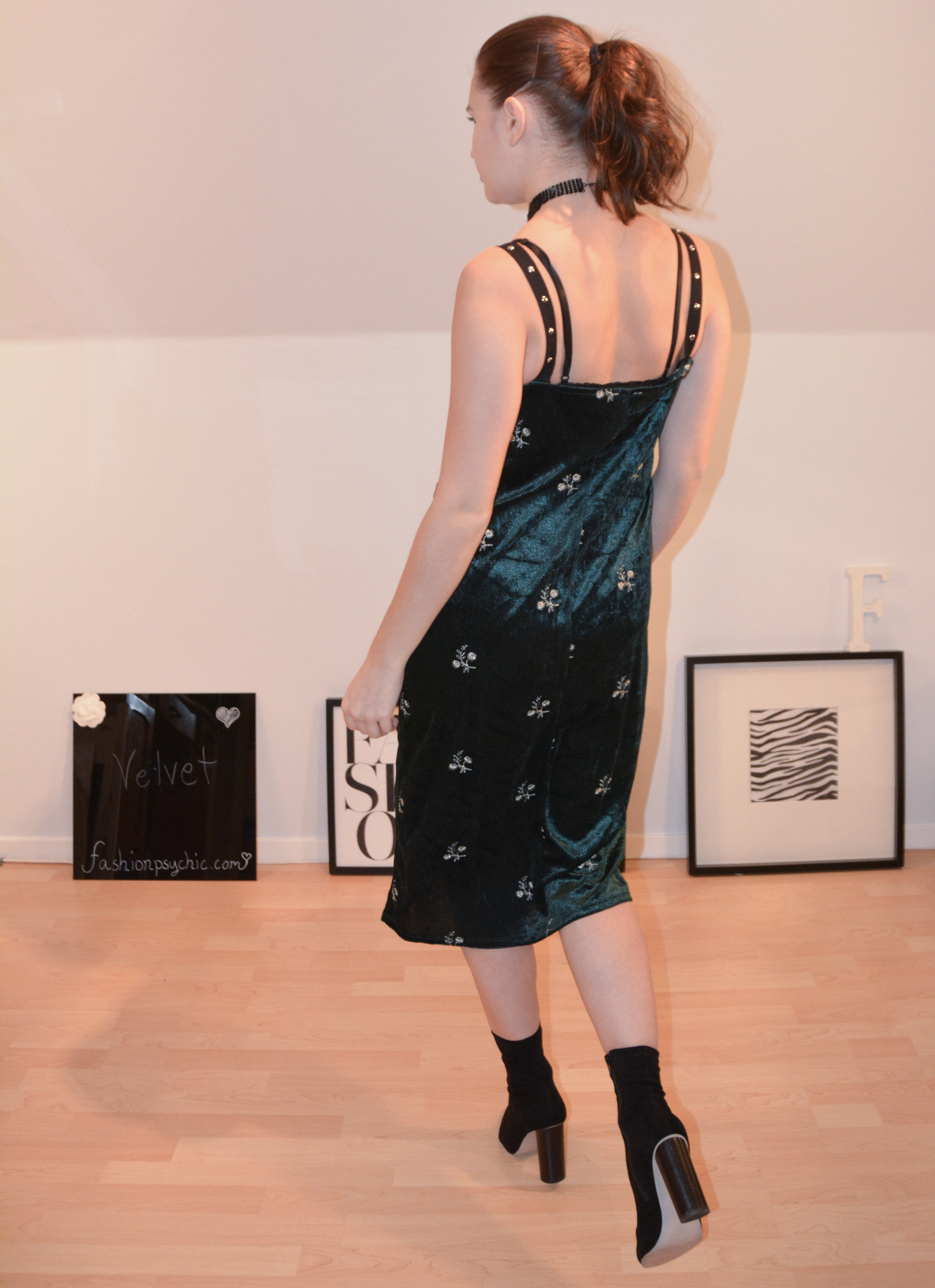 Blue Velvet
This pretty blue top has quite a history. It was originally a pair of leggings, then I think I turned into a skirt/strapless asymmetric top. I wanted a kimono/blouse with stars and moon embroidery in gold, but I didn't have enough fabric. In the end, I decided to turn it into a asymmetric top. I did place the straps differently at first, but then I changed them to how they are now. For now I am very satisfied with it and I don't think I'll change it again, but who knows…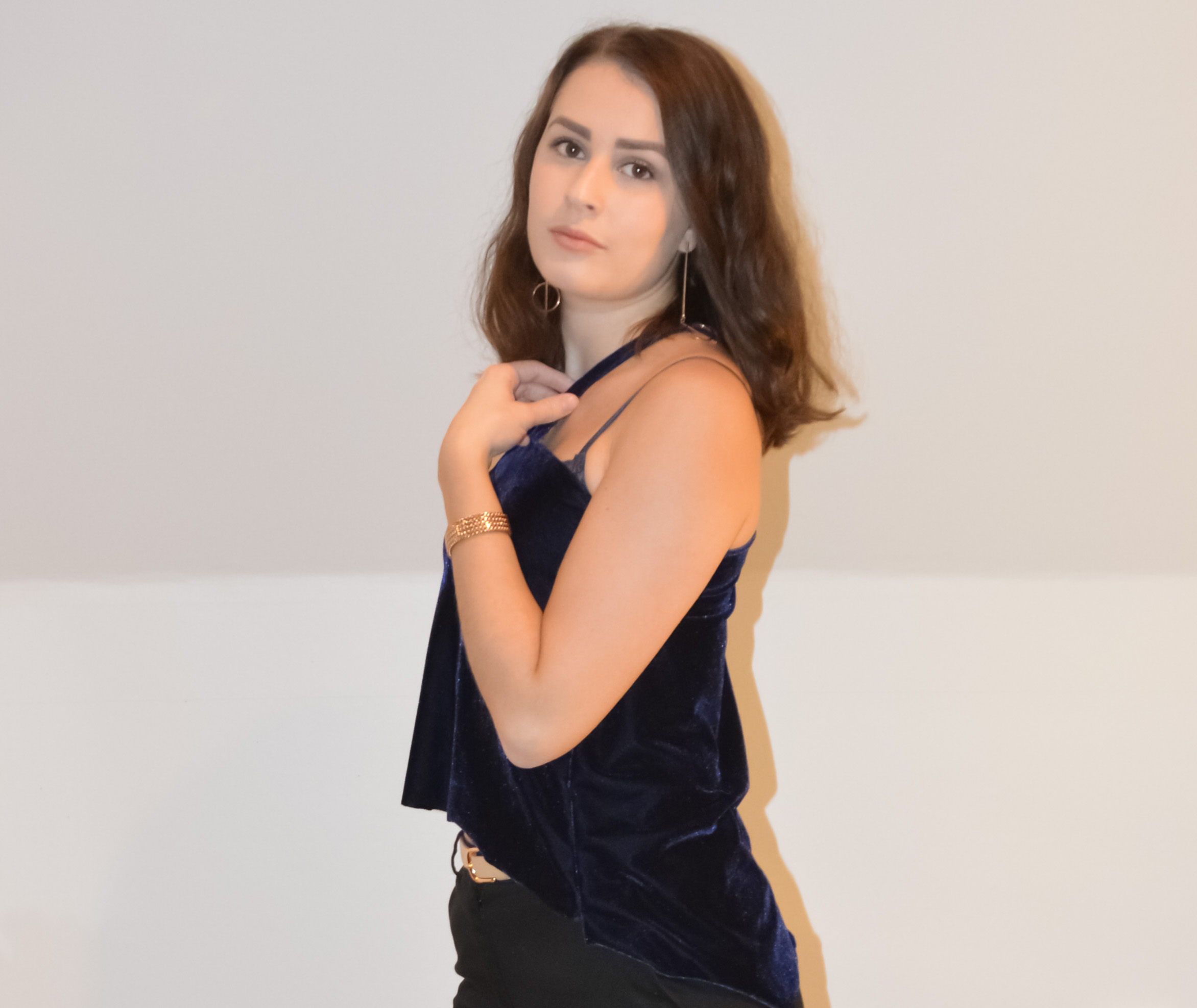 I wore my velvet top over a new blue lace bra to do something different with it. To match the rose gold/copper in the lace bra I wore a pair of rose gold/copper earrings and a bracelet (and a nude belt with rose gold/copper studs and details.) I paired the velvet top with classic black slacks, mesh socks and platform sandals.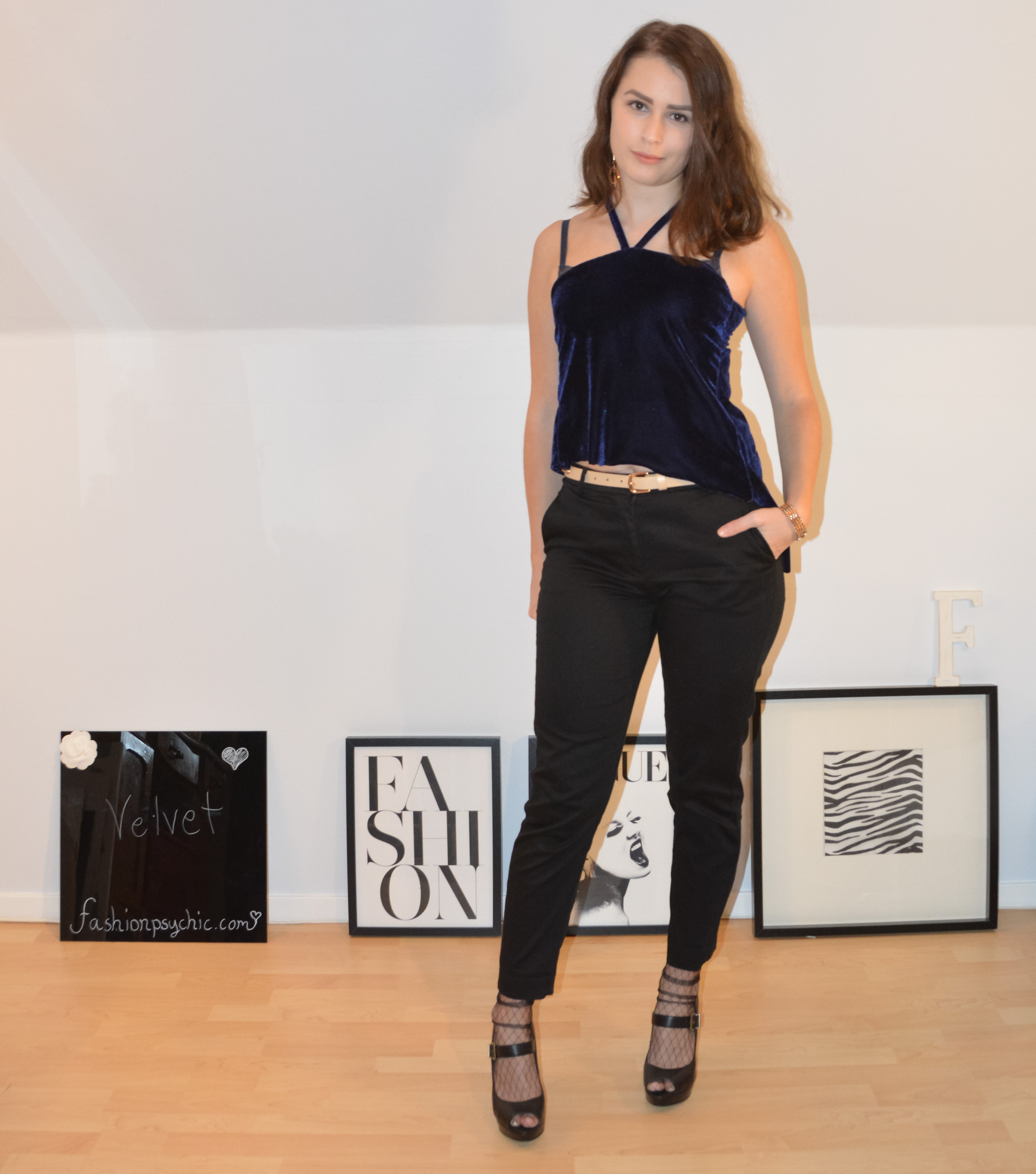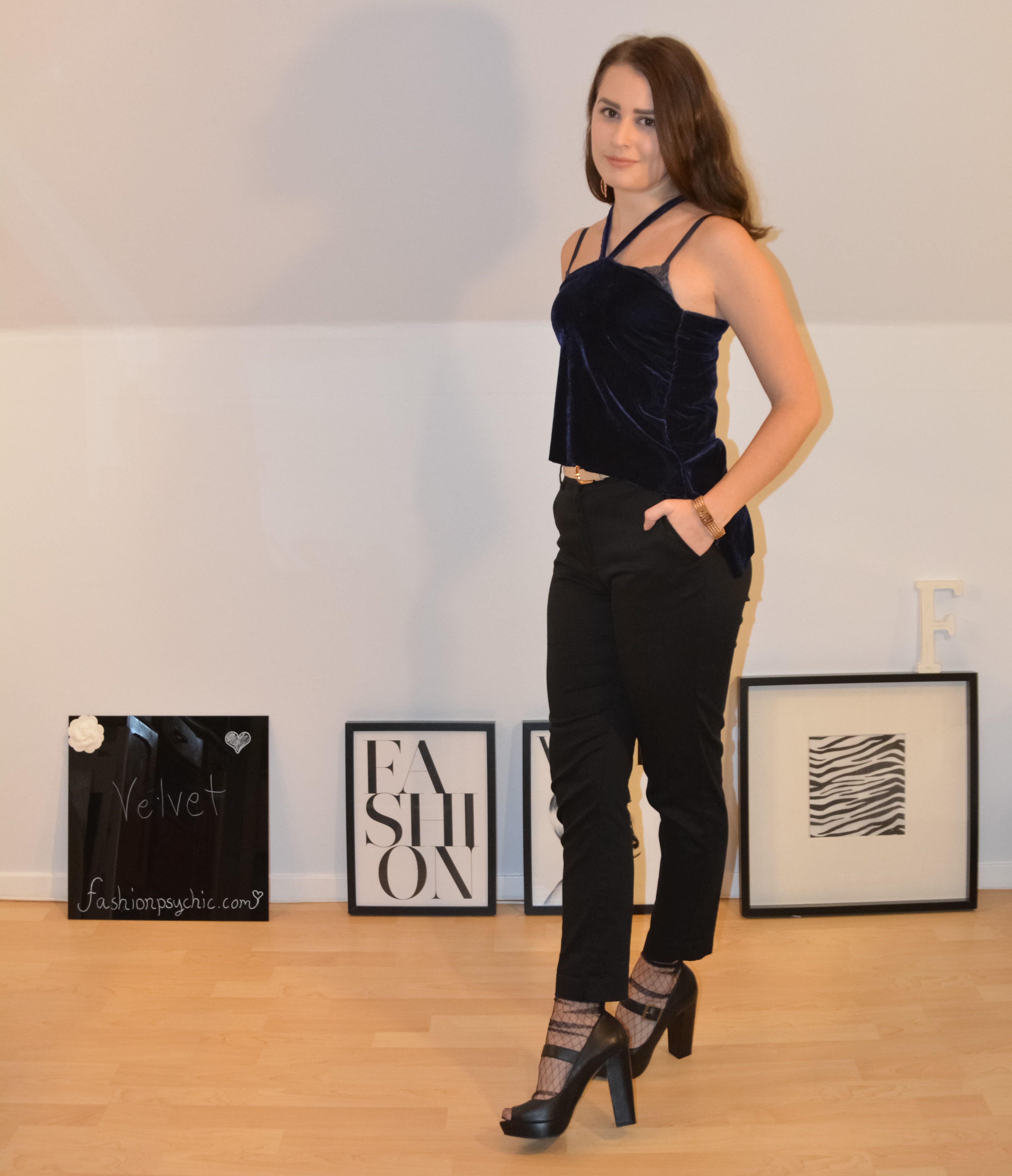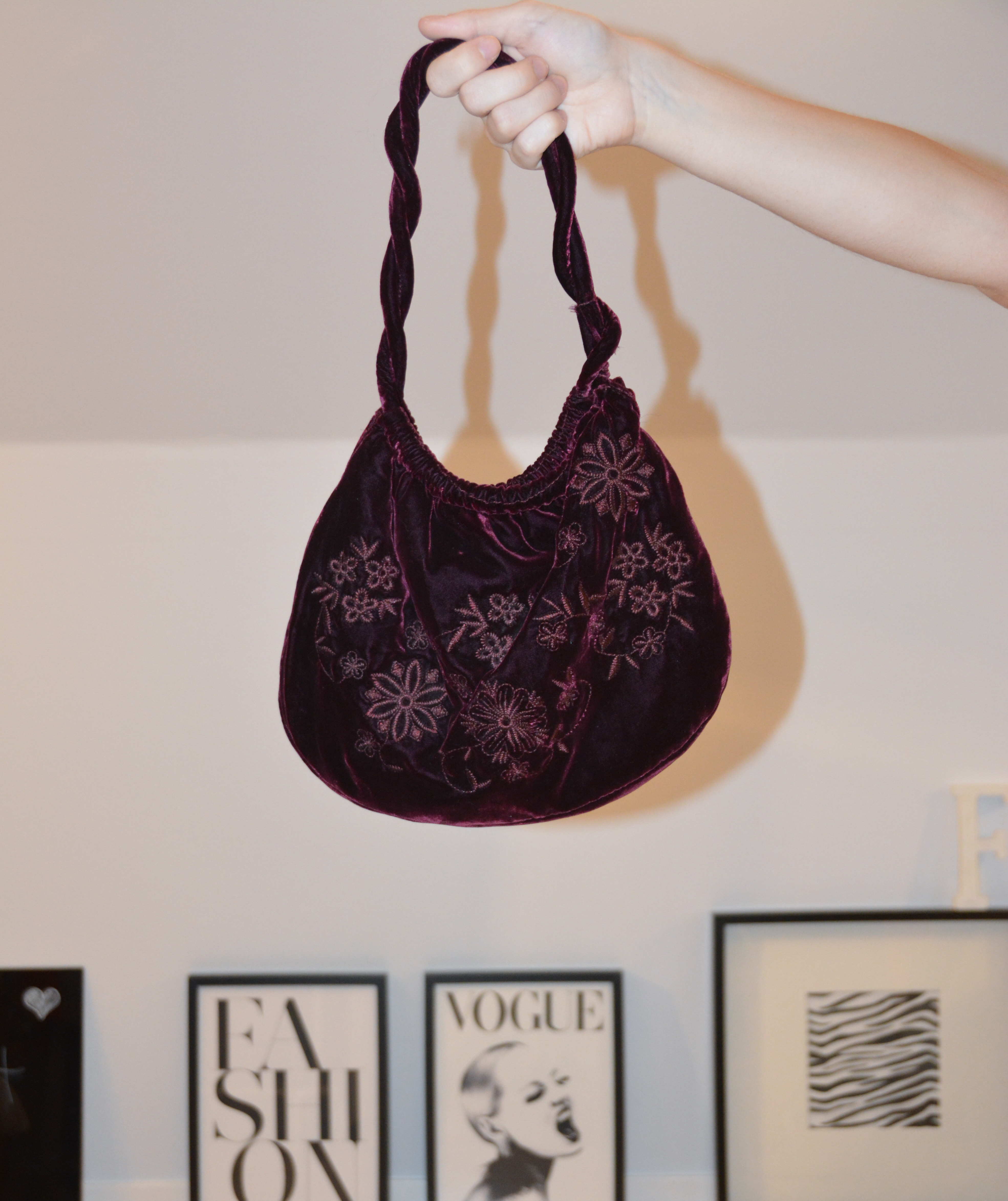 The Velvet Bag
This outfit is really versatile because you can dress it up with some jewelry and heels or you can dress it down with boots and a mesh turtleneck. The only velvet piece in this outfit is the pretty burgundy bag, bought second hand. For an interesting clash I paired it with some faux leather pieces.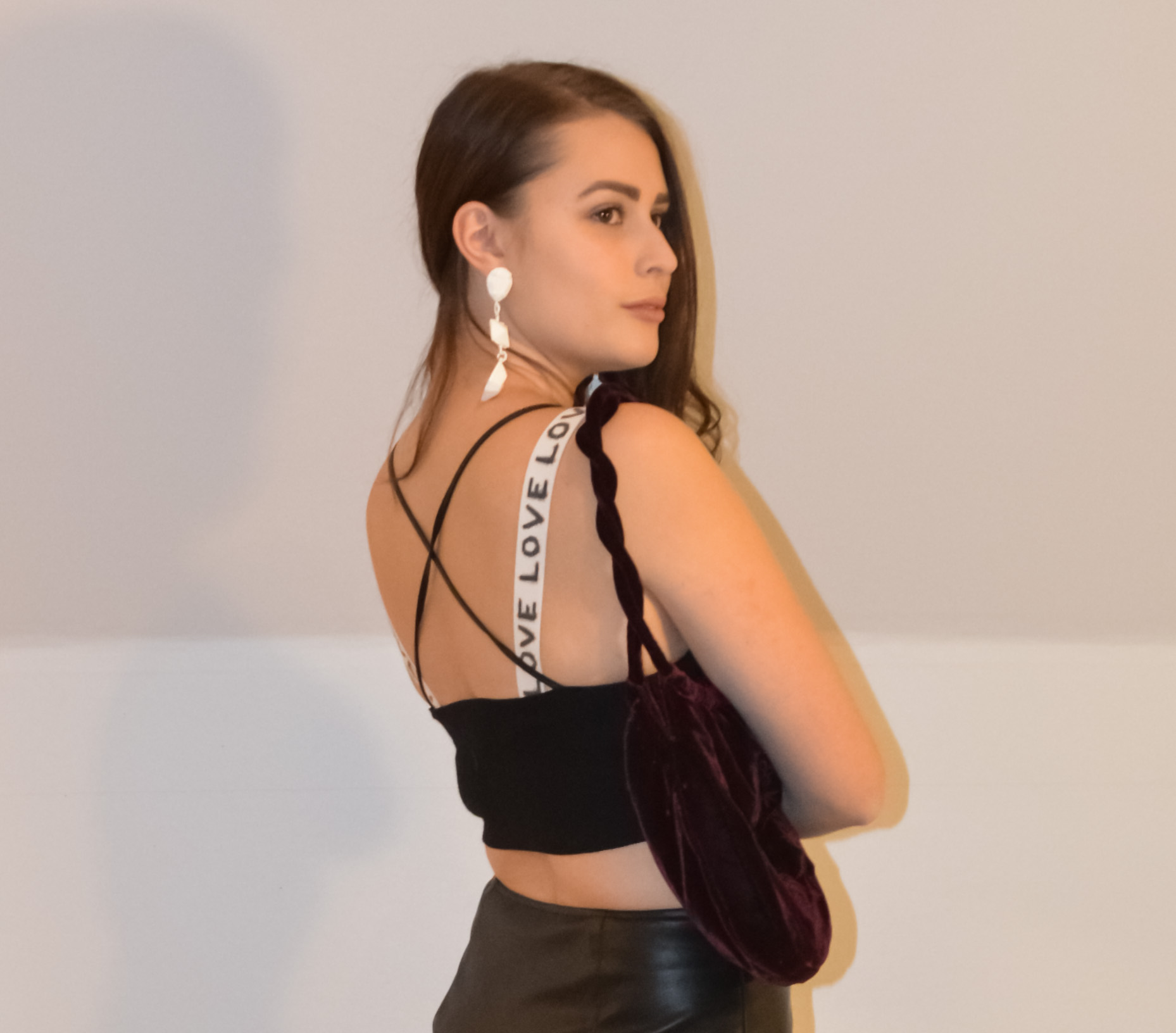 I paired my bag with a faux leather midi skirt and a faux leather crop top. Underneath I wore my Christian Dior inspired love strap bra (check out the DIY here.) Once again, I wore my sock boots (I love them so much!) I also added my white monochromatic earrings (see how I made them here.)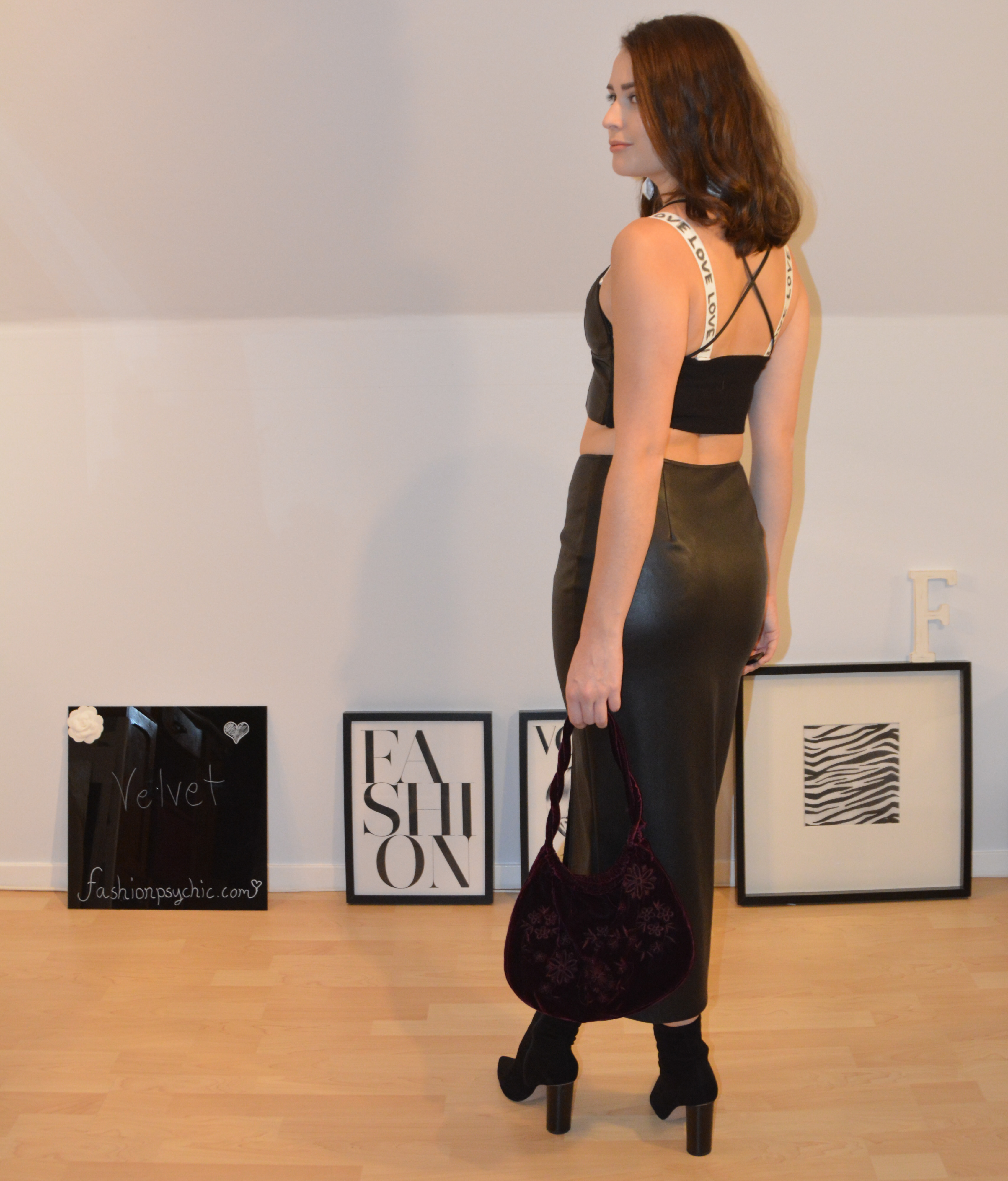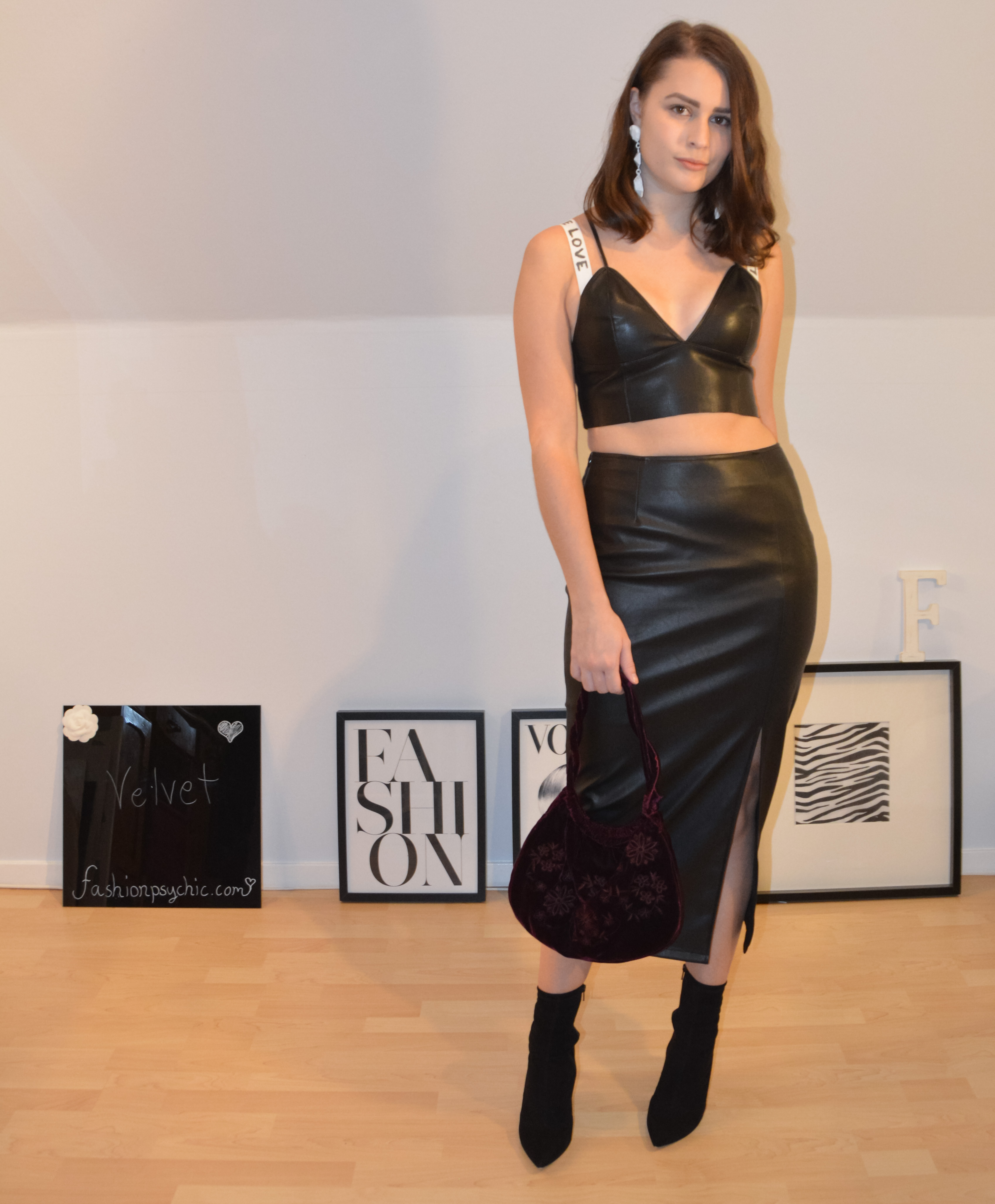 Thanks For Reading
Do you have any questions or ideas? Feel free to write in the comment section below. If you liked this post, please don't forget to click the like button below. To receive an email when I publish something new; subscribe to my email list by clicking the follow button below (or click here.) If you'd like you can also use the buttons below to share this post.
For previews of coming posts and more fashion, check out my Instagram!
-Frida
Don't forget to follow, like and share: