I can't believe it's December already! This year has gone by so fast and I am ready for the next. My plans are to start making videos which I will add to my posts as well as on my Youtube channel. I have always wanted to make Youtube videos and I think it's about time I started. These videos would involve the same things as my blog: outfits and diy's, but it might also include other things like: makeup, art and other things I love (like singing and painting.)
Before I start I'll need to learn how to edit videos, decide on music, background setting, sound, light and everything else I can't think of right now. But I'm really excited so it shouldn't take too long. I'll keep you updated on how things are going 😉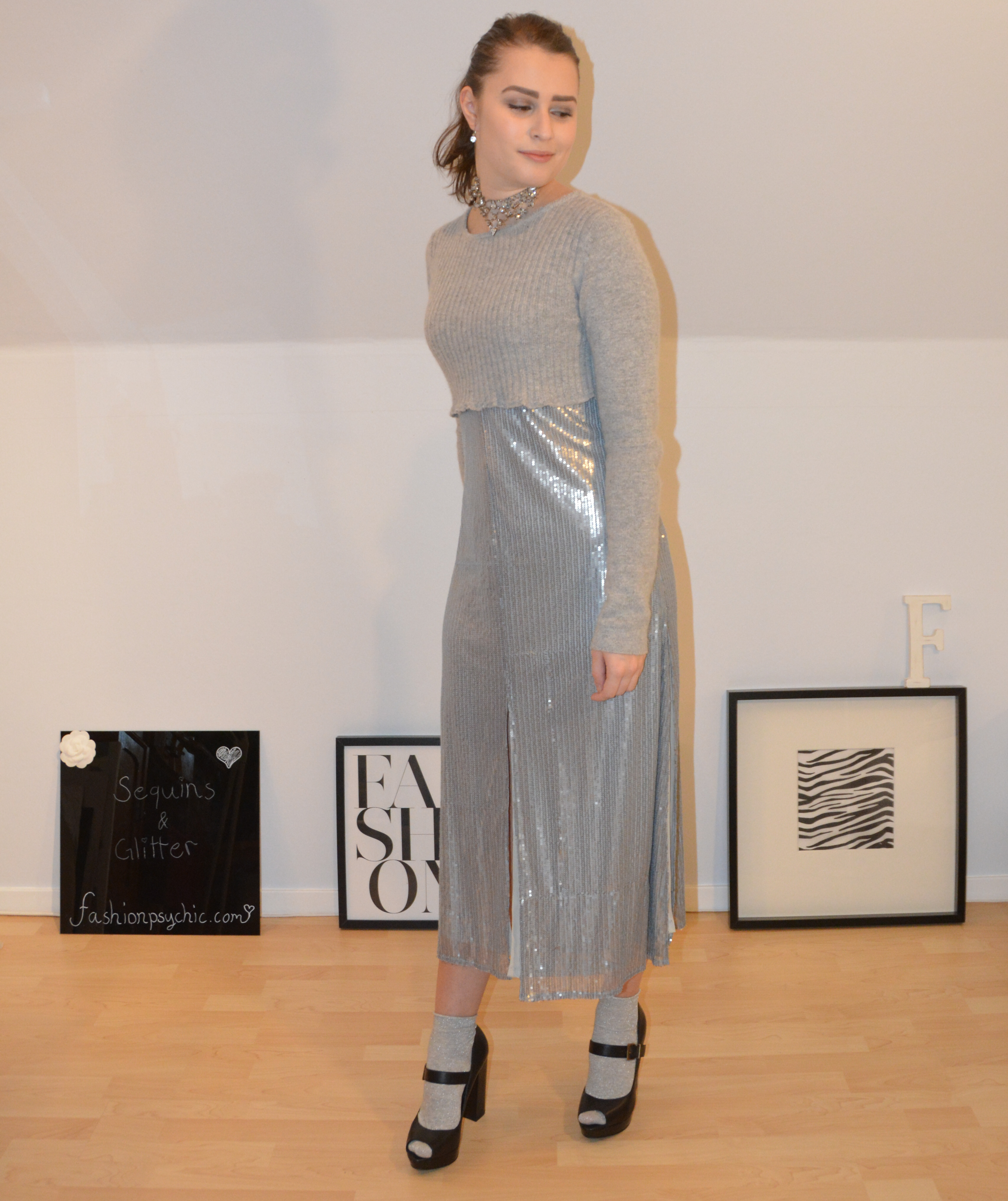 Party In Glitter, Pants, Prints And Velvet
Back to my Holiday Party Outfits series. I have made two new glitter filled outfits for today's post and one of them includes my brand new pumps. Keep scrolling for more..
For today's post I am showing you my last two holiday party outfits. If you missed the other ones; click the links below: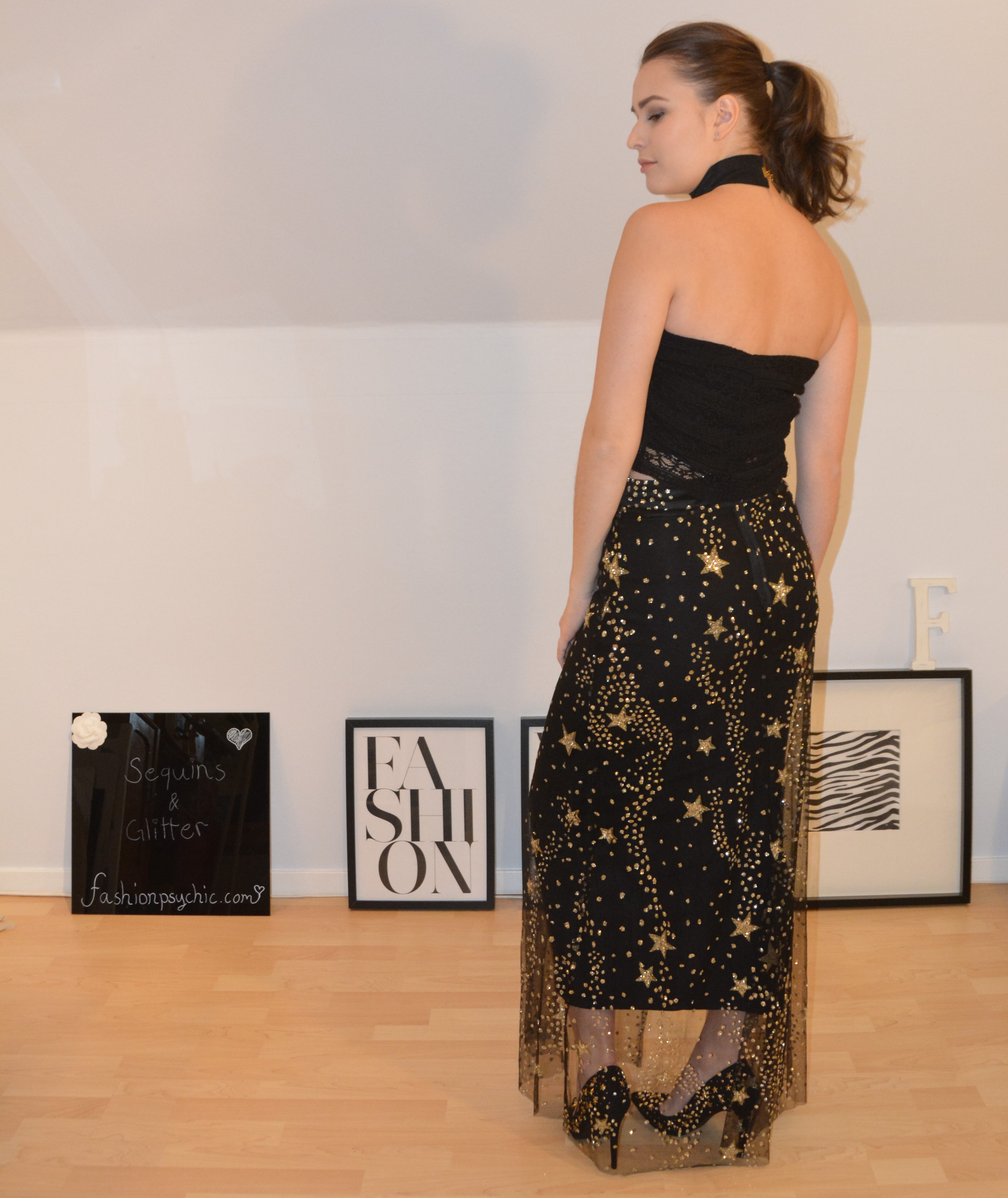 Glittery Silver And Grey
This first outfit is all about silver and grey as well as a little bit of layering. If you like to keep up with the trends, you probably already know about the sock and sandal trend. When one first hears it, it doesn't sound all that pretty. But with the right heeled sandals (or pumps) this look is super interesting and it completely transforms a basic outfit. This trend also feels very expected because of the sock boot wave. I have already noticed sites like Zara are selling shoes with matching socks. I'll need to get some pretty stiletto sandals, and new socks for that matter… When it comes to this trend, I would purchase socks specifically for this trend and only wear them in my shoes, so they don't become worn. I hate when my black socks look grey after only one wash..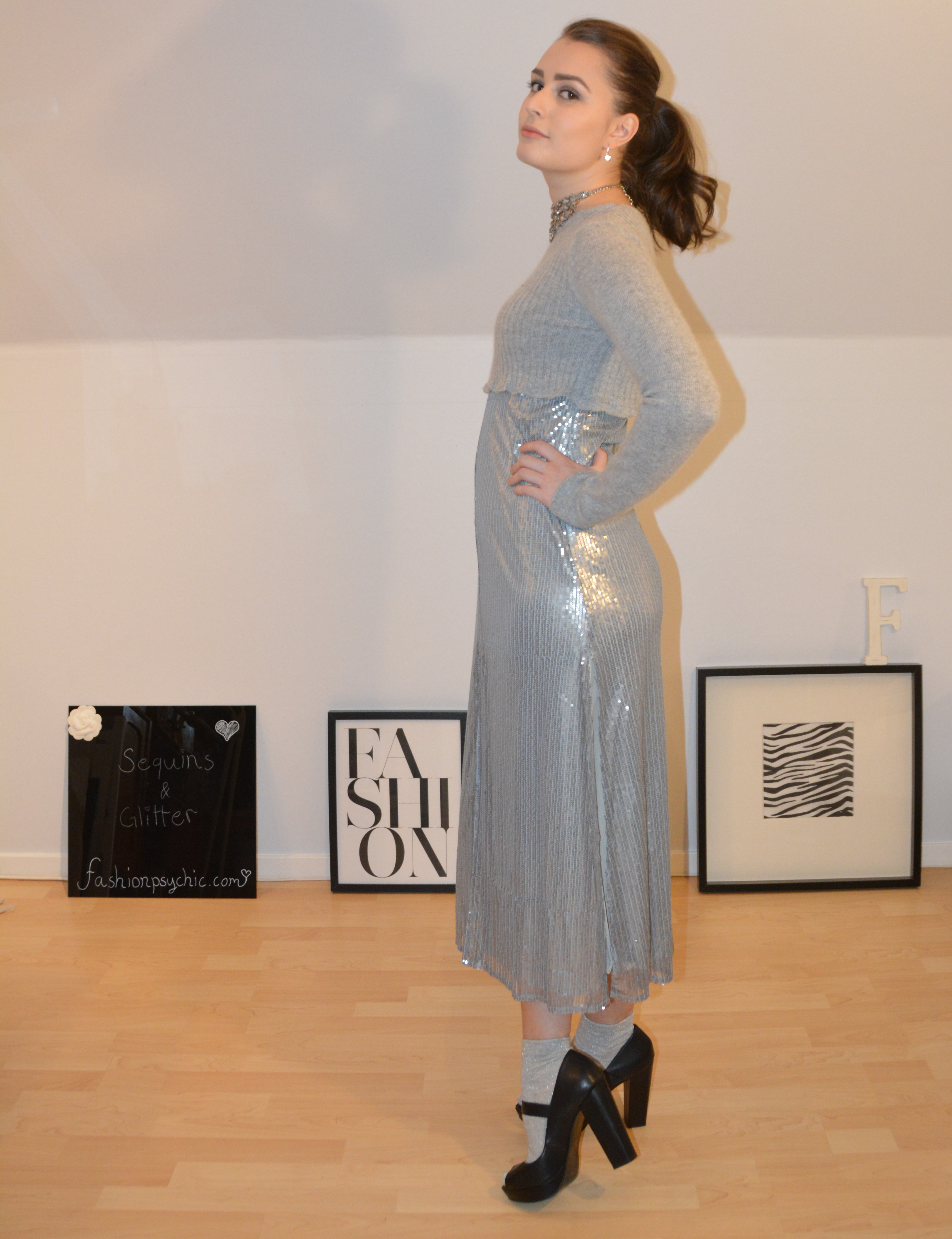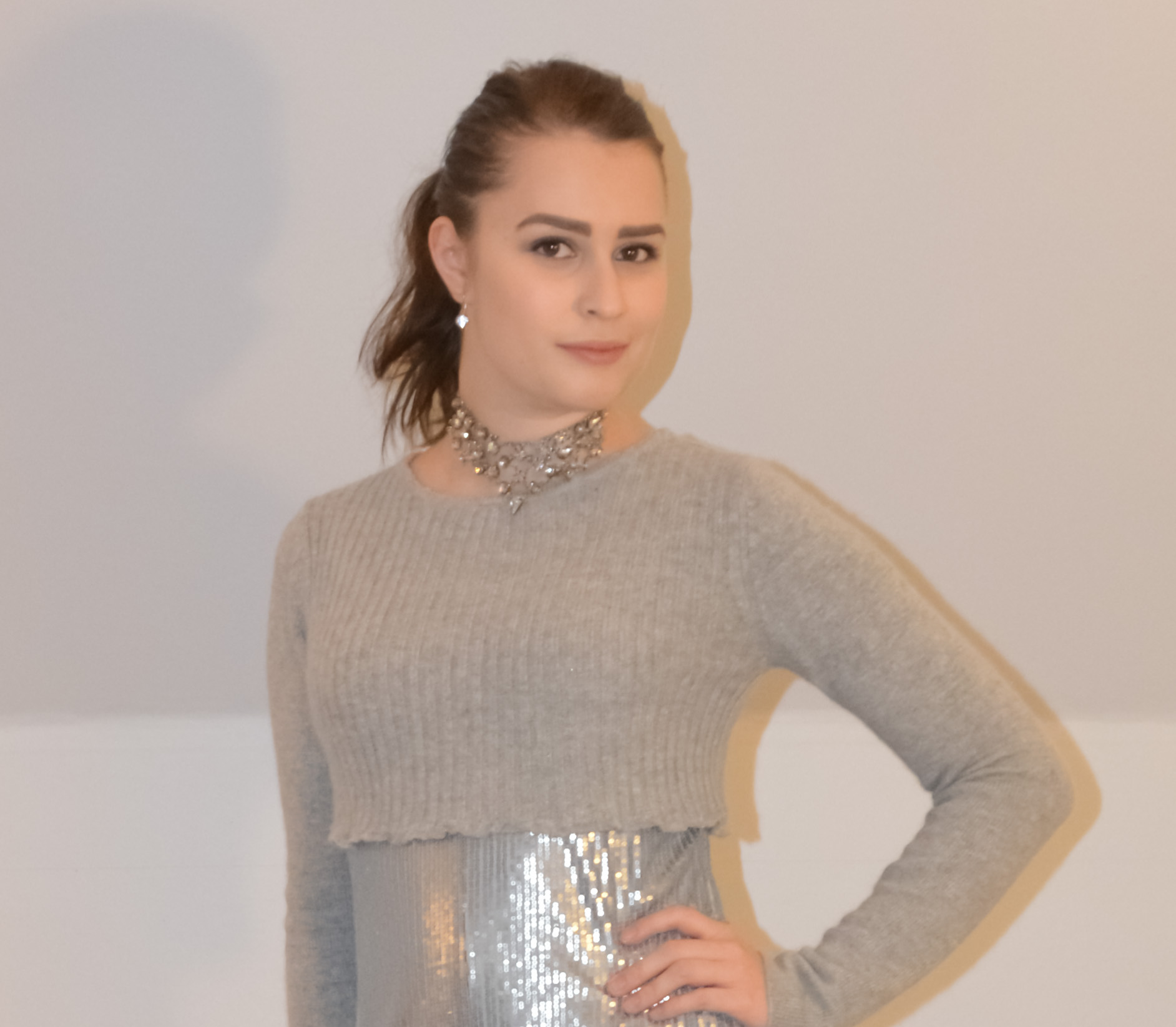 For this outfit I wore my platform sandals and a pair of grey metallic socks. I paired it with my silver sequin slip dress from Asos, over which I wore a cropped knitted sweater. I added a sparkly rhinestone necklace (worn as a choker) as well as some rhinestone earrings. If I had a pair of silver or grey sandals I would have picked those instead of black. Sock boots would also look amazing with this outfit.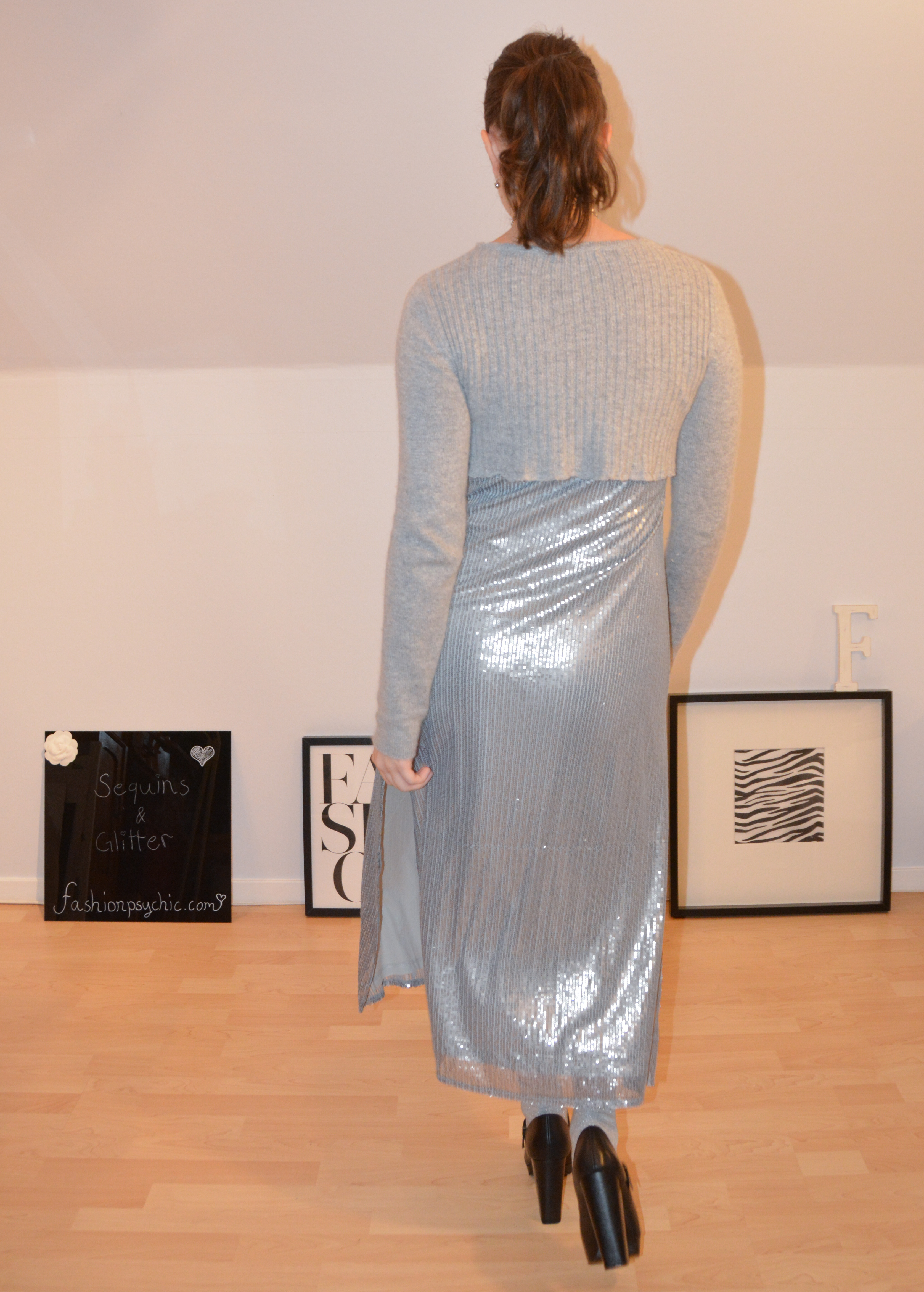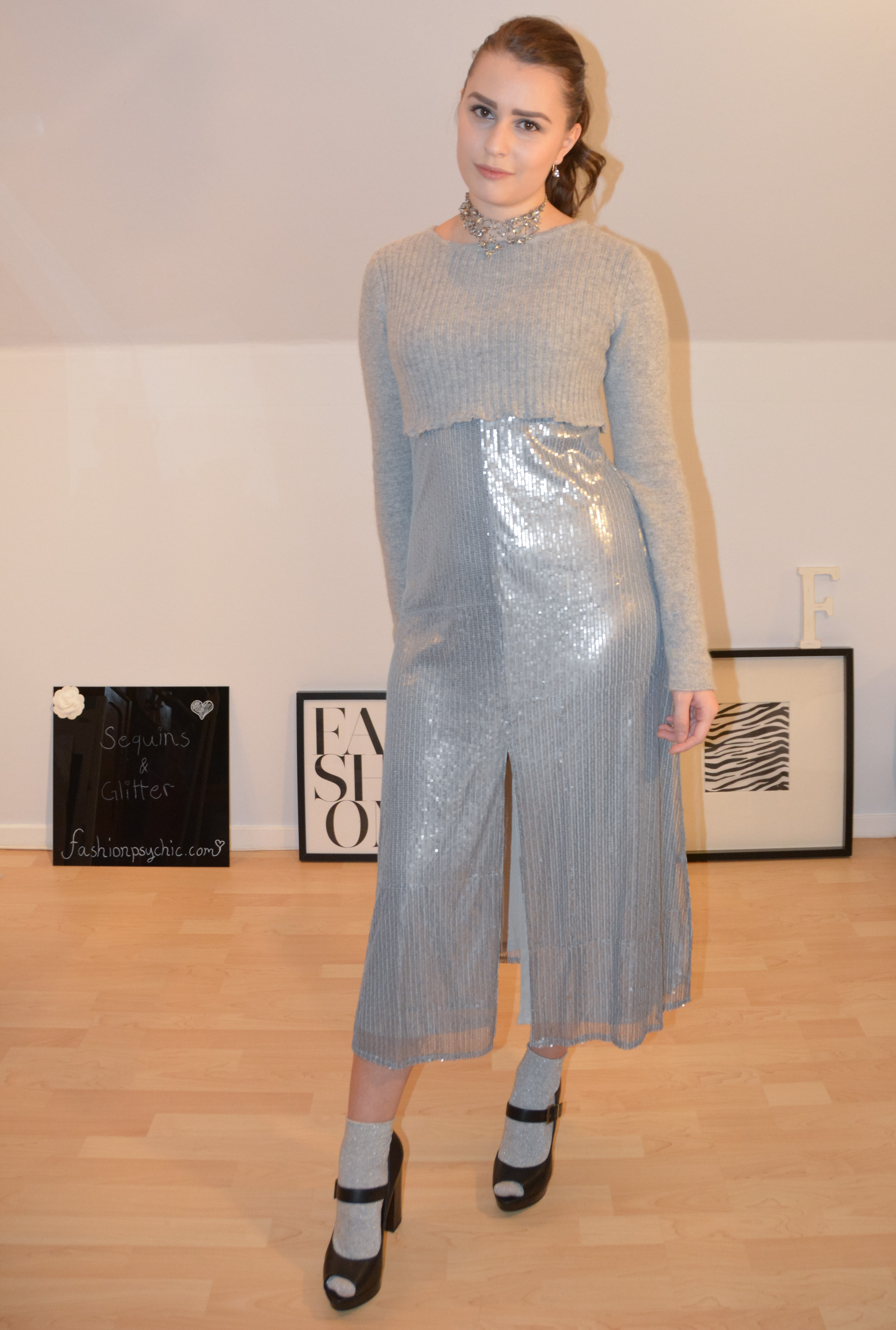 Glitter Stars
Nothing screams "Happy New Years!" like stars do, well, maybe glitter, and this outfit actually has both! I bought this skirt last year, because I knew I would regret it otherwise. I certainly don't regret buying it one bit and this year, I am wearing it on New Years Eve. I'll wear it differently then, but for today I'm pretending that it's not freezing outside.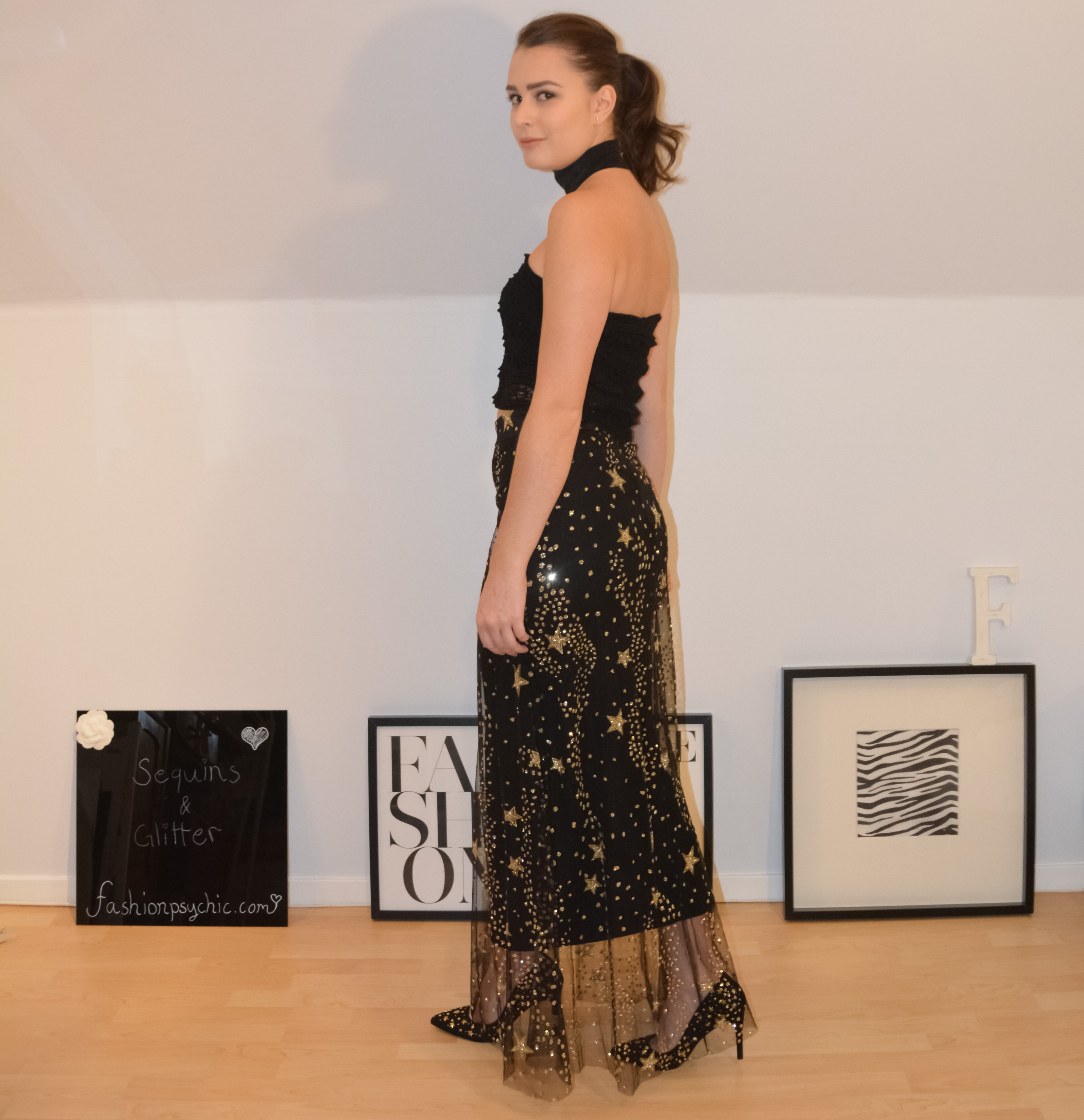 First of all, we have to talk about my shoes (get them here) from New Look. The're black with gold stars, so in other words, they were made for me and I love them.
I wore my sparkling skirt over a basic midi skirt and I paired it with a lace bandeau top (that I made quite easily and you should too, because this is a coming trend), I added my new star pumps, a wide black choker and a pair of small gold earrings (you probably can't even see them.)
This outfit concludes my Holiday Outfits series and I hope you have gotten some inspiration for your Holiday parties. If you want more, keep an eye out for the outfits I'm wearing to my coming parties!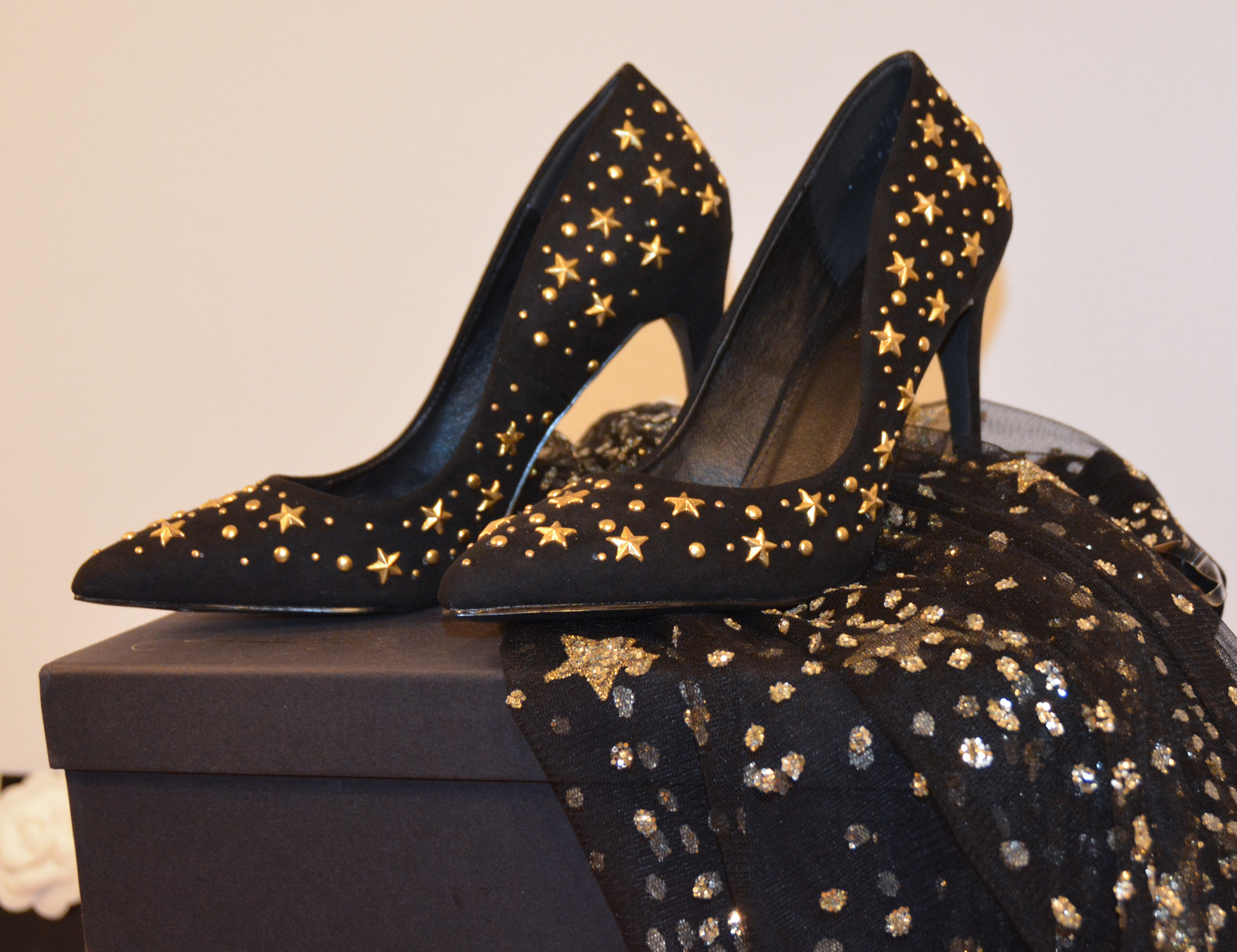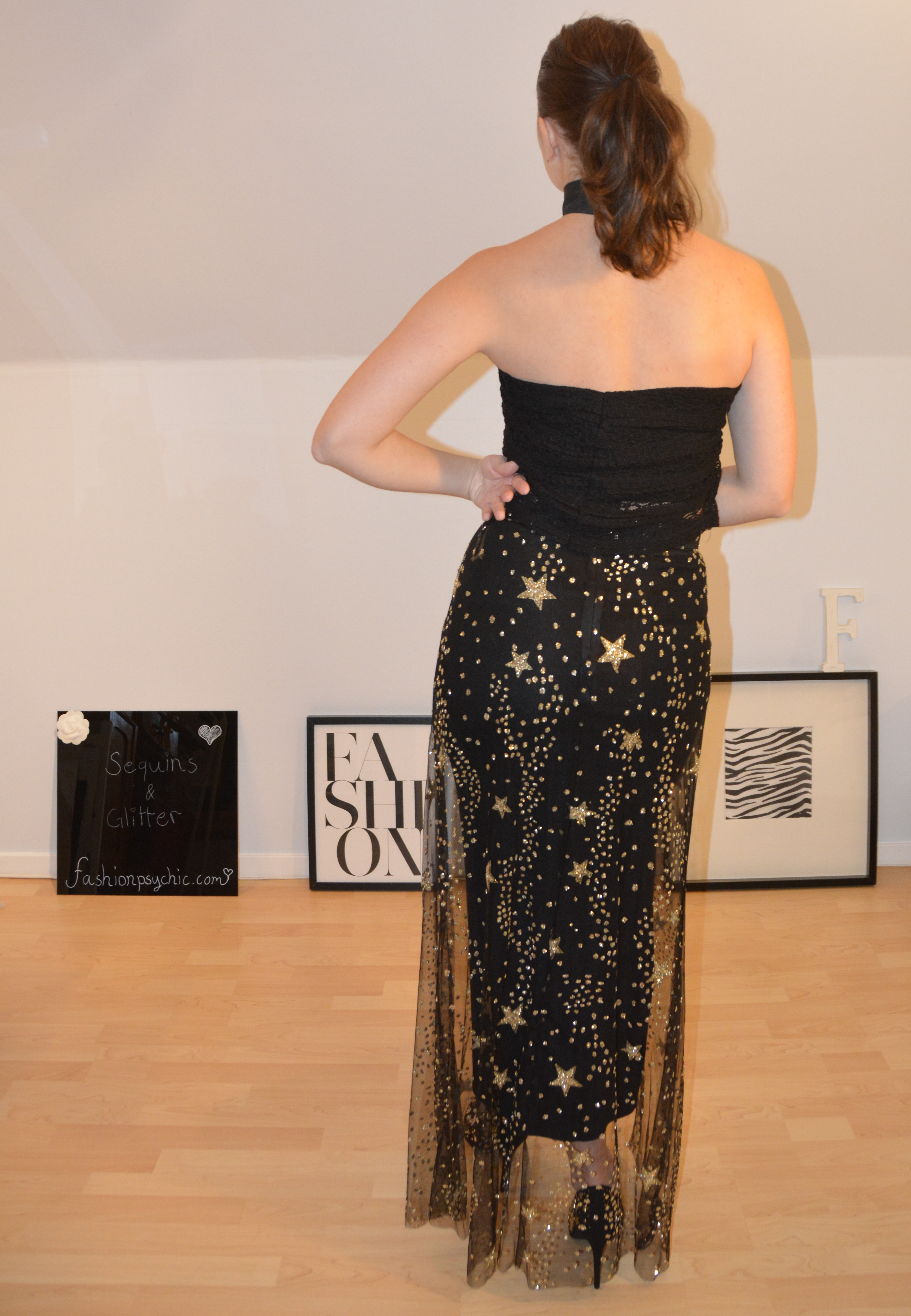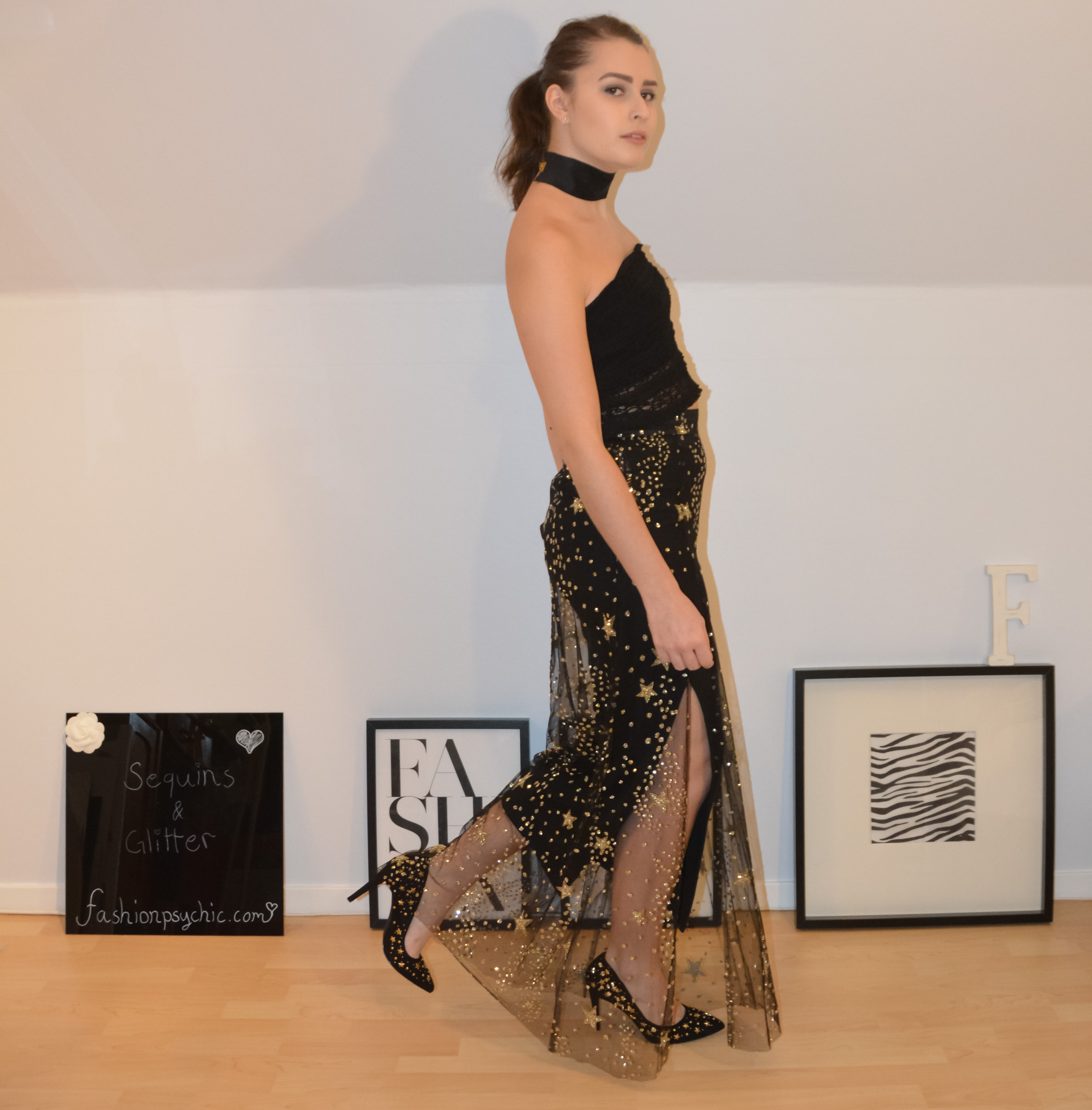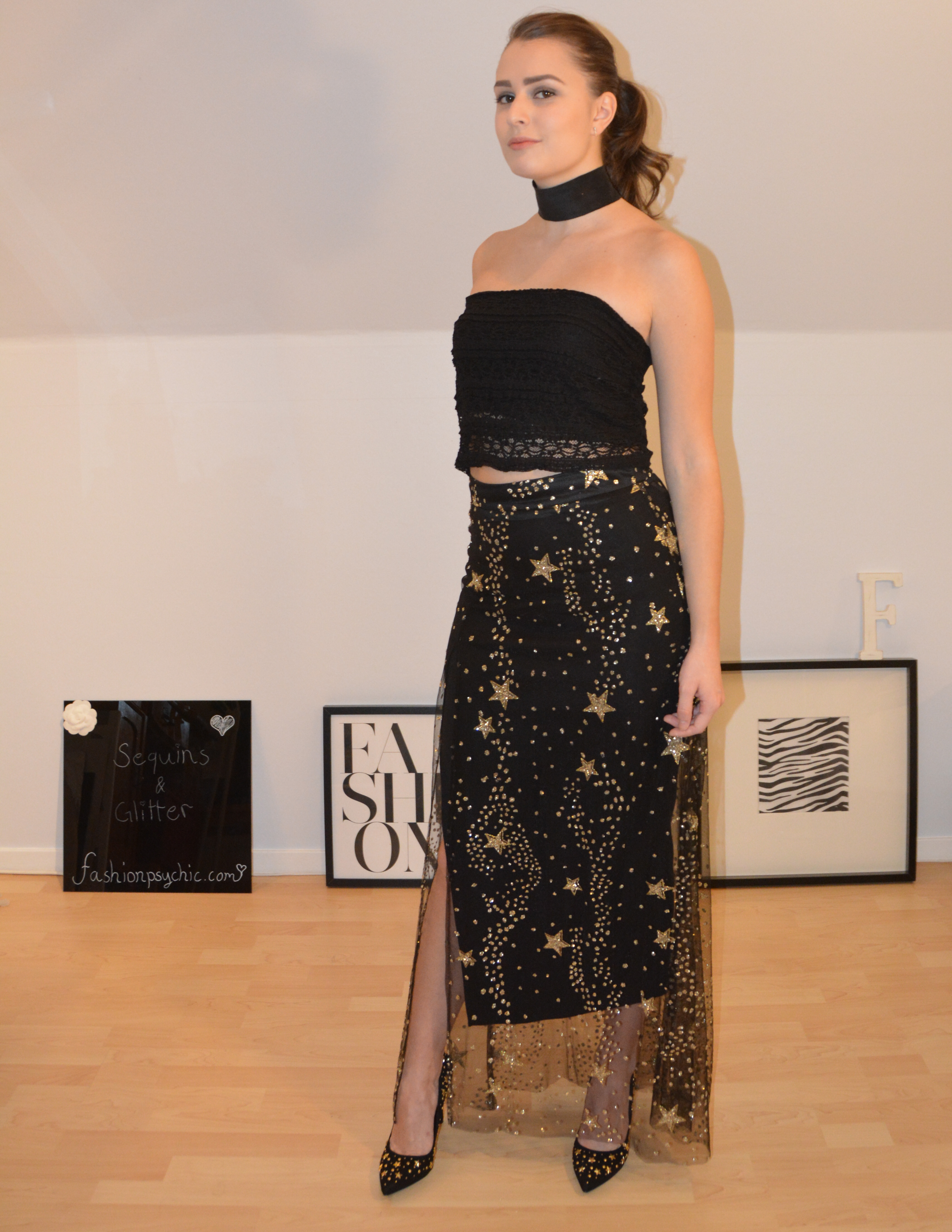 Thanks For Reading
Do you have any questions or ideas? Feel free to write in the comment section below. If you liked this post, please don't forget to click the like button below. To receive an email when I publish something new; subscribe to my email list by clicking the follow button below (or click here.) If you'd like you can also use the buttons below to share this post.
For previews of coming posts and more fashion, check out my Instagram!
-Frida
Don't forget to follow, like and share: